Becoming a Chef
Welcome to the leading website in helping culinary students find a school and career path to fit their needs and aspirations. We highlight and review all varieties of cooking schools so

you can connect to the training and guidance that allows you to confidently step into the world of the culinary arts.
Culinary Degree Paths
Within the broad field of culinary arts are many subspecialties and potential majors to consider. In addition to deciding where to go, an aspiring chef also needs to identify what they'd like to study. We review and examine a variety of culinary majors, food and beverage management majors, and we encourage you to compare different culinary-related degrees.
Career Information
We perform independent market research and conduct in-depth interviews to bring you the facts about culinary careers. We provide you with balanced data and unique, personal insights to encourage bolder decisions. Learn more about becoming a chef today, including types of chefs, a chef's career outlook, the culinary job market, and expected wages.
| | |
| --- | --- |
| Top Cooking Schools | Specialty & International Schools |
Every culinary student's journey is affected by where they study. Regional flavors and emerging techniques may draw you hungrily to specific cities.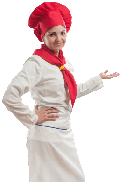 By taking careful notes on what each state and city offers you, you will be able to zero-in on the programs and professional opportunities perfect for you.
We offer you more than simply a list of state schools - we help you understand what makes each state's culinary offers unique. We then look deeper and examine the types of professional food service careers you can find there.

Use the simple, sorted list below to begin!
Culinary Schools by State
Culinary Training
Top Schools
Majors
Degree Types
Career Information
Health
Fun