Get Your Culinary Arts Degree in Maine
Options for culinary arts and hospitality schools in Maine are more numerous than you may think. Most schools are located in the southern half of the state from Portland to Bangor and points south. This is beautiful New England coastal country. If you've never had a real Maine lobster, here's your chance to tie on a bib and tear into that tender meat.
Maine has been featured on Diners, Drive-ins and Dives and Anthony Bourdains, No Reservations for it's diverse modern culinary scene.  Bon Appetit magazine and the New York Times have taken note of Maine's burgeoning foodie culture in recent features.  The bottom line is that it not only about the boiled corn and potatoes in Maine.  Culinary studies in Maine include exposure to rich cooking heritage and a host of locally produced ingredients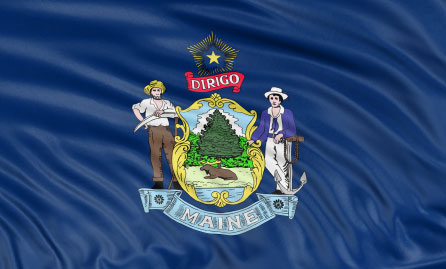 Culinary Scene in Maine
Seafood is on the menu and when it's not it's certainly close-by. Lobster and clams are chief seafood ingredients, but any fresh and native fish, seafood, fruit and produce are fair game for Maine's top chefs. In fact, over the years a number of Maine's coastal chefs have been named to the prestigious James Beard's "Best Of" list.   The recognition is reserved for the best of the best, so foodies around the country have turned their attention toward Maine's exciting and innovative food culture.
For consistently fabulous and innovative fare check out the Portland culinary scene where Andover College and Southern Maine Technical College both offer Hospitality Management degrees. Chefs training in Maine will find no shortage of exemplary restaurant case studies to add as a supplement to their classroom education.  By engaging with local food professionals, students are laying the groundwork for future employment while they soak up the local culinary flavor.  It is a fact that lots of culinary students are employed in the field during their studies. The culinary scene in Maine's top cities provides fertile ground for students to practice their craft and make the most of their education.
In Maine's top cities you can choose from a few diverse world-class university programs and well-respected technical school fast tracks.  Portland and Bangor are home to technical school cooking programs. While you're making it a point to sample the area fare and acquaint yourself with the most talked about chefs, add a few popular regional food and wine festivals to your academic calendar.  The supplementary education provided by participation in the local food events cannot be underestimated.  Valuable contacts are at your fingertips when you are interacting with the local culinary talent.  Chefs are quick to feature their best stuff at recreational gatherings so it's a great time to see culinary trends emerge before your eyes.
Yarmouth Clam Festival
Maine Lobster Festival – This five day coastal festival showcases the traditional seafood of Maine.  Lobster is of course the guest of honor at this culinary fair, but the other seafood items that round out the menu should not be overlooked.  Steamed clams and mussels are indigenous treats that give the prized lobster a run for her money.  Fried clams and Maine shrimp cocktail provide additional opportunities to appreciate Maine's traditional food preparations.  The event is also host to an amateur cooking contest that plays to the strengths of home cooks and chefs to be of all skill levels.
Annual Chili Fest
Harvest on the Harbor Food and Wine Festival – This Portland festival is a fall event that focuses on the fine restaurants and culinary offerings in the area.  Top chefs from local restaurants showcase their best one bite flavors at the Grand Tasting on the Harbor, one of the festival's premier events.  During the course of the festival, restaurants around town also feature special menus to commemorate the event.  The festival plays host to several competitive events for working chefs.  The best lobster competition is expected, but other challenges like the best farm to table chef competition provide interesting takes on other forms of cooking.  The festival also features an extensive marketplace that features local and related food products for attendees to sample and buy.
Maine fair in Camden
Events like these celebrate the native food culture and showcase local culinary professionals.  Locally produced ingredients are incorporated into dishes in creative ways.  Festivals occur annually so local food producers and specialty food suppliers are always eager to up the ante with their latest culinary innovations.  With a diverse set of raw materials and a vibrant and innovative group of professionals, Maine becomes both the canvas and the brush at many featured food and beverage festivals.
Thse interested in lobsters can also take a lobster fishing tour on Captain John Nicolai's Lulu Lobster Boat. He has also developed a lecture series about where and how Maine's Iconic Crustacean is caught named Lobster Talk. Lobster Talk runs from November to April.
Getting a Chef's Job in Maine
Maine is a tourist destination, particularly in the summer and fall when the food service industry thrives. But winters can be harsh so some of the tiny fishing towns tucked along the coast maintain seasonal operating hours. If you're set on a chef's job in Maine explore the plentiful opportunities that exist in the state's larger population centers like Bangor, Augusta and Portland.
Also, for an insider's view of the regional food industry consider a membership in a professional association such as the Maine Restaurant Association. Associations link like-minded professionals for the purpose of networking, collaboration, and general culinary cross-pollination. Annual conferences, regular educational events and even student scholarships may be available to association members.
Maine Cooking Schools
Andover College – Portland

Beal College – Bangor

Central Maine Technical College – Auburn

Eastern Maine Technical College – Bangor

Husson College – Bangor

Southern Maine Technical College - South Portland

Thomas College – Waterville

University of Maine - Augusta – Orono

Washington County Technical College – Calais

York County Technical College – Wells
ACF Accredited Programs
Postsecondary
Southern Maine Community College
2 Fort Rd.,
South Portland, ME 04106-1698
Phone: (207) 741-5746
Contact: Maureen LaSalle - mlasalle@smccme.edu
Programs
AAS Degree in Culinary Arts
Secondary
Mid-Maine Technical Center
3 Brooklyn Ave,
Waterville, ME 04901-5354
Phone: (207) 873-0102 279
Fax: (207) 873-7057
Contact: William T. Robertson - robertson@mmtc.meu
Certificate & Job Training Programs
Penobscot Job Corps Center
1375 Union St.,
Bangor, ME 04401-2715
Phone: (207) 561-8558 279
Contact: Robin Mooney- mooney.robin@jobcorps.org
Find A Local Culinary School With Open Eligibility Today!
Culinary Training
Top Schools
Majors
Degree Types
Career Information