Types of Culinary Majors: What Will You Study?
Choosing to get a Culinary Degree exhibits a passion for the craft that immediately sets you apart from your contemporaries. The motivation and ambition that drive your decision to go to cooking school illustrate a commitment that will be recognized by the industry.
Within the discipline though, are a number of specialty areas that you might choose to pursue.  Beyond a broad-based exposure to basic kitchen skills, hospitality and culinary degrees also specialize in areas of instruction that will guide your career in the direction you want it to go.
If your goal is to create artistic desserts in a hotel or luxury resort environment, a pastry chef specialty should be the focus of whatever degree program you choose.  On the other hand, if your desire is to open your own restaurant, then a liberal dose of business and management training should be included in your overall education.
Hospitality management is a facet of the industry that covers a variety of job disciplines, so defining your direction early-on will put you on the fastest track toward a successful career.  One of the early decisions a food and beverage professional makes relates to choosing a front of the house or a back of the house career path.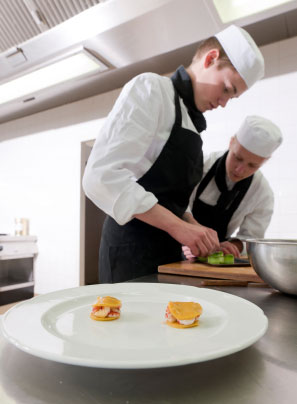 Chefs are essentially kitchen managers so their training is centered around mastery of kitchen techniques and practices, plus the ability to manage everyday kitchen operations.  Restaurant managers and beverage specialists have similar people and budget management responsibilities, but don't necessarily possess practical expertise in the kitchen.
Envision yourself in a particular hospitality role and do your best to set your educational course in the right direction.  The scope of food related employment is vast and diverse, so think outside the box when considering the various food opportunities that exist.  Cruise ships, luxury resorts, elite hotel properties, catering companies and casinos contract the services of chefs, food consultants, menu planners, food photographers, bakers and more, so the pool of opportunity is deep.
Four-year degrees are available in areas of study including Culinary Arts, Nutrition and Hospitality Management.  A Bachelor's Degree illustrates a professional level commitment and an understanding of the industry that encompasses theoretical and practical application of hospitality business practices.  Graduates of Bachelor's Degree programs generally step into entry-level management jobs.
Chefs often choose a path that starts with a two-year Associate's degree program in Culinary Arts.  Cooking is best learned on the job; so many chefs hone their chops by working full-time cooking jobs during school. Whether your career goal is sous chef, executive chef, owner/operator, pastry chef (or patissier), or manager you can get there with an Associate's degree.
Common Cooking School Majors
Culinary majors include culinary arts, baking and pastry arts, and professional cooking. The Associate's in Culinary Arts curriculum emphasizes hands-on culinary work that includes basic kitchen techniques, major Western, European and international cuisine, hygiene and sanitation, food inventory and cost control, knowledge of various kitchen stations, and possibly basic kitchen management and menu development.
Upon completion of a Culinary Arts Degree Program, chef graduates will be able to:

Demonstrate expertise in preparation of breakfast, lunch and dinner items using ingredients that are wholesome, sanitary and nutritious
Demonstrate baking principles to prepare and serve pastries and sweets
Manage people with respect to their many diversities
Select and prepare meat, seafood and poultry items for service; choose accompaniments for each dish emphasizing different cultures
Use and care for equipment normally found in the culinary kitchen
Develop an understanding of basic principles of sanitation and safety and ability to apply the sanitation principles of food preparation
Develop skills in knife, tool and equipment handling and ability to apply skills in food preparation
Develop skills in producing a variety of cold food products and buffet designs
Apply fundamentals of baking and pastry preparation to a variety of products
Demonstrate an understanding of quality customer service
Prepare items for buffet presentations including tallow carvings, bread sculpting and ice carvings
Prepare for transition from employee to supervisor
Apply principles of menu planning and layout for development of menus in a variety of facilities and service options
Apply knowledge of laws and regulations relating to safety and sanitation in the commercial kitchen

Management Majors include culinary arts management, restaurant and hotel management, and food and beverage management. These majors emphasize the business aspects of each specialty. Coursework generally includes a foundation in culinary training, plus a curriculum of business marketing, sales, communication, human resources management, finance and accounting, and general hotel and restaurant operations.  Graduates of Hospitality Management Degree Programs are prepared for employment as managers in hospitality positions from fast food to fine dining.  Associate's level courses of study include programs as diverse as Hospitality Administration and Travel/Tourism.
Choosing Your Hospitality Degree Path
What do you most want to do in the restaurant industry?  Take stock of your career goals and then check out the various majors available.  Decide which one(s) help you achieve those career goals, and whether a short-term or long-term education is in the cards for you.
Culinary learning takes place on the job, so it is not uncommon for students to earn their education part-time while they work.  Other students dive into culinary programs head-on, and rely on the internships and practical experience they get at school.  The education landscape for food professionals is dotted with a myriad of learning opportunities.
Certificate programs are focused courses of study that usually last less than a year.

  Continuing education for chefs or vehicles for students who are just forming their culinary points of view, these intensive programs are a great way to master a specialty.
Associate's Degrees are based on a two-year curriculum that imparts a strong set of general education requirements like math and writing, alongside a specialized chef itinerary that hammers home the practical skills needed to succeed.  Pastry specialties are available in the Culinary Arts programs offered by many schools.
A Bachelor's might be the degree you aspire to if you are looking for management level employment in the Hospitality field.  Graduates are well schooled on the business and management practices required for budget and personnel management.  Food and Beverage directors and hotel General Managers are often educated at the baccalaureate level.
Food science, nutrition and dietetics are areas that include advanced studies at the Master's Degree level. These experts often consult within the food industry as nutrition scientists and administer large-scale food programs at an institutional level.
Be Prepared to Get Your Hands Dirty
Some of your best learning occurs on the job, so a heavy dose of practical application should be a part of any complete cooking education.  Look for a school that understands this and is committed to providing such opportunities.
Internships, apprenticeships, and other work assignments should be a part of the curriculum at the school you choose.  A working kitchen that familiarizes you with all the state of the art equipment you'll encounter during your worklife is an essential feature of a good culinary school.
Restaurants that are open to the public are run by students at some culinary schools.  The convenience of blending a real-life situation in close quarters with your education provides a unique and efficient way for you to refine your technique.  Getting out to remote restaurant locations to work in internships is further fodder for forming your culinary point of view.
Valuable connections are often sourced through your learning institution.  Job boards and industry affiliations are hallmarks of schools that have your employment interest in mind.  The industry rewards hard work, so set your course for success and tap every resource you can along the way.
Find A Culinary School near Ashburn With Open Eligibility Today!
Majors
---
Culinary Training
Top Schools
Degree Types
Career Information