Accelerated and Intensive Cooking Programs at Kitchen Academy
Update:  Kitchen Academy, Sacramento, became a Le Cordon Bleu College of Culinary Arts property & subsequently shut down. 
The following publication serves as a historical reference about the school. 
Culinary Arts or Professional Baking and Pastry Degrees are available at Kitchen Academy. This career-driven school started with its Sacramento, California campus and has since added a location in Seattle. Kitchen Academy's mission includes, delivering top quality professionals, to the growing hospitality industry. Placing grads into good entry-level culinary jobs, is the first order of business for this respected culinary educator.
Curriculum at Kitchen Academy
Keys to Kitchen Academy's curriculum include:
Students learn and work in state of the art kitchen facilities.
Classroom theory is backed up immediately, with practical applications
Programs are immersive and accelerated, some designed to be completed in 30 weeks.
Externships are established curricular components, so they are available at reputable hotels and resorts.
The school's trademarked Accelerated Training System ensures a concentrated exposure, to just the right set of skills and techniques, to advance your career. Coursework is designed to impart the most current industry techniques and professional skills.  By placing students in fast-paced catering and restaurant operational scenarios, the school prepares them for employment as commercial cooks.
Curricular skills include: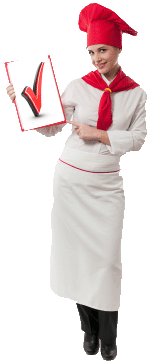 Knife handling and professional cutlery practices
Palate development.
Procuring ingredients—such as herbs and spices, vegetables and other fresh products
Kitchen nomenclature
Kitchen safety
Meat and butchering
Seafood cleaning and preparation.
Sanitation and hygiene
Basic budgeting
Food-cost analysis
Team-building and staff supervision
Pantry (cold-side) preparations
Baking - including dough, quickbreads, tarts, candies, and chocolates
Menu development.
Nutrition and portion control
Programs for High School Students and Adults
Unlike traditional colleges and universities, culinary schools are purely vocational. Kitchen Academy attracts high school students looking for first-class Culinary Arts education, and a fast track to industry employment. The school's curriculum also accommodates adults, seeking a career change.
Kitchen Academy opens programs to enrollment 8 times every year, providing flexible entry points for working enrollees.  Class times start as early as 6 a.m. daily, and run into the evening.  Working cooks and continuing education students are able to complete coursework on a customized timetable, of their own design.
Student Facilities
Small classes, taught by chef instructors who bring their recent professional experiences to the kitchen, facilitate the express programs at Kitchen Academy. Campus kitchens are outfitted with state-of-the-art commercial equipment. Kitchen laboratory settings place students in contact with standard industry equipment, preparing them to operate and maintain kitchen appliances, on-the-job in a professional kitchen.
Internships and apprenticing opportunities are established features of a high quality culinary arts education.  By cultivating relationships with area hotel and restaurant operators, Kitchen Academy places students in relevant work-study roles. Internships and externships often provide full-time employment opportunities after graduation.
Find A Culinary School near Ashburn With Open Eligibility Today!
Top Schools
More Popular Schools
---
Culinary Training
Majors
Degree Types
Career Information