Testing the Job Market for Chefs and Food Service Professionals

Going to cooking school is as much about getting a job as it is about developing your kitchen chops.  They go hand in hand, but the ultimate goal of getting your culinary arts degree is to land a job: and a good one if at all possible.
A culinary education can take many forms, but you can be certain that some level of formal education will elevate your standing in the industry. It is a good idea to refine your goals before embarking on an academic path.
Certificate programs are taught to students who want an intensive understanding of a narrow subject.  For working cooks who want to master an area or discipline, certificate programs are great knowledge and resume builders. 
For cooks who aspire to an advanced career in the industry, a more extensive degree program should be considered.  Culinary degrees are offered at all levels of achievement including Associate's, Bachelor's and Master's degrees.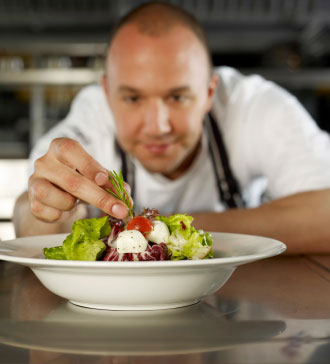 Associate's in Culinary Arts degrees offer a well-rounded curriculum that prepares candidates for chef jobs in a variety of settings.  The degrees are based on completion of two-years of full-time study, but working professionals often take longer to complete the degrees.
Bachelor's degrees illustrate a level of commitment to the craft that is embraced by employers.  The non-cooking aspects of the restaurant business can be mastered with four-year degree programs that incorporate math, communication and management skills into their curriculums.
Master's of food science or other related advanced degrees are known for exploring particular areas of food understanding that go beyond what is needed to be a successful chef or restaurateur.
By getting a good handle on his or her approach, a prospective student is able to steer education decisions down a path that is appropriate for the desired job.  So define your endgame before signing up for a program if you want a fast track to your dream kitchen job.
Where Should You Look for Kitchen Jobs?
The popularity and appreciation for well-prepared food has grown exponentially in recent years.  The advance of a television-inspired food consciousness has driven an awakening among consumers.
This is good news for aspiring cooks because people are getting out to restaurants to enjoy the cuisine that is in their emerging sights.  Restaurants in all categories require proficient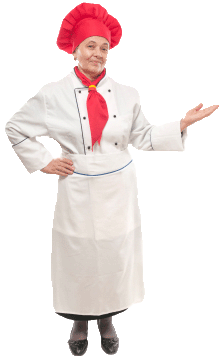 technician to satiate the public's seemingly endless appetite for creative and inspired food.
There are food meccas in many geographical locations, so another important consideration for chefs who aspire to the top of their field is where to build their chops.  Studying under renowned chefs often involves relocating to the area where they operate.  The move can be across the country or across the world.
Accomplished modern chefs wear their international experiences as badges of credibility, so young chefs should not be afraid to look beyond their own borders for training opportunities. A chef's education is endless, so collaborations and experience working in various locales produces interactions that often lead to employment.  As such, career phases for a chef are not always easily defined as educational or professional.  The two are linked in a way that gives 'earn while you learn' a whole new meaning.
For entry level cooks seeking to make a mark, metropolitan areas provide the greatest number of opportunities.  Tourist destinations that attract guests from a variety of cultures are appealing places to work because they provide young chefs with exposure to a diverse sampling of cuisine, and offer steady employment.
Hotels and resorts are hotbeds of culinary opportunity because they are consistently engaged in trying to set themselves apart from each other.  As a result, many properties rely on culinary professionals to raise the food standard as a means toward notoriety. 
The scope of cooking jobs that exist at large properties ranges from line cook in a fine dining restaurant, to general banquet food prep. Getting your foot in the door at a large hotel is a great way to increase your mobility.  Such properties promote from within, so they provide a fast-track for ambitious cooks to move into coveted upper-level jobs.
Full-time culinary students can easily start a job search right under their noses.  Culinary schools are conducted in cities known for hospitality excellence.  Part of a chef's education is getting into the field and working among the area's noted professionals.  Contacts and experiences acquired during school can lead to full-time employment and collaborations in the future.
Culinary School Job Placement
It is good advice to look for a culinary arts school that offers you career placement assistance.  On many campuses this is a formal part of the curriculum, but you can be sure that it also happens organically as a result interactions experienced and emerging culinary talents.
The more opportunities you have to showcase your talent, the more likely you will be noticed by prospective employers.  Working with accomplished chefs in an internship often leads to longer-term work.  Culinary school faculty are well connected in the industry and offer individual recommendations to stand-out students.
Administratively minded schools offer assistance in preparing a chef's resume and fine-tuning interviewing skills.  Schools that maintain solid connections with local and national hospitality and restaurant associations are better prepared to give students the leg-up they need when entering the field.
Working in school restaurants also provides an excellent real-time opportunity for chef students to shine.  The restaurants are open to the public and often serve as recruiting stations for culinary talent.
Think About These Four Things If You're a Job-Hunting Chef
Don't be job-picky. You can try to avoid working at McDonald's or other fast food establishments of course, but if you are offered a chance to take a dishwashing or prep job in a fine restaurant don't thumb your nose at it, you could be missing out on a career opportunity. Many celebrity chefs started just this way—at the bottom, but in the right place. You can certainly work your way up in most restaurants.
Expect poor pay at first. Working as a cook, dishwasher, even busboy/girl is not a traditionally high-paying job and hopefully that wasn't what drove you to choose a career as chef. If you're a career-changer hopefully you've made plans to be drastically underpaid for a while. (But it does get better as your experiences grow!)
Learn whatever you can from your sous and executive chefs. If possible take jobs in restaurants that are well known for training new chefs. You may have to do some research on a particular chef or restaurant for this strategy to be most effective.
Take advantage of all opportunities. Imagine all the environments in which a chef or cook works and consider them all a possibility: high volume restaurants, regional bistros and cafes, corporate kitchens, catering, private chefs, institutions like hospitals, medical centers, and schools, fine restaurants, and hotels and resorts.
Find A Local Culinary School Today!
Culinary Training
Top Schools
Majors
Degree Types
Career Information
Fun