Culinary Arts Programs: Schools, Careers, and Skills
The Culinary Arts major is popularly considered the official "chef" cooking program.  Within Culinary Arts programs there are specialty distinctions like Culinary Arts–Pastry/Baking and others.  Whatever your chosen emphasis, the focus is on learning practical skills that will be applied in the kitchen.
Most programs contain a healthy dose of theory as well, but the meat of a chef's training comes in the form of real life skills that can be applied in a wide range of culinary employment settings.  Cooking school graduates are expected to display a mastery of kitchen fundamentals like knife skills and sanitation, and exhibit an understanding of classical cooking techniques.
By providing a solid foundation, Culinary Arts degrees open a variety of doors for passionate food professionals.  Owner/operators are often trained in the kitchen before becoming restaurant entrepreneurs.  Cruise ships, casinos, resorts and other vacation destinations employ chefs in exotic locations.  Fine dining restaurants in metropolitan areas are often proving grounds for talented cooks.
The scope of jobs is wide, and within each job category there are areas of specialization that further enable culinary professionals to fine-tune their careers.  The diverse nature of world cuisine provides the opportunity for chefs to focus on a particular type of cooking.  The pastry and baking distinction that many chefs aspire to illuminates another path for Culinary Arts school graduates.
As a student, it pays for you to gain a general understanding of the hospitality industry and educational systems before putting your best foot forward.  A little research might bring to light possibilities for your culinary future that you did not imagine.  Understanding the hierarchical structure of professional kitchens and the training requirements for each job gives you the best way forward in attaining the education that is most suited to your ultimate employment goals.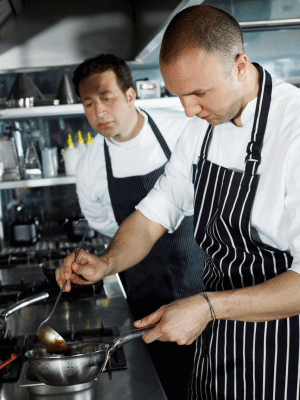 Different schools emphasize different facets of the industry, so in addition to considering the location, financial-aid options, and reputation of a school, you should look closely at each school's Culinary Arts curriculum.  Programs are not carbon copies of one another, so if your interests are specific, make sure the classes are there to get you where you want to go.
Depending on the type and scope of the education you're after, you'll find programs at a number of different types of learning institutions.  And degree programs run the gamut from Certificate to Master's, so check with each school to see what is offered.  The most common course of study for students who want to work as chefs in commercial kitchens is an Associate's in Culinary Arts program.
Schools that Offer Culinary Arts Training
A variety of institutions are in the business of providing culinary arts training to passionate foodies who want to work in the hospitality industry. Community and Technical colleges are focus on providing two-year programs that prepare you for chef work, or provide an academic foundation for your continued studies at the Bachelor's Degree level. Some types of schools that help you get your foot in the kitchen door.
Culinary Arts Curriculum
Various levels of culinary education exist for wayward food enthusiasts who want to break into the business.  Students should distinguish the various programs from one another to focus their pursuits in the best directions.  Since your formal education is often paired with your practical job experience, choose a program that compliments your existing knowledge and provides opportunity for advancement.
 
Diplomas and Certificates in Culinary Arts deliver culinary technique and skills that are often focused in a particular area of the culinary arts.  The duration of study is usually one year or less, and graduates are issued a certificate of completion to illustrate their achievement.
General culinary certificates are designed to prepare you for entry level employment in a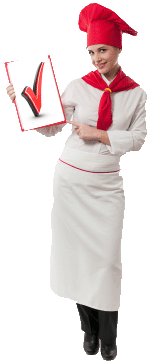 commercial kitchen. Your academic training at this level focuses on working closely with chef/instructors who train you to work the various kitchen stations, such as grill, garde manger, sauté, and fry cook. Such programs provide a culinary foundation for graduates to reference as they climb the kitchen ladder on the job.
Other Certificate programs are narrowly focused and supply intensive training in a particular area of the culinary arts.  Working professionals who wish to expand their knowledge base are great candidates for this type of study that elevates a particular area of kitchen expertise.
Moving from one career phase to the next might prompt a chef to expand his or her education in a direction that will help them achieve success in the field.  Chefs take management courses that help them transition into restaurant ownership roles.  Pastry certificates help chefs move into executive roles by expanding their understanding of baking and candy making.
Associates degrees in Culinary Arts are the most often sought programs among committed chef candidates. The Associate's in Applied Science-Culinary Arts is based on a two year curriculum that provides a general educational foundation in math, writing, English and communication alongside a students culinary training.
Graduates can pursue chef work upon completion of the degree, or use it as a stepping stone to further education at the Bachelor's Degree level.  The curriculum includes kitchen theory and classical foundations, but the bulk of your time pursuing this degree will be spent in hands-on cooking scenarios.
Students learn how to prepare classic dishes in all categories including seafood, meat, banquet, and pastries.  Cuisine of various localities is dissected to provide an understanding of Asian, Latin, Mediterranean and American food traditions. Wine studies are included to impart a general understanding of gastronomic pairings.
Foundations in management like cost analysis and menu development are often taught as a well-rounded exposure to facets of the industry that might be encountered by students who hope to eventually open their own restaurants.  Upon completion of a Culinary Arts Degree program, graduates will be able to:
Demonstrate expertise in preparing breakfast, lunch and dinner items using ingredients that are wholesome, sanitary and nutritious
Demonstrate baking principles by preparing pastries and sweets
Manage people within the kitchen
Select and prepare meat, seafood and poultry items for service; choose accompaniments for each dish emphasizing different cultures
Use and care for equipment found in professional kitchens
Develop an understanding of basic principles of sanitation and safety and ability to apply the sanitation principles of food preparation
Develop skills in knife, tool and equipment handling and ability to apply skills in food preparation.
Develop skills in producing a variety of cold food products and buffet designs
Apply fundamentals of baking and pastry preparation to a variety of products
Demonstrate an understanding of quality customer service
Prepare items for buffet presentations including tallow carvings, bread sculpting and ice carvings
Prepare for transition from employee to supervisor
Apply principles of menu planning and layout for development of menus in a variety of facilities and service options
Apply knowledge of laws and regulations relating to safety and sanitation in the commercial kitchen
Bachelors degrees in Culinary Arts are appropriate for students who want to step into entry-level hospitality management jobs.  The industry requires managers in all restaurant and hotel departments, from the kitchen to the dining room, so opportunities are plentiful for professionals who hold Bachelor's degrees.
Expanded understanding of budget and cost analysis is required at the management level, so Bachelor's curriculums feature accounting and business principles classes that add to a chef's kitchen chops.  Personnel issues are in the sphere of management responsibilities, so students are taught people skills that help them motivate and train their future staffs.
A chef's mobility is significantly increased when an advanced degree is under his or her belt. Other food jobs like designer, photographer, consultant, or menu developer provide alternatives to traditional restaurant chef jobs.  Nutritionists and Dieticians are also in-demand professionals that consult within the food service industry.
Think outside the box when it comes to forming your job outlook and consider an advanced degree that might expand your employment possibilities.  Advanced degree holders start at higher pay rates and advance more quickly through the hospitality ranks.
What You Can Do with a Culinary Arts Major
Work is available at all levels within the hospitality industry.  Entry level kitchen work can be obtained readily with some basic culinary education.  Students who strive for management level recognition should pursue an advanced degree like a Bachelor's degree.  Other industry professionals rise to the top of their field the old fashioned way, by climbing the kitchen ladder from within.
Hotels, cruise ships, casinos, restaurants, luxury resorts, bistros and cafes are only a few of the fertile employment sectors that lure culinary school graduates.  Don't be afraid to think outside the box when it comes to putting your degree to work.  There are plenty of options available for entrepreneurs who want to make a mark as owner/operators.
Wherever you hope to land, it pays to get a quality education that focuses your studies in a way that makes you attractive to employers.  Paired with some hands-on experience and perseverance, your Culinary Arts degree is the perfect vehicle on your road to success.
Find A Culinary School near Ashburn With Open Eligibility Today!
Majors
---
Culinary Training
Top Schools
Degree Types
Career Information