Popular Associates Degree Programs for Student Chefs
Associate's degrees are undergraduate degrees issued by community colleges, junior colleges, technical colleges, and four-year universities. They are often referred to as two-year degrees because the curriculums they offer are generally structured for completion in two years.
Associate's degrees are distinguished from certificates, which are specific modes of study that usually last for less than one year, and Bachelor's degrees which generally require at least four years of continuous schooling to complete. Associate's degrees are also issued by institutions that specialize in particular areas of education.
Culinary schools often have associate's degrees in their stable of academic offerings.  Such degrees are intensively focused on the subjects they serve, but they also include instruction in basic college level skills like writing and mathematics.
For culinary professionals, the Associate's degree is the most-chosen educational pursuit. A comprehensive associate's curriculum can convey a well-rounded education that promotes mastery of a wide range of culinary skills.
Modern associate's programs are designed to accommodate working professionals. Enrollment is often part-time because students are employed during their schooling. As a result, courses are often completed at night and on weekends.
Online education is an increasingly valuable tool for adult students. Half of all degrees earned online are Associate's degrees. Associate's degrees often serve as building blocks for further education at the Bachelor's and Mater's degree levels. A high school diploma or an educational equivalent like a GED is generally required for enrollment in an associate's program.
Various programs and courses of study are offered by individual universities, but some of the most common Associate's degrees offered by culinary academies and technical colleges include:
Associate of Culinary Arts
Patisserie and Baking or Baking and Pastry
Food and Beverage Management
Culinary Skills as Part of an Associates Degree Program
Associate's degrees in the culinary field are focused on the culinary arts to be sure, but degree candidates are also expected to master basic college level courses in math, communication, science, and writing.
A well-rounded curriculum adequately prepares for the challenges they may face in the culinary world. A chef education should be viewed as a professional training program that conveys the wherewithal to succeed in this competitive field.
Culinary students enrolled in Associates degree programs typically learn essential skills such as: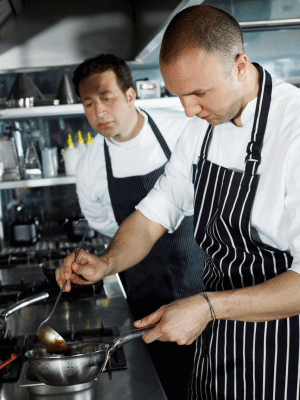 Knife, cutlery and professional kitchen equipment skills and techniques
Characteristics of major international cuisines
Cooking techniques
Food safety and sanitation
Preparation and presentation
Menu development
Gastronomy
Wine Studies
Chefs may also receive educational instruction in the following:
Basic management of kitchen staff
Team-work and line cook processes
Food and beverage cost and control
A cooking education is extremely conducive to hands-on learning. The real magic occurs in the kitchen rather than the classroom, so an Associate's degree will include loads of practical training at most reputable culinary arts institutions.
Practice is an essential part of culinary learning so logging some hours on the line is a requisite part of obtaining a degree. Functioning restaurants often provide cooking students with a venue to learn in real-time.
Foundation and theory are also essential components of an Associate's coursework.  Classical techniques must be understood and mastered before ambitious chef students begin carving out their own niche in the field of contemporary cuisine. 
By balancing the practical application of knowledge with the abstract concepts of the culinary arts, schools are able to produce Associate's-degree graduates that have a deep and well-rounded understanding of their craft.
Opening Culinary Doors with your Associate's Degree
Obtaining an Associate's degree in the culinary arts illustrates a passion and commitment to the craft that is well received by potential employers.
Degree curriculums include specific instruction in areas of world cuisine like Mediterranean, Latin, Asian, and progressive American. Graduates have been exposed to food preparation techniques that make them ideal candidates for employment in a diverse set of culinary roles.
Cross-training in front-of-the-house procedures imparts a thorough understanding of the larger objective of guest satisfaction. Specific training in particular culinary areas like seafood, meat, and pastry is applied to environments ranging from high-volume banquet production to fine dining bistro cooking.
The bottom line is that Associate's degree holders have the skill set required for any number of culinary applications. Culinary academies assist with job placement in a number of ways.
Throughout a chef's education, he or she has been exposed to numerous networking opportunities within the field. Campus restaurants are the proving grounds for many great chefs who hone their skills in view of potential employers. Some visible characteristics of a school that emphasizes career placement include:
Strong industry connections locally AND nationally
Well-known, master, and even celebrity chef alumni
Student-run kitchens that emphasize front and back of the house skills
Externships and internships with well-known restaurants, hotels, and resorts
Regularly updated job boards
Find A Culinary School near Ashburn With Open Eligibility Today!
Degree Types
---
Culinary Training
Top Schools
Majors
Career Information