Culinary Grants and Scholarship Programs
Culinary scholarships are similar to other scholarships, in that they award funds to good all-around students or students who show particular promise in the culinary arts.  Several public and private institutions offer scholarships for students seeking to advance their educational careers in the culinary and pastry arts fields.

Scholarships for culinary students may be full or partial, domestic or international. Some scholarships apply to particular institutions' programs, while others are more generally applied.  Restaurant associations and other professional industry organizations offer state and regionally based scholarships.
Targeted scholarships are aimed at student-candidates from particular ethnic groups or relate to advancing individual aspects of the hospitality and culinary arts fields.  Nutrition, for example, is an excellent keyword to include in your online search for student aid.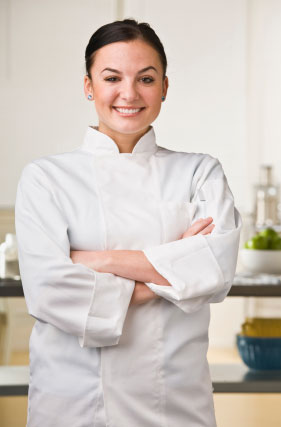 Some currently active scholarship programs are listed here, but our list is not all-inclusive. Tap all the resources available to you as a prospective chef school student, for example:
The Institute of Food Technologists provides scholarship funding for graduate and undergraduate students pursuing education in food science.
A sorority-issued scholarship for Atlanta chef hopefuls
The International Culinary Institute offers several scholarships, administered internally, and by outside organizations.  Military service is honored by two unique programs - Military Veteran Culinary and Pastry Scholarships and Military Veteran Sommelier Scholarships
The International Cake Exploration Society sponsors a scholarship for students deemed most likely to develop and promote the art of decorating cakes.
The Les Dames d'Escoffier International helps collect donations and funds for scholarships aimed at women pursuing the culinary arts.
The Institute of Culinary Education is proud to offer scholarship resources to assist emerging culinary professionals. Ten partial-tuition scholarships of up to $5,000 are available for ICE's Career Training programs, offered through these five organizations — The James Beard Foundation, The Culinary Trust, The WCR (The Women Chefs & Restaurateurs), Les Dames D' Escoffier and The American Institute of Wine & Food (AIWF). ICE is also proud to offer the annual ICE Kevin Nurse Memorial Scholarship. (www.iceculinary.com/career/scholarships.shtml)
American Academy of Chefs Culinary Scholarships -The American Culinary Federation Foundation provides scholarships to high school students, college students, and professional chefs looking to further their culinary education. (www.acfchefs.org)
American Institute of Wine & Food (AIWF) Scholarship - Connecticut Chapter  - Darien, CT
The Art Institutes Best Teen Chef Culinary Scholarship Competition - Art Institutes International, Inc.
The Charlie Trotter Culinary Education Foundation awards scholarships to students pursuing culinary careers, as well as to those who work with Chicago area youth to promote healthy cooking and food education.
Cabot Creamery Culinary Scholarship - Vermont Student Assistance Corporation (www.vsac.org)
California Restaurant Association Educational Foundation Scholarships(www.calrest.org)
California State Fair Culinary Scholarships
IFEC Scholarships International Foodservice Editorial Council
John Schwartz Scholarship - American Institute of Wine & Food-Pacific Northwest Chapter
Maine Innkeepers Association Hospitality Scholarships (www.maineinns.com)
NRAEF Scholarships - National Restaurant Association Educational Foundation Scholarships Program (www.nraef.org/scholarships)
Women Chefs & Restaurateurs Scholarship Program (www.womenchefs.org)
Maine Restaurant Association    (www.mainerestaurant.com)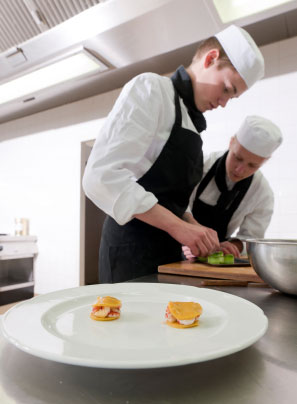 Scholarships are awarded to good students, for overall academic performance. Students who are awarded general scholarships may wish to use funds to complete a culinary arts program, at an accredited institution.
Scholarships based on certain other criteria like race and income might apply to your situation. While some private institutions, which offer scholarships may choose to apply these criteria, government funded scholarships generally cannot.
Scholarships may also be awarded within specific sub-categories. For example, a scholarship for culinary students majoring in pastry, desserts, wine, or sustainable practices might have specific enrollment requirements. Once you're clear on your food service dreams, applying for very specific scholarships is a great way to fund your commitment.
Joining culinary related (or community/civic related) youth groups is another good idea. These organizations often provide access to scholarship opportunities for student members and volunteers.  Engaging with industry groups, at this early educational juncture sets the stage for your career advancement, and illustrates your commitment to higher education.
Scholarship review boards look over thousands of applications during the course of each scholarship's lifetime. Pay attention to detailed requests for information, when filling out your scholarship application, and be truthful with your personal statements. If you can, have your application assessed by a professional scholarship / grant writing service. If unable to contract for a review of this nature, ask teachers, counselors and other educational professionals to look at your application, before you submit it.
Find A Culinary School near Ashburn With Open Eligibility Today!
Degree Types
---
Culinary Training
Top Schools
Majors
Career Information