Cooking Schools Offering Culinary Diplomas
Passionate foodies who are ready to hit the educational road toward a culinary career have some important work to do before getting started at school.  Sure, it is important to define your level of commitment, as with any other schooling venture, but there is a bit more to it. Training takes many forms in the world of culinary arts.  Each mode of movement through the course of your education can be tackled in a variety of ways. 
Drive Your Culinary Career Forward
Diplomas, Certificates, Associate's Degrees, Bachelor's Degrees and even Master's programs are offered by a host of schools around the world that each bring their own strengths to the table.  Once you can picture yourself standing in chef's whites, engaged in your dream job, you can work the equation in reverse to see the best path to get you there.  Keeping it simple as you hammer out your educational direction is a great strategy, so first answer some basic questions that relate to your specific needs and goals.
What is your tolerance for schooling, given the underlying realities of your economic situation?  Maybe you are driving an old car and living in your parents' basement with no expenses. A top-notch chef's education in a two or four year program is at your fingertips because your educational horizon is not encumbered in a limiting way, by mother need.  On the other hand, perhaps you are saddled with a car payment and living in the high rent district. A shorter, work-focused program might be just the thing to keep your cash flow in order while you hone your skills as a chef candidate.
Why Choose a Culinary Diploma Program?
Diplomas or Certificates are culinary training programs that present the basic skills required for entry-level employment in a variety of kitchen settings.  There are advantages to this course of study that should be considered as you embark on your quest for culinary excellence.
Culinary Diploma programs can usually be completed in less than 1 year. Time is of the essence when it comes to bringing in a paycheck.  By garnering a comprehensive culinary education in a relatively short span of time, you are fast-tracked to the workforce in a way that won't destroy your bottom line.
Diploma programs offer flexible scheduling.  For many diploma candidates, it is imperative that the money-ball keeps bouncing during school.  Educators understand this, so culinary programs are structured around flexible scheduling options that enable you to continue earning while you learn.
Culinary Diplomas provide entry-level kitchen skills AND increased mobility.  You might be working in the industry when you realize your upward mobility is hampered by a lack of formal education.  Your kitchen bosses have been through chef training so they are quick to identify your shortcomings.  Diploma programs fill in the blanks so your chops are complete and solid.  Climbing through the kitchen ranks is a realistic possibility for Culinary Diploma holders.
Diploma programs are available through some of the best culinary schools.  Your resume has instant credibility when it contains an education credential from a top culinary arts school.  The proof is in the pudding, and the skill set you learn at a top school speaks for itself.  But there is an added perception of excellence when your diploma comes from a noteworthy institution.
What You Learn in a Culinary Diploma Program
Expect a Culinary Diploma to provide you with classical cooking skills and mastery of fundamental kitchen techniques. Knife skills and proficiency with tools of the trade like mixers, fryers, and grills are a requisite part of any Culinary Arts Diploma program.  Kitchen safety and sanitation practices are emphasized as a foundation for all that follows.  Be prepared to build quickly as you move through various kitchen disciplines that prepare you to work in any of the many kitchen 'stations'.
Hands-on food prep is at the core of most well respected diploma curriculums.  Classical dishes and recipes are dissected and perfected until they become second nature.  Understanding flavors and creating logical food pairings is possible once students grasp the theory behind great cooking.
Culinary Diploma instructors are working professionals who are not afraid to push students in precisely the ways they will be challenged on the job. Specialists from within the industry are employed by schools to hammer home the nuances of their particular specialties.  Diploma programs are often demanding and intense by design, so that students come away with an authentic feel for the fast pace of a professional kitchen.
Programs like those at the French Culinary Institute or Kitchen Academy rely heavily on specially designed immersion programs. Student run kitchens are your stomping grounds from day one and you will be expected to illustrate mastery of breakfast, lunch and dinner preparations as well as baking principles and buffet designs.  Meat, seafood, poultry and cold food preparations are focused areas of study that each student drilled on for competency.
Career Doors Open with Your Culinary Arts Diploma
Scenarios for Culinary Diploma graduates are as diverse as world cuisine.  Some focused kitchen workers seek training to advance with their current employer.  Others are jumping in with passion and enthusiasm for their chef dream, but little in the way of on the job experience.  Still others are testing the waters with a Diploma before moving forward with further culinary education.
Top schools for chefs forge valuable alliances with local restaurants, national and international hotels, resorts, spas, cruise lines, and corporations. The alliances are built on the school's teaching record, the performance of its graduates and the reputations of celebrity and master-chef alumni.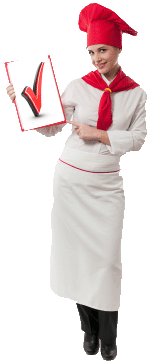 Use these educational benefits to your greatest advantage. Evaluate your culinary school options not only for curriculum, but also for career placement services and other focused efforts to put you to work. Look for schools that offer:
Externships and internships with local and national restaurants and hotels
Resume-building and interviewing assistance
Job boards and placement help
Network alliances with well-known employers in the food service industry
A proven record of success in placing new grads
The breadth of your education determines your entry-level placement.  Don't expect to jump in at the executive chef level with a Culinary Arts Diploma or Certificate.  Advanced study is required if you are targeting an upper level kitchen job.  Working your way up is a viable approach though, and your Culinary Diploma gets you in the door. 
Many chefs start as line cooks and climb the ranks in an industry that tends to promote from within.  Management jobs in all areas of hospitality are also fair game for dedicated professionals, but some kitchen jobs include:
Executive Chef
Manages the kitchen staff, prepares work schedules, creates menus, and computes food costs.
Sous Chef
Assists the Executive Chef in running the kitchen by covering shifts during the Executive's off time.
Banquet Chef
Manages the kitchen staff in quantity food production for banquets, conferences, and conventions.
Pastry Chef
Responsible for baking breads, pastries, and desserts and manages a staff of bakers at larger properties.
Food Production Manager
Manages the production of quality food in large food service operations.
Top Schools Offering Culinary Diploma Programs
The Culinary Institute of America in Hyde Park, NY
The Culinary Institute of America is one of the most popular choices for students pursuing a culinary diploma. Located in Hyde Park, New York, students are only minutes away from the restaurants that employ some of the world's most renowned chefs. Students discover New York's vibrant food scene and a plethora of culinary opportunities upon graduation. At the CIA, culinary students have a world of cooking knowledge at their fingertips. Over 130 professional, renowned chefs teach culinary courses at the CIA. The facilities offer teaching kitchens and restaurants, in order to create a hands on educational experience. The CIA also offers generous financial aid packages for serious culinary arts students. In exploring culinary diploma program, prospective students will find the Culinary Institute of America to be a worthy educator worth considering. Students can discover further information at www.ciachef.edu.
Le Cordon Bleu College of Culinary Arts in Los Angeles, CA
Le Cordon Bleu College of Culinary Arts has two locations in Pasadena and Hollywood within beautiful Southern California. As a respected school, Le Cordon Bleu has great career placement assistance. Their Career Services Departments help alumni and graduates find exciting culinary jobs all over the country. At Le Cordon Bleu, students begin by gaining a thorough understanding of classical French cooking techniques and terminology. Professional chefs teach the courses at Le Cordon Bleu. Le Cordon Bleu offers an impressive selection of diploma options for students. Students can choose to receive a basic Culinary Arts diploma, or choose a more specialized diploma option. Le Cordon Bleu also offers diplomas in Hospitality & Restaurant Management, as well as a diploma in Pastries & Baking. Students can find more information at www.lecordonbleuprogram-pasadena.com.
Italian Culinary Academy in New York, NY
Perhaps you are a student with Italian heritage, or just one who enjoys the culture of Italian cuisine. The Italian Culinary Academy might be the perfect option for you. Located in SoHo, students study within one of New York's hippest areas. Students are trained specifically in Italian cuisine at this great bastion of Italian culinary knowledge. Whether students are learning how to make perfect ravioli or create standout pizzas, they can expect to walk out of the Italian Culinary Academy with a strong foundation in traditional Italian cooking. Students can find more information about this wonderful culinary academy at www.italianculinaryacademy.com.
Texas Culinary Academy in Austin, TX
The Texas Culinary Academy is part of the renowned Le Cordon Bleu Culinary Program. Students receive a classical culinary education, combined with cutting-edge exposure to modern techniques. Austin, Texas provides a great backdrop for your culinary education. Students rest assured that they are living in a great American city that has been ranked the #1 best place to live by Money Magazine. With a strong music scene, the city provides unique opportunities for chefs to work at music venues and events. From the Texas Culinary Academy, students go on to do great things. On its website, the Texas Culinary Academy offers profiles of its successful graduates. Graduates go on to work for major corporations like Whole Foods. Some students also choose to stay in Texas and work at elite restaurants like Aquarelle or The Oasis. Prospective students seeking more information about the Texas Culinary Academy can find it at www.chefs.edu/austin.
French Culinary Institute in New York, NY
At the French Culinary Institute, students are able to delve into their favorite kitchen discipline, whether it's the art of bread making or preparing a specific regional cuisine. The FCI offers an intense educational experience, preparing students by immersing them in the fundamentals of Western Cooking. Through its "Total Immersion" educational program, students graduate in six to nine months so they can find jobs in the culinary field immediately.  Alumni from the French Culinary Institute include world-famous Bobby Flay. With classes beginning every six weeks, the FCI offers a flexible teaching schedule that caters to any student's educational needs. For more information, go to www.frenchculinary.com and discover what is in store for you at the FCI.
Orlando Culinary Academy in Orlando, FL
Le Cordon Bleu offers another one of its famous culinary programs through the Orlando Culinary Academy in Orlando, Florida. It's hard to beat getting an education from some of the industry's the best chefs while basking in Florida's beautiful sun. The on-site, student-run restaurant offers a practical way to gain hands-on experience in the culinary field before graduation. The facilities at the Orlando campus are truly amazing. With state of the art appliances and kitchens, students rest assured that they are learning in one of the most technologically advanced culinary programs in the country. Visit www.chefs.edu/orlando for more information about the Orlando Culinary Academy.
New England Culinary Institute in Montpellier, VT
If you love the idea of studying in New England, then you will love what the New England Culinary Institute has to offer. What makes the NECI a great option to consider is the wide range of scholarships it offers to prospective students. The NECI prepares its students for a variety of career paths. Students go on to be everything from food writers and critics to pastry chefs. Some of the various scholarships students can apply for at the NECI are the Academic Excellence Scholarship, Culinary Excellence Scholarship, or the New Endeavors Scholarship. The "Excellence" Scholarships require a GPA of 3.0 or higher, but the good news is that scholarships total $5,000 or more. The school offers two other scholarships entitled the "Life Long Learner" Scholarship and the "Industry Professional" Scholarship. The requirements for these awards are different, but recipients are still in line to receive around $5,000. Check out the NECI's website for more information on scholarships at www.neci.edu. The NECI is worth a good look for prospective students.
Scottsdale Culinary Institute in Scottsdale, AZ
The Scottsdale Culinary Institute offers a breath taking campus for its culinary students. The open air and majestic mountains provide a gorgeous backdrop for a culinary education. More than scenery, the Scottsdale Culinary Institute offers a world-class program through the renowned Le Cordon Bleu. The Scottsdale Culinary Institute offers two locations for its diploma programs. The city of Scottsdale is a vibrant cultural Mecca with a radiant nightlife that includes plenty of restaurant employment opportunities for students and graduates to take advantage of. Visit www.chefs.edu/scottsdale for more information on the Scottsdale Culinary Institute.
L'Academie de Cuisine in Gaithersburg, MD
L'Academie de Cuisine is just as spectacular as its name. What began in 1976 as a Culinary School founded in Switzerland now brings its educational flair to the United States. The school offers two different programs, one for professional students seeking careers in the culinary arts and another for recreational students seeking to expand an enjoyment for cooking. The L'Academie de Cuisine also offers students a comprehensive Career Center focusing on job placement for students. On its website, L'Academie also features a student job board specifically for L'Academie enrollees. Students can also post their resumes online through L'Academie's Career Center as a perfect way to market their skills to future employers. For recreational students looking to learn fine cuisine as a hobby, L'Academie offers amazing opportunities as well. In "Participation Classes," students prepare a menu and enjoy some hands-on learning that culminates in a feast. Whether you are a serious prospective culinary student or recreational student, be sure to go to L'Academie's website for more information. Check out www.lacademie.com
California Culinary Academy in San Francisco, CA
Another wonderful school offered through Le Cordon Bleu, is the California Culinary Academy in San Francisco. It doesn't get much better than spending the day learning cutting-edge culinary techniques, then jumping into the Pacific Ocean for a swim after class. San Francisco is a culinary hotbed of innovation, with restaurants and ever-expanding job opportunities for creative culinary students. Offering the best in high quality, career-minded culinary training since 1977, California Culinary Academy is the place to earn the much-desired Le Cordon Bleu and Culinary Arts Associate's Degree. The best part is that you can earn this degree in as little as 18 months. Financial aid and career placement are available to all who qualify as well.
Within a new 100,000 square-foot facility on Potrero Hill, students enjoy studying in a safe environment while taking advantage of the magnificent training kitchens. The modern architecture of the new facility is a stunning statement that mirrors the progressive program. Whether you are earning your degree in Hospitality & Restaurant Management, or the Patisserie and Baking program, you enjoy the freedom to choose from many fields of culinary study at the California Culinary Academy. Stop by the website today to learn more at www.chefs.edu.
The International Culinary School at The Art Institute of Phoenix
For some ambitious prospective students seeking a first-class culinary education, the first school on their list is the International Culinary School at The Art Institute of Phoenix. This school offers three different culinary programs, including: Baking and Pastry Arts, Culinary Arts, and Culinary Management. The Art Institute of Phoenix has over 40 sister schools across the nation, and is surrounded by a mostly warm climate and lots of attractions.
Institute of Technology
The Institute of Technology has three different locations for your convenience. Clovis, Modesto, and Roseville are where you will find some great culinary advancement opportunities. Here you can earn your Culinary Specialist, or Culinary Professional Diploma. These two differ because the Culinary Specialist Diploma can be completed as a prerequisite to the Culinary Professional Diploma. A Diploma as a Baking and Pastry Specialist is available in addition.
The Art Institute of California
The International Culinary School at the Art Institute of California is located in Santa Ana. This school offers programs in the Art of Cooking, Baking and Pastry, Culinary Arts, and Culinary Management. Known as the largest school system in North America, and sister to the previously mentioned Art Intstitute. The Art Institutes consist of 40 different locations. However, some degree programs may vary by location.
Lincoln College of Technology
Diplomas and Associate Degrees are available at this school, located in West Palm Beach, FL. Hands-on training and fast track programs designed to help you excel as a culinary professional make this school well-known and unique. This school has provided qualified professionals for over 60 years.
YTI Career Institute
The YTI Career Institute in Lancaster, PA is committed to providing students with the fundamentals necessary to be a successful culinary expert. YTI currently offers a Diploma in Pastry Arts as well as an Associate's Degree in Culinary Arts and Restaurant Management. The 52,000 square-foot campus was remodeled recently to add four kitchen labs and 2,000 square feet of demonstration room to the new culinary division.
Stratford University
Stratford University of Virginia is accredited by the American Culinary Federation, and has plenty of degree options for culinary students. Among these are the Professional Diploma in Advanced Culinary Arts, Associate's in Applied Science in Advanced Culinary Arts, and the Associate in Applied Science in Baking & Pastry Arts. With excellent graduation and placement rates, Stratford could be the right school for you.
The Art Institute of Seattle
Discover a world of possibilities at the International Culinary School at the Art Institute of Seattle. You can choose from these basic culinary programs: The Art of Cooking, Baking & Pastry, Culinary Arts, and Culinary Arts Management. Student loans, grants, and work-studies are available to those who qualify.  Come visit this school anytime, along with the home of Microsoft and Starbucks.
Oregon Culinary Institute
Learn the skills necessary to run your own bakery or restaurant in less than one year. Oregon Culinary Institute sits on a magnificent 13,000 square-foot campus located in Portland, OR. Available to you are several degree programs: Baking and Pastry Diploma, Baking and Pastry Management Associate in Applied Science Degree, Culinary Arts Diploma, Culinary Management Associate in Applied Science Degree, Restaurant Management Diploma, and last, but not least is the Restaurant Management Associate in Applied Science Degree. All are wonderful experiences to further you on your career path, so take your pick.
Lincoln College of New England
Lincoln College of New England is accredited by the New England Association of Schools and Colleges, Inc. Here you can earn an Associate Degree in Culinary Arts or Culinary Management. As one of the only schools in Connecticut to offer culinary arts degrees, Lincoln College of New England strives for the best in student life, activities, and socialization to provide a relaxed, friendly environment where student chefs excel.
Find A Culinary School near Ashburn With Open Eligibility Today!
Degree Types
---
Culinary Training
Top Schools
Majors
Career Information