Popular International Culinary Schools

For culinary students, there is no better training than first-hand exposure to native cuisine.  Resumes of the world's most celebrated chefs contain work entries from around the globe.  Apprenticeships and other study modules place chefs under the tutelage of international food professionals, who aptly convey the nuances of their motherland's gastronomy.
Have you thought what it might be like to study at an international culinary school?  France is a relatively obvious hotbed of classical culinary traditions to be sure, but there are other regions that warrant a second look. Consider the following - the culinary adventure that unfolds in your mind, as you contemplate these questions, comes to life when you study internationally: 
What ethnic foods inspire you most? 
Which European cities, for you, hold positions of Epicurean esteem?
Do your culinary tendencies move you toward a particular cultural specialty, like Asian-fusion or Thai? 
The global food culture embraces the culinary cross-pollination that occurs when multicultural chefs exchange recipes and ideas. Your stock goes up, as a chef, when you embrace a variety of cultural approaches to food.  U.S. programs often partner with international entities for work-study reciprocity, so travelling to other countries to study is sometimes made possible by enrollment in a domestic Culinary Arts Degree program.  But for dedicated chef students there is no substitute for immersion training at an international culinary school.
The most popular international cooking schools are found in progressive, dynamic cities around the globe.
International culinary academies offer more than just degrees or kitchen skills, they provide access to regional cuisine, famous restaurants, acclaimed chefs and culturally flavored food knowledge – at the source.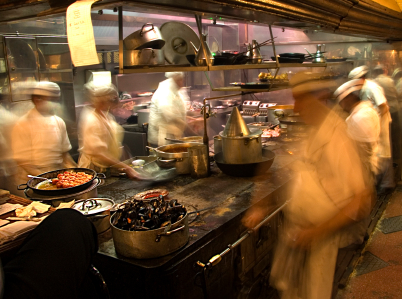 European Culinary Arts Academies
Thoughts of France, England, and Italy inspire images of rich cuisine, evolving for thousands of years, and somehow noble in its traditions.  Certainly, domestic culinary adventures include forays into international cooking, but the 'melting pot' influence of American culture surely dilutes the impact of authentic ethnic meals.
Enrolled as a culinary arts student In Europe, you'll be exposed to artisanal practices and classical preparations that keep cultural influences in tact, on the plate.  French culinary tradition is the gold standard for chef instruction, and you'll quickly discover one of the top international culinary schools, at home in Paris, France. Le Cordon Bleu academies, which are found throughout the United States, teach the curriculum spawned by the famous French school.
Types of cooking schools you'll find in Europe:
Canadian Culinary Schools
Canadian cities are multicultural by design, so regional cuisine is a natural gastronomic melting pot of flavors and influences. French-fusion and uniquely influenced English dishes like Yorkshire Pudding portray Canada's colonial heritage.  Hardy cuisine that reflects the bounty of the land includes wild game and smoked meats.
Salmon and cod provide regional counterparts to earthy indigenous agriculture, like wild mushrooms –chanterelle, morel and puffball.  As a Canadian culinary arts student, your recipe book might include a Caribou and Fiddlehead Fern recipe; or another regional interpretation called 'poutine', French fries with cheese curds and gravy.
What tricks have Canadian chefs learned from their American colleagues? And vice versa? Pursuing a culinary arts education in Canada places you in the perfect position to answer these questions and add international cred to your resume.  Le Cordon Bleu, and other culinary educators operate in Canada, as well as a wide variety of independent cooking institutes. Check out top cooking schools in Montreal, Ottawa, Toronto, and Vancouver.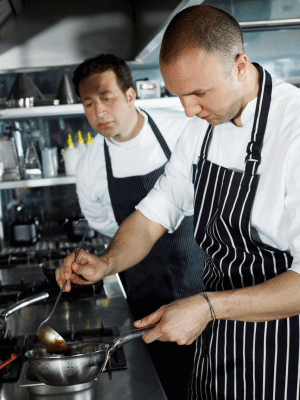 Asian Cooking Schools
Some of the world's most pleasing food traditions are born in Asia. You'll find a few culinary schools in Asian countries that cater to international visitors, by offering English-language cooking instruction. Learn kitchen skills, cooking styles, and become an expert in the special ingredients used in ethnic Asian preparations.
How to present true Asian dishes is a skill best learned at the source, so consider large and small culinary schools in the Pacific Rim for specialized training. Beware that in some cases you might need to speak the native language.
Use this guide to explore:
Down Under Cookery Programs
Australia and New Zealand have consistently temperate climates, beautiful stretches of beach, and in some places; rugged mountains. The resulting tourist economy provides fertile ground for culinary exploration, and valuable opportunities for ambitious chef students.
Full-scale culinary educators are present in Australia, but smaller cooking schools also admirably handle the job of creating employable chefs.  Orange Regional Cooking School exemplifies the smaller paradigm with intimate instruction in several specialty areas. The Sydney Seafood School is a unique place to learn about the coastal bounty; and how to prepare it. Professionals and enthusiasts alike are invited to join in classes that shed light on the culinary strengths of the region.
Finding a culinary school in
Melbourne
,
Sydney
, or
Brisbane
; or in
Auckland, New Zealand
is relatively easy, but don't be afraid to think outside the box for a culinary education - off the beaten path.
Find A Culinary School near Ashburn With Open Eligibility Today!
International Culinary Training
---
Culinary Training
Top Schools
Majors
Degree Types
Career Information