Hone Your Chef's Edge in Brisbane
Brisbane Australia, like Sydney and Melbourne, is an ethnically diverse metropolis, exhibiting a variety of culinary influences. The city is economically strong in tech and industry; two thriving sectors that continue to fuel a growing hospitality, tourism and restaurant industry.
Australia's British culinary roots are colored with ethnic influences that run the gamut from Arabic to Malaysian.  Mandarin, Vietnamese and other Asian cuisine is represented alongside southern European fare from Italy and Greece.
Culinary Scene in Brisbane
Culinary school in Brisbane leads to valuable career opportunities, if you're motivated and desire Australian work experience. Why? Brisbane has a booming culinary industry that creates a significant demand for passionate professionals, at all levels within the kitchen brigade structure. Apprentice chefs, sous chefs and line cooks for all stations are placed in meaningful post-graduate roles that can easily lead to coveted upper-level jobs like Executive chef.
Entry points vary based on experience, level of education, type of restaurant, and being in the right place at the right time, but you can be sure that a solid Culinary Arts education increases your upward mobility in the kitchen.  Your first job following culinary school won't likely be as a manager; so keep your eye on the culinary ball by exhibiting the best practices learned at school, for a rapid climb up the kitchen ladder.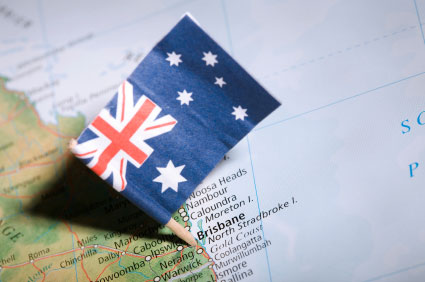 Wherever you land as a Culinary Arts or Pastry Arts student, a requisite part of your education takes you on a gastronomic journey through the local food scene.  Sample from local menus with an eye toward uncovering successful chef practices in the region.  What makes for a kitchen success?  And who are standout players on the Brisbane scene?  Off-campus learning provides a host of knowledge that cannot be gleaned from afar – get in there and soak it up.
For an inside look at some of the best chefs at work in Brisbane, sample dishes at acclaimed local restaurants like:
Mondo Organics, chef/owner Brenda Fawdon – Like so many food-related enterprises today, Mondo focuses on healthful and sustainable cooking and ingredients.  Sample from the menu, or participate in an interesting array of focused cooking classes held at the restaurant.  Culinary knowledge comes in many forms, so take stock in unconventional learning opportunities – off the beaten path.  Large schools cover a wide breadth of subjects, so specialty instruction can be of particular value to students wanting to expand their knowledge base in a micro-specialty.  Classes include: Seeds and Grains, Super Foods, Eat Yourself to Good Health, Modern Spanish, Gluten Free Cooking, and Classic French Stocks and Sauces.
Baguette, executive chef Bruno Loubet
Gianni's, chef/owner Gianni Greghini provides casual Italian food on the waterfront, and that means great seafood.
Popular Brisbane Cooking Schools
James St. Cooking School - Small culinary arts school that caters to both ambitious home enthusiasts, student chefs and professionals looking for cooking courses that can take their careers to the next level. Classes are half-day forays into specialized dishes, or workshops in specialized culinary areas. Professional chefs teach all of the classes and work side-by-side with students. Samples of courses include: Knife Skills, Fast and Furious Seafood, Curries of the World, Indian, and Modern Australian Cookery. Beer and BBQ, Italian Classics, and Chocolate Desserts are additional class titles that strike a chord with home gourmands and aspiring pros.
Brisbane North Institute of TAFE - Technical and Further Education schools are unique to Australia and offer students a wide number of vocational degrees, including cookery. Certificate II in Hospitality prepares students for professional jobs as kitchen hands, commercial cooks, and cookery apprentices, in commercial kitchens. Common work placements for graduates are in fast-food facilities, coffee shops, function centers, hotels, resorts, and fine-dining restaurants.
Wherever your aspirations reside, the 19-week program is preparatory for a rewarding career.  What you learn: food preparation, safety and hygiene, presentation, and a variety of classical techniques and dishes. Successful graduation from the certificate program is a qualifier for the apprenticeship program.
Find A Culinary School near Ashburn With Open Eligibility Today!
International Culinary Training
---
Culinary Training
Top Schools
Majors
Degree Types
Career Information