Cookery and Hospitality Schools in India
Studying in India provides exposure to a variety of regional influences that can only be appreciated by immersion in the diverse food palate of the country's culinary heritage.
You could make a lifetime excursion into Indian gastronomy, and only scratch the surface of the unique practices and dishes that comprise it. Each region puts forth flavors and nuances that are distinguishing characteristics of local fare. 
For culinary students, there is a wealth of knowledge to be tapped in India.
If you're looking for large formal culinary arts academies, you won't be disappointed – with several doing an admirable job of filling the growing demand for hospitality professionals.  But don't be afraid to think outside the box for your Indian culinary education. Dozens of small, hands-on, regional cooking schools operate across the country, in a nod to Indian hospitality and tradition. Don't discount the knowledge gleaned from a few days spent in a Mumbai, Telicherry, Kerala, Delhi, Calcutta, or Rajasthan kitchen.
Most independent classes are taught in home kitchens, some as part of a bed and breakfast-style experience. You'll find opportunities to learn Punjabi, Goan or Bengali styles of Indian cookery.  Christian influences allow for the use of meat and fish, while other schools adhere to strict vegetarian preparations. The rich exotic spices you'd expect to taste in Indian dishes are exactly those used most frequently: cinnamon, cardamom, curry, turmeric, coriander, and fenugreek.
Learn and Earn in the Hospitality Industry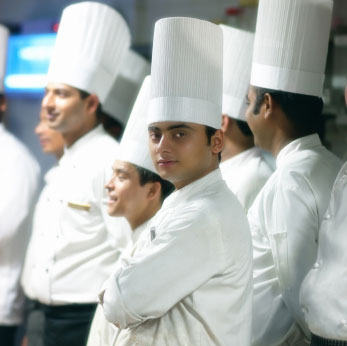 Top cooking schools in India answer the call, providing increasing numbers of well-educated hospitality and culinary pros.  Make sure your chosen school has the tools in place to further your culinary dreams.  Look for professional chef/instuctors who bring varied experiences to the teaching kitchen. Facilities should reflect their commercial counterparts.  And industry connections should be established school features – for placing you in productive internships and apprentice roles.
Top Culinary Arts Institutes in India
College of Hospitality and Tourism – New Delhi is one of the leading hospitality and culinary arts schools in India. Students intern in world-class luxury hotels and work in top kitchens to hone their career skills. The College partners with industry Organizations like Federation of Hotel and Restaurant Association of India (FHRAI) and Hotel Association of India (HAI) to place students in meaningful externship positions, which often lead to long-term employment.  The India Culinary Forum (ICF) is active in recruiting and career building, to bridge the gap between the industry and the institute.  Programs: Bachelor's, Diplomas and Certificates in Hotel Management, Food Preparation and Culinary Arts, Indian/Continental/Patisserie, Hotel Management and Catering Operations, and Food and Beverage Service. Established relationships with Indian and international hospitality providers include Four Seasons, Marriott New Dehli, Holiday Inn, and the Ritz, London.
Culinary Academy of India – Hyderabad puts ambitious student chefs into 7 state-of-the-art kitchens, as well as a work while you learn high-volume student-run restaurant. Under the guidance of accomplished master chefs, students work through intensive curriculums that are centered on practical application of theoretical principles.  The heart of the degree program selection is the Bachelor's in Catering Technology and Culinary Arts Degree (BCT & CA), which builds career proficiency in the following areas: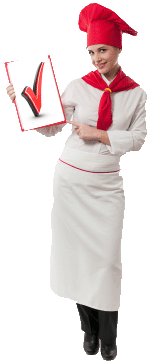 Gastronomy
Bread Art
Advanced Garde Manger Arts
Meat and Charcuterie
Asian Cooking
Indian Regional Cuisine
Indian Confectionery
International cuisine
Food and Beverage Pairing
Drawing and Graphics – To enhance presentation skills.
Management
French –To illicit further understanding of classical cooking techniques.
Other courses of study include, Certificate-Food Production and Patisserie, Diploma-Cruise Galley Operations, and Galley-Assistant Preparation.
Mumbai College of Hotel Management and Catering Technology – Mumbai specializes in training for the workforce, across a wide variety of hospitality, hotel and restaurant jobs. Front of the house operations and kitchen practices are illustrated to provide a thorough understanding of the hotel and restaurant employment structure. The College offers a Master's in Business Administration Degree in Hotel Management that provides advanced training for management level candidates. Degree programs: MBA Hotel Management, Bachelor's in Science-Hotel Management, Bachelor's in Science-Catering Operations and Certificates in Hotel Management and Catering Technologies.
Cooking Classes Across India
Your culinary education takes many forms, so sometimes getting to the heart of a regions unique gastronomic profile involves immersion in the local culture.  Degrees from well-known cooking schools are great resume entries, and provide a breadth of knowledge that cannot be acquired elsewhere, but exposure to inspiring cuisine is also found here:
Gourmet Desire – Delhi - Intimate instruction initiated by a well-traveled gourmand who encourages enrollees to "eat your way through life".  Four sample itineraries provide exposure to various elements of Indian culture and cuisine, for a "Real Taste of India", 
Enjoy a home-cooked meal with an Indian family, in their home.
The above meal is supplemented with a trip to the spice market to unveil the spice combinations used in the dishes served.
Add a trip to the vegetable market to increase understanding of the regions agricultural bounty.
An entire day is spent exploring, shopping and sampling Indian street food.
Delhi Bed and Breakfast – Delhi
Manju's Cooking Classes - Bangalore-based cooking and pastry classes.
Nimmy Paul – Kerala – Home-inspired cookery is the order of the day for Nimmy Paul who has inspired foodies with her cooking instruction for twenty years.  Choose from four distinct learning opportunities that expand on traditional Kerala cooking.  Meal, Day, Stay and Demonstration tracks are self-explanatory in their scope.
Phillip Kutty's Farm – Kerala -Excellent accommodations are offered in the backwater region of Kerala, on this working farm island.  For interest travelers, a Cookery Holiday has been instituted to provide insight into authentic backwater Christian cuisine.  3-7 days are spent engaging in hands-on learning, illustrated by traditional culinarians who share dishes like Appam (rice bread), Duck Curry, Fish Molee, Kerala Fish Fry, Vegetable Thorans and a selection of chutneys and traditional desserts.
Find A Culinary School near Ashburn With Open Eligibility Today!
International Culinary Training
---
Culinary Training
Top Schools
Majors
Degree Types
Career Information