World-Class Chef Training in Peru—Lima, Cuzco and Beyond
Peruvian cuisine is being discovered around the globe by discerning chefs trained in this distinctive gastronomic tradition. And in return Peru is coming into its own as a culinary hotspot.
Lima is home to one of the most internationally renowned culinary academies. Le Cordon Bleu teaches classic French culinary technique and cuisine, a dynamic contrast to the Peruvian culinary backdrop. The school welcomes student chefs from all over the world to this cosmopolitan city where they are trained officially in French cooking, the foundation of many of the great culinary traditions, and they have the opportunity to be immersed in a vibrant and equally exciting regional gastronomy.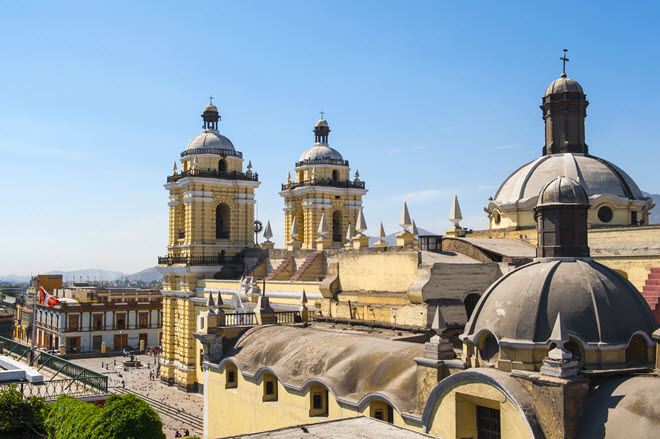 Le Cordon Bleu school's student-run restaurant in downtown Lima is a hotspot in an otherwise Peruvian culinary scene. This is after all the proving ground for fine French cuisine. And the school's restaurant does a high-volume business, excellent way to get students on board with front of the house and back of the house duties.
Types of Cooking Schools in Peru
Outside this formal and popular school you'll discover excellent culinary adventures in small, hands-on cooking schools. Cooking experiences like these are commonly called vacation cooking schools, but many provide very specialized classes suited to both serious amateurs and foodies, as well as student chefs and professional chefs looking for gastronomic inspiration. You may even land on a traditional Incan school.
Explore the "best of" restaurants in Machu Picchu, Cuzco and Mancora and savor the distinct landscapes from which local ingredients are produced and harvested.
The Peruvian Culinary Scene
Peruvian cuisine is enjoying a renaissance. Chefs and restaurants have discovered the colorful and diverse dishes that comprise this dynamic culinary tradition and are making them available to demanding eaters. Menus are populated with creative tapas style dishes in small and large portions, as well as substantial entrees. Fish, game, and shellfish are popular. Common menu items include seviche, chicharrones, tamales, and barbecued and braised meats, including lamb.
Top Peru Culinary Schools
Le Cordon Bleu at Milaflores-Lima is affiliated with the Parisian school of the same name. This world class chef training program produces some of the most well-qualified chefs entering the profession. Classic French culinary tradition is emphasized, but students also learn the nuances of fine Peruvian and European cuisines.
Find A Culinary School near Ashburn With Open Eligibility Today!
International Culinary Training
---
Culinary Training
Top Schools
Majors
Degree Types
Career Information