Follow in the Footsteps of Famous French Chefs
When it comes to international cuisine, the French are recognized for their high food preparation standards. The art of French cooking has been studied for generations and provides the foundation for many well-known culinary programs. What we have come to regard French haute cuisine, as the accepted standard to be emulated by practicing fine-dining chefs.
The edicts of French chef Georges Auguste Escoffier transformed the gastronomic world, when he instituted the standard "brigade system" to the kitchen hierarchy, at the turn of the twentieth century.  His simplified menus and focus on lighter presentations revolutionized food appreciation; and left an enduring legacy, especially in culinary arts education.
Haute cuisine, popular in cities like Paris, tells half the story of French cooking, the other half is found among rustic traditions of simple, but delicious food.  Remote regions of France are rich, and varied in gastronomic traditions.  A growing interest in wholesome food has brought simple cooking into focus in recent years.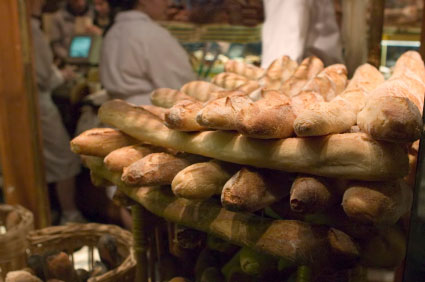 French Culinary Tradition
French culinary traditions; including cooking theory, kitchen technique, and ingredient handling are as highly regarded as the country's signature dishes. A quick tour of the American culinary vocabulary yields a handful of epicurean terms that are drawn directly from the French - not the least of which is the word "restaurant."
gourmet
bistro
brasserie
chef
croissant
sauté
The French Brigade System is employed in most fine-dining kitchens. Invented by Georges Escoffier, the brigade system defines the formal hierarchical system of chefs, cooks, and workers within a kitchen.  Formal job titles reflect very specific duties, and most Culinary Arts schools adhere to the structure for their curricular practicums:
Chef de Cuisine, or Executive Chef
Sous Chef
Garde Manger, or pantry chef
Commis Chef, or assistant chef
Saucier, or sauce chef
Patissier, or pastry chef
The organizational structure trickles down further, depending on the size and scope of the kitchen operation.  In culinary school, your education consists, in part, of a tour of each of these brigade stations.  Proficiency in every area of food preparation is a degree requirement for Culinary Arts graduates.  Staffers are promoted within the kitchen, based on the hierarchical roles present at individual properties, with several Sous Chef level jobs present in many kitchens.
Classical French preparations, that every Culinary Arts student will learn, include: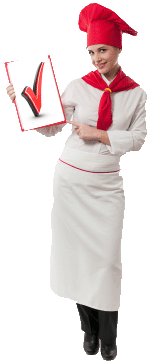 Meat pate'
Crepes
Bisque
Foie Gras
Crème Brulee
Terrine,
Pommes Frites
Quiche
Chantilly Crème
Coq au Vin
Escargots
Confit
Cassoulet
Famous French Chefs – Your Role Models
Famous chefs who have been launched by French culinary schools include a wide cross-section of culinary talent, past and present, who have advanced French gastronomy.
Jacques Pepin was a food TV pioneer who, together with Julia Child, brought everyday French cooking into the mainstream.  Easy, accessible dishes were introduced to home gourmands across the world, igniting a food appreciation revolution.
Georges Escoffier revolutionized the food preparation protocol, and instituted the formal kitchen brigade system – now used as the industry standard.
Alain Ducasse is a Provencal traditionalist, whose culinary progression brought him to a position of prominence as an advocate of French gastronomy in American.
French Culinary Schools
Le Cordon Bleu is one of the most well recognized names in culinary education. The historic and popular international educator started preparing world-class chefs in France.  The original French academy serves as the model for Le Cordon Bleu North America and for 8 international campuses located across Europe and Asia. Professional chefs that complete this school's coursework earn a coveted Le Grand Diplome de Le Cordon Bleu. 
The highly respected credential is the starting point for many acclaimed chefs. Student chefs have gained significant culinary exposure by graduation time, so the skills are in place to back up the degree.  For some experienced industry professionals, career studies at Le Cordon Bleu are sufficient to jumpstart their careers to positions of Executive Chef or Chef de Cuisine. Degree programs include Culinary Arts diploma and certificate; Hospitality Management Masters and Bachelors; and Masters in Gastronomy.
Two Bordelais is a luxury cooking school in Bordeaux, no less, a vacation designed for both serious –and moneyed—amateurs, but is equally satisfying for professionals seeking the inside peek at fine French cuisine and great wines.  
Les Coulisses du Chef Olivier Berte puts years of experience as a professional chef to work at his cooking school, where workshops are taught in classical French cooking.  The school is an open instruction academy for serious home gourmands, and aspiring professional cooks.  Culinary education comes in many forms, so schools that present material in segmented, focused workshops are able to convey a large amount of information, in a short amount of time.  Each resume entry you earn as a student reflects your dedication to expanding your knowledge of topical areas. 
L'ateliers des Chefs is a high volume Paris cooking school that offers a large number of intensive workshop offerings.  The courses are built around regional themes, like Cooking in Provence, or specific preparations such as Pate'.  Affordable, and diverse in scope, each class demonstrates a process, before engaging students in hands-on practical skill development.
L'ateliers des Sens is an English learning option, taught be two acclaimed English speaking Chefs.  Macaroons, French Breakfasts, Wine and Cheese Pairings, and other course selections bring a spotlight to the gastronomic contributions of a variety of French regions.  Instruction modules are broken up throughout the day, allowing flexible access for working professionals.
La Vie du Chateau in Bazouges sur le Loir, this family home was built by their ancestor, the count François de La Bouillerie, who was Imperial Treasurer for Napoleon, and then Treasurer of the Crown. They offer a unique cultural and culinary holiday with accommodations in the château and excursions in Pays de la Loire.
Cooking in France in Dordogne embraces another culinary learning trend, made popular by France's Epicurean reputation and the food awakening trends of the twenty-first century.  Travelers are given a cultural tour of French language and cooking traditions, in a leisure holiday setting.  You won't earn a Cordon Bleu degree here, but you'll take away a piece of French culinary culture that can be applied throughout your career.
Find A Culinary School near Ashburn With Open Eligibility Today!
International Culinary Training
---
Culinary Training
Top Schools
Majors
Degree Types
Career Information