Dynamic Toronto, Ontario Canada Cooking Schools
Toronto outpaced Montreal a number of years ago in population and is now the largest city in Canada. Cuisine is characterized by a melting pot of international influences. Ethnic neighborhoods cling closely to tradition, adding solidarity to authentic native foods.  American features are present in Toronto food, as well as a host of fusion-inspired trends, born of culinary innovation.
Chinese, Vietnamese and Korean pockets of influence offer authentic traditional dishes prepared by Asian transplants who take their gastronomic histories seriously.  Little Italy is home to a variety of Italian regional offerings, in both authentic and americanized versions.
Indian food history is represented by extensive buffets and ala Carte preparations.  Portuguese, Hungarian and Japanese components find their way into progressive multicultural fusion dishes, but they are also present in their purest forms, unadulterated by inventive chefs.
Toronto's large Jewish population assures a robust kosher food segment, in grocery stores and restaurants.  For culinary students it adds up to an exciting and concentrated exposure to world cuisine that affords far-flung gastronomic sampling, within a small geographical region.  On a student budget, the ability to taste multinational cuisine in your school's hometown, is money (and knowledge) in the bank.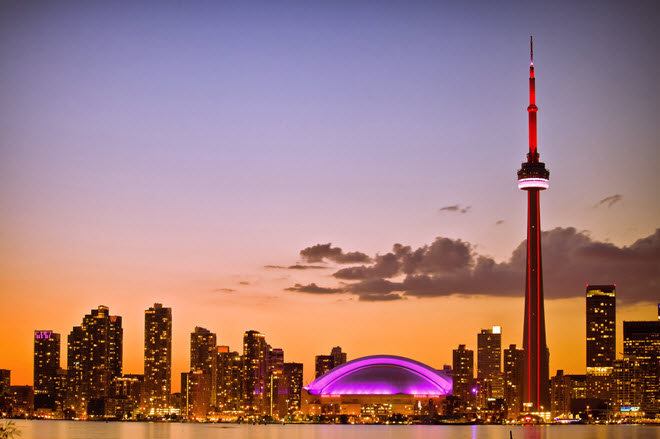 Toronto neighborhoods that inspire culinary exploration:
Kensington Market- funky, eclectic and easily explored on foot
Thorncliffe Park- International in residential scope, the most-represented ethnic backgrounds (and cuisine) are largely Asian and African.
Eglinton West, or Little Jamaica places Caribbean fare on the front burner with authentic spicy dishes.
The Danforth, or Greektown is home to the annual Taste of the Danforth festival and boasts huge numbers of authentic Greek and Mediterranean restaurants.
Toronto's uncompromising upscale fine-dining scene is also worth a plunge. Some of these restaurants might provide apprentice and internship opportunities for you career progression.  It is understood that student budgets often don't allow for buying extravagant meals – there are plenty of students chefs well versed in Raman noodle innovation. Think outside the box for off-campus learning opportunities.
Look to local festivals and regional food events for low-budget exposure to food trends and notable chefs.  Casual foodie gatherings are highly concentrated emporiums of culinary knowledge.  Attend, participate, and promote yourself and your culinary point of view. Making an impression as a professional cook, early on, sets the stage for future employment and collaborative efforts.  A few acclaimed Toronto restaurants and chefs include:
Scaramouche, executive chef Keith Frogget, pastry chef Joanne Yolles
North 44, executive chef Mark McEwan
La Maquette, chef/owner Ange Kanavas
Becoming a Chef's Apprentice in Ontario
Canadian culinary schools recommend apprenticeships, and in some cases oversee their administration. Chef apprenticeships provide an alternate avenue for earning your degree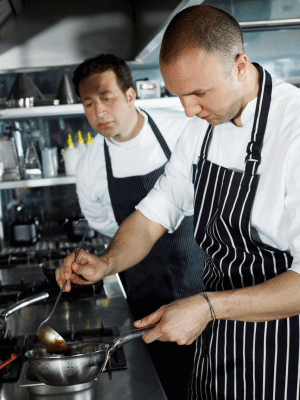 and getting a good chef job. Before you are registered as a professional chef apprentice, you must earn the industry Red Seal Certificate for Cook, which requires a minimum of 1 year of culinary experience.
The mentor chef/instructor responsible for your apprenticeship must also be properly credentialed, with the Certified Chef de Cuisine seal of approval, from the Ontario Cook Industry Committee.
Toronto is a giant metropolis, over two million strong in population.  As is the case in other super-cities, the hospitality and tourism industry is thriving in Toronto. What does this mean for you as a Toronto Culinary Arts student?  You, and other well-educated, highly skilled chefs are in high demand. Your employment outlook is good during school, as you hone your craft; and upon graduation, when mobility within the kitchen becomes your focus.
Popular Culinary Arts Schools in Toronto
Vetting potential cooking schools requires focus, and a clear understanding of where your culinary dreams are aimed. Consider how well prepared your chosen school is to place you on the educational path most suited for achieving your career goals.
Liaison Culinary College --  Liaison Culinary College offers career assistance for graduates and boasts a 90% placement rate. The downtown Toronto campus is one of two LCC locations. Choose from the following Culinary Arts diploma programs: Cook Basic, Cook Advanced, Personal Chef. The diploma for personal chefs is unique among culinary educators.  If this is where you want to make you mark in the industry, consider this focused program as one of the best preparatory steps.  Students at LCC learn in a state of the art campus kitchen. Menu planning, managing kitchen staff, cost and inventory control, and guest satisfaction are key curricular areas. The very popular Chef of the Day program places a student chef the lead kitchen role, where he or she plans, directs and delivers a three-course meal to the public.
George Brown College -- George Brown College, in downtown Toronto, is one of the region's most popular career colleges. GBC's Chef School program almost guarantees your success in entering the field. The school makes every effort to align itself with the regional and national food service industries, to forge solid community connections that get you into excellent externships and to help you land a chef's job following graduation. GBC offers a few of the most unique cooking programs going. Choose from diploma, post-diploma, certificate, and apprenticeship programs in:
Culinary Management
Culinary Skills
Baking and Pastry Arts
Patissier Apprentice
Cook Apprentice
If you're a working professional chef, looking to amplify your understanding of a particular cuisine, choose from advanced professional courses focused in subject areas like:
Culinary Arts Italian
Culinary Arts French
Find A Culinary School near Ashburn With Open Eligibility Today!
International Culinary Training
---
Culinary Training
Top Schools
Majors
Degree Types
Career Information