Study French Cooking at a Chef School in Paris
Paris is inarguably one of the most significant national contributors to world gastronomy.  American staples with distinct French influence include a variety of foods like crepes, croissants, and quiches. Other preparations such as foie gras, fricassee, truffled chicken, and Boeuf bourguignon land on American menus, by way of French culinary tradition.
Classical French technique is the adopted standard for most culinary schools, and one of the world's most widespread educators, Le Cordon Bleu, models its international curriculums in the image of its flagship Paris academy.  Culinary students in France quickly learn the seriousness afforded to the craft, especially among French chefs and sophisticated gastrophiles.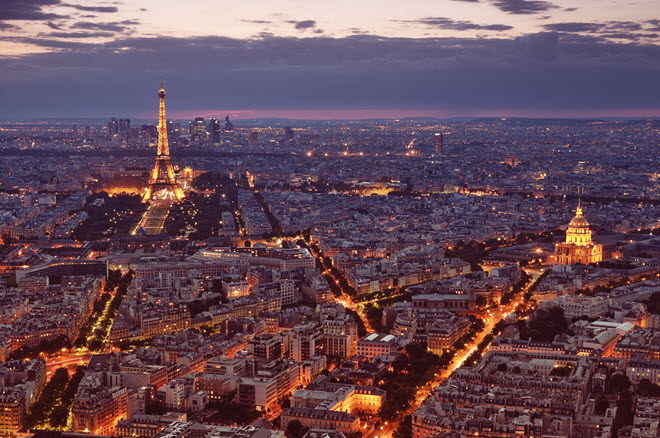 Haute cuisine was born in Paris and standardized through the efforts of Georges Auguste Escoffier.  The hierarchical structure of a French kitchen, called the brigade system, is standard operating procedure worldwide, and was instituted first by Escoffier.
Like other metro areas in Europe, Paris restaurant culture is becoming less rigid in its epicurean role, supporting progressive modern cuisine that includes ethnic influences from beyond France's borders.  International flavors, exotic ingredients and authentic multicultural culinary practices are well established in Paris and other French cities.
Chef students, though must place themselves in the hands of classical French training, and accept formal technical standards.  If you are eager to study in Paris, then you will adhere strictly to the kitchen brigade system, and know your place in it. The hierarchical system of chefs, cooks and kitchen assistants makes quick sense, and provides a constant reminder of the pantheon of world-class chefs who have come before you.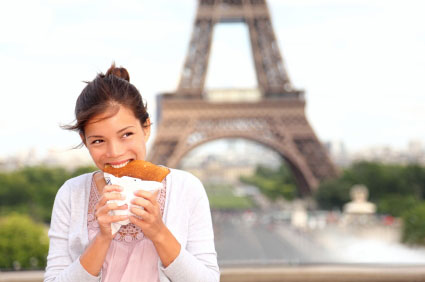 Birthplace of the Michelin Guide
From the world of haute cuisine, emerged the world-famous Michelin guide, also a Parisian creation. Andres Michelin published the first Michelin guide in 1900 and started a tradition that would come to exemplify modern appreciation of the finer things.
What started as a simple travel guide, aiming to assist travelers with fuel and lodging locations, has become the most respected culinary rating system worldwide. The Red Guides are Michelin's most coveted, containing specific, and numerous, restaurant entries for each of the countries they cover.
By 1933 the Michelin guide had adopted the three-star rating system employed today.  The unique scale offers only three rating: Very Good, Excellent and Exceptional.  In the world of culinary rankings, there needn't be more, since very good is the minimum standard toward which serious chefs aspire.  The three-star rating continues to be a rare award, with around 75-80 worldwide restaurant being recognized at this level each year.
Facilities are also judged within the Michelin guide, by way of a series of fork and spoon designations. The general ambiance of each restaurant listed lands it somewhere across a range from one through five.  Another guide feature, present since 1955, is called Bib Gourmand, and recognizes a 'quality for value' component of listed restaurants.

Notable French Restaurants
Part of any culinary student's education is a thorough foray into local food culture.  French students hit the jackpot, with proximity to some of the finest restaurants in the Michelin Guide.  Sample from noted menus when possible, despite student budget limitations, and engage with culinary professionals, for a better overall understanding of the local industry.
Your job-hunt success rate is strengthened by the contacts and knowledge you acquire through off-campus culinary immersion.  Internships or short-term employment roles are also perfect for placing you behind the service lines of world-class kitchens.
Taillevent is a Michelin two-star restaurant in the heart of Paris. The menu includes a variety of fish, cassoulet, and an extensive list of fine French wines. The chef's tasting menu is an inspired tour of menu highlights.  The restaurant previously stood as a longtime three-star Michelin property, but lost the third star in 2007.
Alain Ducasse au Plaza Athenee dishes up elegant classical French cuisine in one of the Paris' most lauded dining experiences.
Guy Savoy, Paris is the crème-de-la-crème, according to Michelin, serving ala Carte dishes, and chef's specialty fixed course menus.
Popular Paris Culinary Arts Schools
Le Cordon Bleu may be the most famous culinary school in the world. This world-class curriculum was spawned in 1895, with roots going back to Henry III. The educator operates campuses worldwide, including more than 30 Le Cordon Bleu locations in North America. Expect the Paris program to be very competitive, after all this is the flagship campus of a storied world-class cooking school. A pantheon of heavy-hitters in the culinary field have honed their kitchen chops on-campus in Paris. Programs include:
Diplomas in Cuisine, Patisserie and the Grand Diploma-- a combination of the two. Certificate programs in Basic Cuisine, Intermediate Cuisine, Superior Cuisine and Basic Patisserie, Intermediate Patisserie and Superior Patisserie.
Workshops and Short programs include 1 to 3 hour classes, covering topical areas such as, crepes and savory pancakes, foie gras, terrines, and shellfish.
Continuing education programs last 1 to 4 weeks and include plated desserts, chocolate and confectionery, and other expanded specialty topics.
Find A Culinary School near Fairfield With Open Eligibility Today!
International Culinary Training
---
Culinary Training
Top Schools
Majors
Degree Types
Career Information