Cooking School in Singapore: True Asian Fusion
Singapore is a melting pot of Asian culture, thus offering a distinctive array of Asian food specialties, and dynamic fusion inspired dishes.  Languages are also varied and include Malay, Mandarin, and English. For students of Asian cooking, language is not a problem in Singapore, as the official educational language is English.  Food diversity is a point of pride among Singaporeans, so Culinary Arts students are perfectly placed for off campus learning.
Chinese, Indian, and Malay cooking are present is their authentic forms, but innovative masters continue to blur the cultural lines with Asian-fusion creations that borrow from many traditions.  Among natives, food appreciation is supported by a wealthy population segment, which in turn, continues to fuel the need for inventive culinary professionals.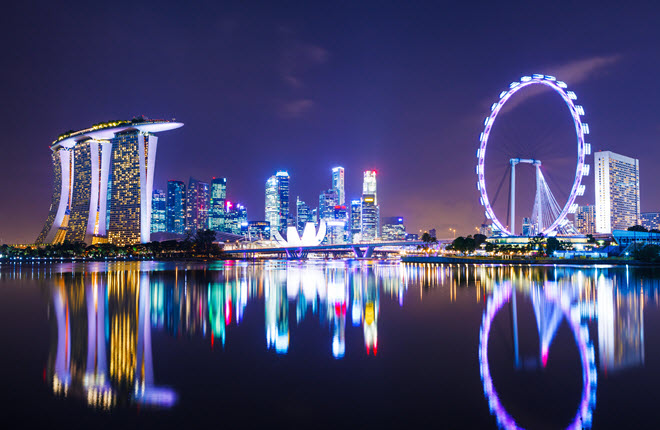 Tourism is a large industry in Singapore, with millions of pleasure travelers passing through each year.  Hungry guests provide further employment opportunities for the culinary professionals who feed them.  As a student, your formal learning is augmented by immersive exposure to Singapore's fast-paced hospitality industry, characterized by ethnic diversity and unique cuisine.
In 2005, gambling in Singapore was legalized, to promote further tourism.  Casinos and gambling parlors are popular destinations for another class of traveler that supports employment for line cooks, caterers, chefs and hospitality managers.  As an important world finance center, Singapore draws business travelers who fill hotels-providing fertile ground for entry-level kitchen employment.  In short, culinary students enjoy a high-concentration of educational and employment opportunities in Singapore.
Student Chefs Master Singapore Street Food
One notable culinary distinction that Singapore shares with Hong Kong, and other Asian ports, is the widespread presence of street food - found primarily in public hawker markets. Large centers offer street vendors of this type an opportunity to sell inexpensive and flavorful creations to the public. Like most street food, Singapore's version is designed to feed large numbers of visitors each day.  But particularly in Singapore, street food has reached a level of culinary notoriety.
Popular offerings include satays, hainanese chicken rice, curried pancake creations, and chicken with coconut rice. Flavors meld multicultural influences to create famously tasteworthy combinations, hailed by hungry diners and critics alike.  In Singapore, the hawkers markets are government owned, offering institutional support, to a practical tradition.  The government recently launched www.myhawkers.sg, to back the effort.
Popular Singapore Culinary Schools
Shermay's Cooking School -- Founded by Le Cordon Bleu-trained chef, Shermay Lee, this Singaporean culinary school provides a curriculum that accommodates amateurs and pros. Singapore is famous for its unique variety of gastronomic influences, from traditional Asian regional specialties, to fusion inspired "street" foods that blend cultural components. Learn the classics, and develop your palate at Shermay's, as professional chef instructors embrace Japanese, Chinese and Malay cuisine. Class offerings are diverse and enticing, covering topics like: Our Food Heritage – Sauces and Seasonings, Japanese Bento Box – Hands-On, and French Comfort Foods.
Cookery Magic – This small, informal academy passes along food traditions, in an intimate setting, characterized by hands-on participation. This school is well known in Singapore, and appeals to novice cooks as well as experienced chefs seeking to deepen their understanding of Asian cooking traditions. The Daily Home Cooking class delivers a 3-course intensive curriculum, focusing on a medley of traditional cuisine, representing Singapore, India and Vietnam. Thai dishes, and simple fusions like Indochina-Thai, or Indochina-Vietnamese, are conveyed in an easy to follow instructional format. Chef founder and teacher, Ruqxana Vasanwala, has been formal trained in confectionery arts, by the Wilton School.
At-Sunrice GlobalChef Academy -- At-Sunrice takes chef training seriously, with Certificate and Diploma programs in a variety of disciplines. Student chefs learn and work locally, in restaurants and hotels around multicultural and cosmopolitan Singapore. Students of At-Sunrice are important features of the local food and beverage industry, working jobs that help them refine their craft, while earning an education. Faculty includes chef/instructors from the world-famous Johnson and Wales University Culinary Arts program. At-Sunrice, programs of study include:
Advanced Culinary Placement Diploma - 2-year intensive course, in culinary fundamentals, that preps graduates for mid-level entry into the international food and beverage industry.
Diploma in Culinary Craft and Service Excellence, a 1-year intensive, focusing on Eastern/Western culinary traditions.
Diploma in Pastry and Baking Arts is a 15-month intensive course of study that blends confections and baking expertise into the chef's curriculum.
Certificates can be earned in these specialized hospitality areas.
Food and Beverage Service
Food Preparation
Food Production
Pastry and Baking
Continuing education offers graduates a number of certification programs, for compliance and mastery.
Hygiene
Specialty Baking
Wine Service
Service Essentials
Food and Beverage Environment
Coffee and Tea
Workplace Safety
Find A Culinary School near Fairfield With Open Eligibility Today!
International Culinary Training
---
Culinary Training
Top Schools
Majors
Degree Types
Career Information