Fast Track Professional Cooking Majors
A fast-track culinary major that leads to kitchen jobs, without long-term schooling commitments, is designated by many culinary educators as a professional Food Preparation certification.  "Professional" is key. A major in Food Preparation/Professional Cooking provides a straight-up vocational education that imparts skills and technique suited for entry-level kitchen employment.
The hospitality industry promotes from within.  High level, respected kitchen professionals are at work today with only this credential present on their educational resumes.  The business is highly competitive though, so expect to pay your dues over the long-term if this is the educational path you choose.  Hard work goes a long way for advancing your career, but higher training gives you a leg-up when compared to other candidate's qualifications.
Envision yourself working your dream job, so you can effectively weigh the educational options that might place you on the best path leading to your own personal success. Food-prep is a major for students looking for an in-and –out academic investment that imparts the technical know-how to get started in the industry. No liberal arts requirements or superfluous business courses - just boiled down training appropriate for line cooks or kitchen assistants.
Professional Cook and Food Preparation modes of study are perfect for:
College-aged career seekers
High school students looking to get a jump on post-graduate employment
Adults with no post-secondary education
Working professionals seeking a rewarding and refreshing career change
Lower-level kitchen staffers who want to add a basic credential to their culinary repertoire
Individuals wanting a taste of the industry before committing to a lengthy school stint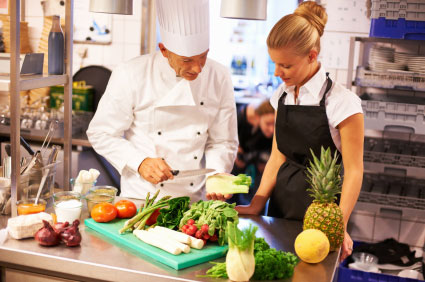 Schools that Offer Food Prep/Professional Cooking Majors
In the U.S., you'll find that Culinary Arts or Pastry and Baking Degrees, at the Associate's level, are common educational tracks for professional cooks. Many schools that offer Associate's Degrees also include Diploma or Certificate level coursework for food preparation and professional cooking. Look to the following types of schools for these programs:
Community Colleges with hospitality programs
Technical Colleges
Vocational training centers
Select Culinary Arts schools
Online educators
Hospitality and restaurant management colleges and universities, such as Baltimore International College
What You'll Learn as a Food Prep Student
Since the emphasis is on putting you to work in a professional kitchen, these fast-track curriculums typically include a combination of study areas including:
Basic kitchen skills like knife handling
Professional kitchen equipment use and care procedures
Basic cooking techniques and food production methods
Fundamental theory of major world cuisine
Preparing classical interpretations of  popular restaurant dishes
High-volume production cooking methods
Personal hygiene and sanitary kitchen practices
Food plating
Buffet operations
Some programs include basic training in kitchen management, inventory and cost control, wine and beverages, and menu development, but usually the time limitations of professional food preparation courses of study are prohibitive for extensive exposure in these areas.
Careers for Cooks
Graduate as a Professional Cook or Food Preparation Specialist, and expect to shop for entry-level kitchen jobs like:
Dishwasher
Line cook
Chef's assistant
Food-prep staffer
Short order cook
Fast-food worker
Institutional cook
Station cook
Buffet attendant
Catering expeditor
Kitchen apprentice
Receiving assistant
Find A Culinary School near Ashburn With Open Eligibility Today!
Majors
---
Culinary Training
Top Schools
Degree Types
Career Information