About Us
Meet Brad Lowry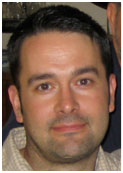 Brad Lowry started working in restaurants during high-school, eventually handling most every job in the kitchen and dining room.  After teenage stints as dish dog and fry daddy, he finally found his stride with front-of-the-house positions at several world-class hotel properties.
"Working in those great hotels really opened my eyes to the hospitality industry," says Lowry, "and it really made me appreciate all the amazing culinary talent that is on display, day-after-day in well-run restaurant kitchens.  I learned to cook by imitating what I saw the chefs do at work, and the food and beverage thing just stayed with me from then on."
Midwestern sensibilities led Lowry to become an expert beer and wine maker, and eventually to open a retail store serving the hobby.  The business was later paired with a sister-store offering high-end cooking implements and culinary appliances.
"We did cooking and brewing demonstrations at a time when people were really starting to embrace their appreciation for fine food and drink.  I saw that people had an unquenchable thirst for information about entertaining and cooking, so I put my liberal arts degree to work writing about it."
Lowry has been a regular contributor to local food publications all over the Midwest, and has conducted TV demonstrations teaching soda, beer, and wine making.  He continues to wave the flag for food appreciation and culinary education through various online and offline channels.
Contact Us
Culinary Schools.org is an informational resource for individuals looking to pursue culinary-related education and careers. We have been a leading informational resource for students as the industry has went through good times & bad. We've been online for over a decade and we plan to be online a decade from now.
If you need to contact us via email, just use this form.
Privacy Policy for www.culinaryschools.org
If you require any more information or have any questions about our privacy policy, please feel free to contact us using the above HTML contact form.
At www.culinaryschools.org, the privacy of our visitors is of extreme importance to us. This privacy policy document outlines the types of personal information is received and collected by www.culinaryschools.org and how it is used.
Log Files
Like many other Web sites, www.culinaryschools.org makes use of log files. The information inside the log files includes internet protocol ( IP ) addresses, type of browser, Internet Service Provider ( ISP ), date/time stamp, referring/exit pages, and number of clicks to analyze trends, administer the site, track user's movement around the site, and gather demographic information. IP addresses, and other such information are not linked to any information that is personally identifiable.
Cookies and Web Beacons
www.culinaryschools.org does use cookies to store information about visitors preferences, record user-specific information on which pages the user access or visit, customize Web page content based on visitors browser type or other information that the visitor sends via their browser.
Some of our advertising partners may use cookies and web beacons on our site. Our advertising partners include All Star Directories.
These third-party ad servers or ad networks use technology to the advertisements and links that appear on www.culinaryschools.org send directly to your browsers. They automatically receive your IP address when this occurs. Other technologies ( such as cookies, JavaScript, or Web Beacons ) may also be used by the third-party ad networks to measure the effectiveness of their advertisements and / or to personalize the advertising content that you see.
www.culinaryschools.org has no access to or control over these cookies that are used by third-party advertisers.
You should consult the respective privacy policies of these third-party ad servers for more detailed information on their practices as well as for instructions about how to opt-out of certain practices. www.culinaryschools.org's privacy policy does not apply to, and we cannot control the activities of, such other advertisers or web sites.
If you wish to disable cookies, you may do so through your individual browser options. More detailed information about cookie management with specific web browsers can be found at the browsers' respective websites.
Culinary Training
Top Schools
Majors
Degree Types
Career Information
Fun