Recipe Ingredient Conversion Calculator

Enter in the value you want to convert and then select what unit you want to convert to. This tool allows you to quickly convert between:
teaspoons, tablespoons, cups and ml
fluid ounces, cup, teacups, shots, glasses and wine glasses
gallons and liters
pounds and kilograms
calories and kilojoules
Cooking Measurement Conversion
Cooking Conversion Chart
Here is a convenient conversion chart. You can also click on this image for a larger version. And we have also included HTML table versions of the data below.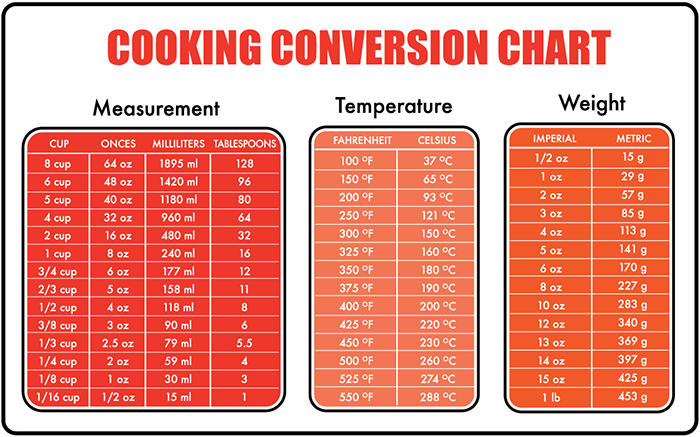 Meaurement
| | | | |
| --- | --- | --- | --- |
| Cup | Ounces | Milliliters | Tablespoons |
| 1/16 cup | 1/2 oz | 15 ml | 1 |
| 1/8 cup | 1 oz | 30 ml | 3 |
| 1/4 cup | 2 oz | 59 ml | 4 |
| 1/3 cup | 2.5 oz | 79 ml | 5.5 |
| 3/8 cup | 3 oz | 90 ml | 6 |
| 1/2 cup | 4 oz | 118 ml | 8 |
| 2/3 cup | 5 oz | 158 ml | 11 |
| 3/4 cup | 6 oz | 177 ml | 12 |
| 1 cups | 8 oz | 240 ml | 16 |
| 2 cups | 16 oz | 480 ml | 32 |
| 4 cups | 32 oz | 960 ml | 64 |
| 5 cups | 40 oz | 1180 ml | 80 |
| 6 cups | 48 oz | 1420 ml | 96 |
| 8 cups | 64 oz | 1895 ml | 128 |
Temperature
| | |
| --- | --- |
| Fahrenheit | Celsius |
| 100 °F | 37 °C |
| 150 °F | 65 °C |
| 200 °F | 93 °C |
| 250 °F | 121 °C |
| 300 °F | 150 °C |
| 325 °F | 160 °C |
| 350 °F | 180 °C |
| 375 °F | 190 °C |
| 400 °F | 200 °C |
| 425 °F | 220 °C |
| 450 °F | 230 °C |
| 500 °F | 260 °C |
| 525 °F | 274 °C |
| 550 °F | 288 °C |
Weight
| | |
| --- | --- |
| Imperial | Metric |
| 1/2 oz | 15 g |
| 1 oz | 29 g |
| 2 oz | 57 g |
| 3 oz | 85 g |
| 4 oz | 113 g |
| 5 oz | 141 g |
| 6 oz | 170 g |
| 8 oz | 227 g |
| 10 oz | 283 g |
| 12 oz | 340 g |
| 13 oz | 369 g |
| 14 oz | 397 g |
| 15 oz | 425 g |
| 1 lb | 453 g |
Meaurement
| | | | |
| --- | --- | --- | --- |
| Cup | Ounces | Milliliters | Tablespoons |
| 1/16 cup | 1/2 oz | 15 ml | 1 |
| 1/8 cup | 1 oz | 30 ml | 3 |
| 1/4 cup | 2 oz | 59 ml | 4 |
| 1/3 cup | 2.5 oz | 79 ml | 5.5 |
| 3/8 cup | 3 oz | 90 ml | 6 |
| 1/2 cup | 4 oz | 118 ml | 8 |
| 2/3 cup | 5 oz | 158 ml | 11 |
| 3/4 cup | 6 oz | 177 ml | 12 |
| 1 cups | 8 oz | 240 ml | 16 |
| 2 cups | 16 oz | 480 ml | 32 |
| 4 cups | 32 oz | 960 ml | 64 |
| 5 cups | 40 oz | 1180 ml | 80 |
| 6 cups | 48 oz | 1420 ml | 96 |
| 8 cups | 64 oz | 1895 ml | 128 |
Temperature
| | |
| --- | --- |
| Fahrenheit | Celsius |
| 100 °F | 37 °C |
| 150 °F | 65 °C |
| 200 °F | 93 °C |
| 250 °F | 121 °C |
| 300 °F | 150 °C |
| 325 °F | 160 °C |
| 350 °F | 180 °C |
| 375 °F | 190 °C |
| 400 °F | 200 °C |
| 425 °F | 220 °C |
| 450 °F | 230 °C |
| 500 °F | 260 °C |
| 525 °F | 274 °C |
| 550 °F | 288 °C |
Weight
| | |
| --- | --- |
| Imperial | Metric |
| 1/2 oz | 15 g |
| 1 oz | 29 g |
| 2 oz | 57 g |
| 3 oz | 85 g |
| 4 oz | 113 g |
| 5 oz | 141 g |
| 6 oz | 170 g |
| 8 oz | 227 g |
| 10 oz | 283 g |
| 12 oz | 340 g |
| 13 oz | 369 g |
| 14 oz | 397 g |
| 15 oz | 425 g |
| 1 lb | 453 g |
Culinary Training
Top Schools
Majors
Degree Types
Career Information
Health
Fun