Career Resources & Information for Chefs & Cooks


The hospitality industry employs more professionals than almost any other.  In the US, the industry lands among the top three employers each year.  Within the field, there is a staggering array of different jobs and a wide variety of work settings that employ people at resorts, restaurants, hotels, casinos, and essentially anywhere that people dine and lodge.  Cooks and chefs also find work in a food service sector that is more institutional in nature and includes jobs at hospitals, schools, corporate facilities and municipal cafeterias.
Any way you slice it, the field is rife with opportunity for kitchen professionals who are eager to carve out a career niche with job security and boundless creative directions. 
Early on, it helps to distill your culinary dreams into a manageable plan of attack that keeps your eye on the ball and defines your career direction.  Education is available in any of the specialty hospitality areas that might draw you in, so answer a few career questions before you get started.
Are you an entrepreneur?  If your culinary dreams include an owner/operator role, your education should include management and accounting courses that provide the skills necessary to stay in the black.  Are you all about your hands-on role in the kitchen? If you are a hardcore baker or want to shine in a specific culinary area, you'll want to align yourself with an educational track that is loaded with internships and apprenticeships working with the best in your chosen field.  Do you enjoy the security of a corporate job with a large-scale service provider?  If so, consider an education that cross-trains you for front of the house work in the lodging sector of the industry.  Chef roles within large corporations are similar to other manager roles, so your mobility within the company is enhanced by possessing a broad understanding of the field.
Education for Culinary Success
Once you can envision yourself working at your dream job, the next order of business is to secure an education that will get you there.  Your individual matrix carries unique components that influence your education decisions, but plotting a course for success pays dividends on the job.  Familiarize yourself with educational options within your chosen specialty.  Your commitment might be a yearlong certificate program at the local community college, or a more extensive degree program at a national culinary school.
In general, there are 4 levels of chefs' education that can be tackled in different ways. 
Kitchens promote from within, so working chefs often employ a 'learn and earn' strategy that places them in full-time employment during school.  Night and weekend cooking classes apply toward many culinary arts degrees that can be earned on a work-study basis.  Whatever career path you choose, there is a flexible educational program waiting to help you add a Culinary Arts credential to your resume.
Food Service Industry Job Market
For degreed professionals, the employment landscape within the hospitality industry is vital and varied.  Chefs can climb to prominent positions as supervisors and chef/managers within the kitchen, but management roles throughout the industry are also filled by professional chefs. An Associate's or Bachelor's would give you a solid trajectory toward any of these jobs.
Executive Chef
Manages the kitchen staff, prepares work schedules, creates menus, and computes food costs.
Sous Chef
Assists the Executive Chef in running the kitchen.
Banquet Chef
Manages the kitchen staff in quantity food production for banquets, conferences, and conventions.
Pastry Chef
Responsible for baking breads, pastries, and desserts.
Food Production Manager
Manages the production of quality food in large food service operations.
Purchasing Manager
Responsible for buying and inventory of all products used in a restaurant or hotel.
Private Club and Resort Manager
Manages all of the departments and all of the employees in country clubs and private dining clubs.
Institutional Food Service
Food service opportunities in schools and health care facilities.

Contract Food Service
Food service opportunities within corporations.
Dietary Manager
Nutrition-focused food service professional
Restaurant Owner
Owns and manages and independent restaurant.
Restaurant Manager
Manages restaurant for owner, schedules employees, works with the Chef to promote quality food service that is professional and timely.
Catering Director
Promotes and organizes banquets and catered events.
Food and Beverage Director
Directs food and beverage service. Responsible for cost analysis, training and quality control.
Dining Room Manager
Manages all aspects of restaurant staffing.
Sales for Restaurants and Hotels
Sales and conventions.
Hotel Management Positions
General Manager, Front Office Manager, Housekeeping Manager, and Rooms Division Manager.
The job market for chefs and professional cooks varies from region to region. Major metro areas are fertile grounds for eager foodies looking to break in to the food service industry, but don't discount the culinary job opportunities in suburbs and bedroom communities.  Fine restaurants operate in in out-of-the-way locations, so if a slower pace is on your menu, be sure to investigate these pockets of culinary innovation.
Landing Your First Job as a Cook or Chef
Your education should provide the best training in classical culinary technique and kitchen skills, but your school should also help advance your career.  Internships and apprenticing opportunities often lead to full time employment or referrals, so make sure your school is tuned in to the local food scene through partnerships with local employers.
Job boards and placement services that match employers with candidates are another visible feature at successful cooking schools, so don't be afraid to lean on your learning institution for the career guidance you need. Instructors are often working chefs who have staffing needs of their own, so your kitchen skills might even be tapped by a teacher or associate.
Engaging in the local food scene during school is another effective strategy for job minded students.  Local festivals and food events are often in need of temporary help for vendor kitchens. Be the key staffer at such an event and you will be remembered at job hunting time! 
Participating in festival competitions ala Iron Chef America or Throwdown! is another great way to get involved with the local food culture.  While you are learning to manipulate local ingredients and identifying food trends, you are also establishing valuable connections within the industry.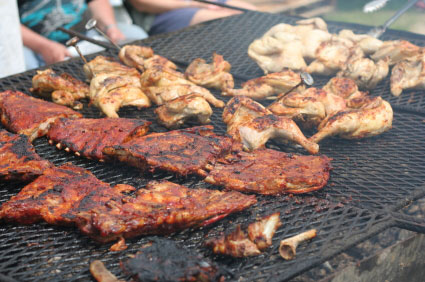 Your first job in a professional kitchen will not be as executive chef.  Use the resources available to you for opening doors and advancing your career agenda, then show consistency and creativity on the job.  The industry promotes from within, so perseverance and professionalism are rewarded.
Career Planning for Cooks and Chefs
Think outside the box for some challenging chef's career opportunities.  Restaurants exist at all levels, from fast-food to fine-dining, so there is no shortage of grill space waiting to be occupied by your creations. But there are also interesting jobs off the beaten path.
Cooks work at resorts and spas, restaurants, bed and breakfasts, travel agencies, car rental firms, campgrounds, cruise lines, forest preserves and recreational facilities, hotels and motels, state and national parks, retirement homes, railroads, amusement parks/attractions, at tour companies, airlines, country clubs, convention centers, casinos, exposition centers, and schools.
And food entrepreneurism remains a fixture of the American dream, where your culinary masterpieces are embraced by the public in a way that keeps you in the black.  Food trucks, cafes, bistros, taco stands, ice cream carts, chocolate shops, and pizzerias are all creative ways to market your food dreams.  Earning potential is boundless in the industry now, due to the exploded TV food culture and celebrity chef branding.  Rachel Ray, Bobby Flay, Guy Fieri are now household names and very rich chefs.
Find A Local Culinary School Today!
Culinary Training
Top Schools
Majors
Degree Types
Career Information
Fun