New Hampshire Schools for Chefs, Pastry Chefs and Hospitality Managers
New Hampshire defines the comfortable New England vibe: ski country, lake country, lazy Sunday drives. You can bet the hospitality and food service industries are alive and kicking. Culinary schooling opportunities exist across the state, especially through the well-organized community college system.
Education is prominent here with a few excellent colleges like Dartmouth and Keene State. In fact, Keene State offers a food and nutrition studies program that trains food service professionals. Your culinary schooling in New Hampshire should include a liberal dose of local food culture – outside the classroom. Accomplished chefs manipulate abundant regional ingredients into standout meals, and it's your job as a student to discover them, like other discerning New Englanders have. And while you're in school, embrace your own place in the New England culinary scene.
Top shelf agricultural offerings drive the trends. Dairy and cattle farms operate in the state, alongside apple orchards and poultry/egg farms. And on the coastal corner of the state, seafood is world-class. The food culture in New Hampshire is defined by this diverse bounty from land and sea. Vacationers revel at the sights by day and take in New Hampshire's inventive signature cuisine by night.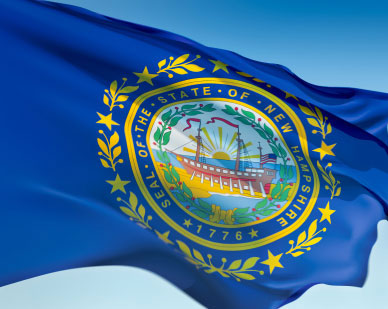 Choosing a NH Culinary School
Expect the school you choose to have the following tools in place that prepare you to compete for work—whether you decide to pursue a job in New Hampshire or seek employment elsewhere:
Fully-equipped, state-of-the-art teaching and demo kitchens
Student-run restaurant that caters to the public
Internship/externship opportunities
Apprenticeship connections
Career guidance and continuing education classes
Job boards and placement help
Accomplished, working chef /instructors
Various levels of achievement exist within the culinary education system. Define your career goals before committing to a program. Are you able to tackle a two-year Associate's program head-on? Or would it be in your best interest to get a one-year diploma and work your way up within the kitchen ranks? Answer these and other questions in order to place yourself on the culinary path that will deliver your dream job.
Explore the Local Culinary Scene in New Hampshire
Wherever you land school-wise, it is essential that you explore the surrounding food landscape. What are the hottest trends? And who is putting forward the most talked about meals?  Delve into well-reviewed restaurants and sample the fare. Learn seasonal ingredients, paying particular attention to the way noted local chefs are incorporating them into their menus. Take your findings back to your student kitchen to recreate successful local preparations.
Think outside the box when searching for culinary enlightenment. Some of the best regional eateries are off the beaten path, so put your ear to the ground to hear what people are saying about the local culinary scene. Festivals and other food events provide fertile ground for immersion studies. Volunteer in a festival kitchen, or participate in a student competition ala Iron Chef America.
Networking with local professionals and witnessing their creativity firsthand provides an education that cannot be gleaned in a classroom. Contacts you establish at food events might be tapped later for apprenticeships or employment opportunities. Some New Hampshire food and wine festivals into which you should plunge your senses:
Winter Wine Festival - New Castle – Wine and food pairings are essential to professional chef's success. As a culinary student, you will be introduced to this important topic, but a real world education can only be gained by tasting a variety of wines with an eye toward identifying characteristics that accentuate food flavors. Events that showcase local culinary talent alongside world class wines provide a glimpse into the food and wine culture of New Hampshire.
Annual Chili Challenge, Waterville Valley
Annual Chowderfest - Waterville Valley and Others- Let's just say there is more than one Chowder festival held in New Hampshire Annually. Waterville Valley hosts a noted affair alongside other Cities like Portsmouth. The Prescott Park Fest is touted as the oldest and largest, and boasts additional seafood offerings like freshly shucked oysters.
Pumpkin Festival, Keene
Professional industry Associations like local chapters of the American Culinary Federation provide discounted memberships for committed students seeking to engage with like-minded professionals. Organizations can be tapped for scholarships, job boards, and access to members-only events and educational seminars.
Salaries for chefs in New Hampshire are higher in cities like Dover and Manchester, but you'll find some good pay in seasonal tourist hotspots like the Lake Sunapee recreational area. Average salaries for sous chefs in New Hampshire fall in the $30,000 to $40,000 range. For steady in-season work, check out the high-end resorts and hotels around hot ski areas like Attitash, Wildcat, Loon Mountain, and Mount Sunapee.
List of New Hampshire Schools that Offer Culinary Arts and Hospitality Management Degrees
Mount Washington College – Manchester

Keene State College – Keene

New Hampshire Community College System – A wide educator across the state, the system operates seven main campuses, and several extension locations. The Hospitality, Tourism and Recreation department admirably tackles the wide array of disciplines within the industry. Course offerings are varied across the system, with at least three of the main campuses hosting full Culinary Arts programs. Baking and Pastry production is also emphasized at these campuses, while others focus on restaurant and hospitality management. Associate's and Certificate level programs define the landscape of credentials within the entire system

New Hampshire Technical Institute – Concord

Southern New Hampshire University – Manchester – This four-year university offers three levels of education for culinary students. The certificate program held on campus is for enrollees who want to advance their cooking knowledge on a part time basis, without a degree program. Serious students can tackle an Associate's in Science of Culinary Arts that trains for entry- or mid-level hospitality work. A Bachelor of Science in Culinary Management is a coveted degree for management candidates who want to master the essentials of food-costs, personal management and inventory control.

University of New Hampshire – Durham – The Thompson School of Applied Science within UNH offers an Associate of Applied Science degree in Culinary Arts and Nutrition.  Students are engaged in a carefully designed curriculum combining theory with over 700 hours of practical application of culinary techniques in state of the art production kitchens located on the University of New Hampshire campus. Students will complete select rotations with University Hospitality Services and will run the Thompson School Culinary Arts restaurants, 180 Blue and Stacey's Cafe. The program is accredited by the Accrediting Commission of the American Culinary Federation Education Foundation.
ACF Accredited Programs
Postsecondary
University of New Hampshire - Durham Thompson School of Applied Science
34 Sage Way,
Durham, NH 03824-4728
Phone: (603) 862-1025
Contact: Richard Caramihalis - charles.caramihalis@unh.edu
Programs
Culinary Arts and Nutrition AS Degree
Secondary
Nashua High School Nashua Tech Center
8 Titan Way,
Nashua, NH 03063-3439
Phone: (603) 996-2468, (603) 996-2468
Contact: Keith F. Klawes, CCC, CCE - klawesk@nashua.edu, David S. Quimby, CEC - quimbyd@nashua.edu
Find A Culinary School near Ashburn With Open Eligibility Today!
Culinary Training
Top Schools
Majors
Degree Types
Career Information