Exciting Cooking School Opportunities in Florida
Sunshine, beaches, resorts, and hot Miami Beach all add up to one smoking hot venue for new chefs to make a mark. Peninsular Florida is certainly perfect for seafood-based cuisine, but the diversity of the state provides additional flavor. Miami has a distinctly Latin/Cuban flavor, while Northern Florida showcases the southern culinary roots of the state.
Florida's abundant natural resources provide the raw materials for local signature dishes like Key Lime Pie and Seafood Chowder.  Students who choose to pursue their culinary education in the sunshine state find no shortage of exposure to inspiring local culinary trends that compliment their formal studies.
Florida's Culinary Scene
Sampling a generous portion of the regional cuisine should be a matter of course, an integral part of any culinary education. Each locale has a slightly unique specialty, a native dish, regional ingredient or fantastic farmers market. 
The metropolitan areas boast a vibrant culinary scene, where a crop of distinguished chefs and creative culinary artists ply their trade at eclectic restaurants and eateries.
Hospitality in the Sunshine State
The hospitality industry is a robust affair with over fifty billion dollars in revenue each year.  The industry's revenue represents about one-fifth of the state's total economy.  Nearly one million employees work in the hospitality industry in Florida, making it one of the largest employers in the state.  Over three billion dollars in sales tax revenue are brought in by hospitality sales each year.  The bottom line is that the culinary arts are an extremely important economic category in Florida, and employment opportunities within the sector are numerous.
Professional Organizations
Check out the available professional chapters for culinary pros. Most offer discounted student memberships, scholarships, discounted admission to national and regional conferences and educational support and seminars.
ACF Gulf to Lakes Chefs Association – This chapter of the American Culinary Federation is dedicated to the advancement of the culinary profession.  Education and certification are the focus of the organization's quest for greater culinary awareness.  Members include chefs, cooks, students, educators and food purveyors.
Florida Restaurant and Lodging Association – The stated mission of this association is to promote, protect and educate within the hospitality industry.  Members enjoy discounts, trade shows, networking opportunities, and a strong legislative lobby.
Florida Suncoast Cook's Association – Local association provides networking opportunities by way of a regularly updated job board.
Florida Food Festivals
Festivals are in the business of showcasing the area's bounty. Natural resources are featured alongside culinary creativity to represent the flavor of the Florida food scene. Common festival pairings are wine and food. Gourmet food sampling is paired with fine wine tasting at many festivals to create the ultimate gastronomic experience. Students should use the local festivals to find fresh regional foods, esteemed local chefs and networking opportunities.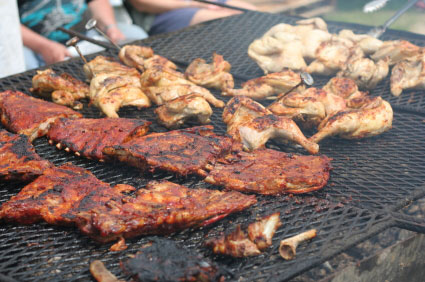 Cooking competitions are a common feature of food fests, and they provide an excellent representation of the hottest local food trends.  Chefs are eager to share their culinary points of view at public festivals, so students should not be shy about asking some questions.  Mixing some fun festivals into a comprehensive chef's education is a great way for a student to have fun while pursuing his or her culinary dreams.
Florida Winefest – Sarasota festival featuring over thirty wineries best offerings paired with interesting treats for the palate.  Events include sip and shop, beach feast, and titanic dinner.  A large charity auction occurs against the backdrop of the grand brunch.
WineQuest – Premiere central Florida event that raises money for disabilities through Quest, Inc.  The event is in its 15th year of pairing fine wines with local culinary offerings.  The garden brunch is an Orlando highlight that foodies anticipate each year.
Florida Restaurant and Lodging Show – Trade shows present an opportunity for students to visualize the latest culinary trends from a supply side point of view.  Over 400 exhibitors are on hand to educate culinary professionals about their products. Culinary experts are a prominent part of the weekend of events, so students should look to food shows as networking and learning venues.
Florida Keys Seafood Festival – The menu for this festival reads like a culinary who's who of seafood preparations.  Fried fish, grilled lobster, stone crab, Key West Pink Shrimp, and conch fritters are delectable precursors to the star of the dessert show, Key Lime Pie.
South Beach Wine and Food Festival – This Food Network sponsored event is in its 11th year of highlighting local wine and food trends.  Brunches and dinners are hosted by a pantheon of culinary giants that includes some of the network's most popular personalities.  Over 50 thousand people are expected to attend the beachside event in 2012.
Compete for a Good Chef's Job in Florida
The competition for culinary employment is stiff in Florida, but the major metro areas like Miami, Orlando, and Tampa-St. Pete offer abundant opportunities for chefs to practice their craft.  By enrolling in a reputable culinary arts school, a chef-to-be takes the first step toward a distinguished culinary career.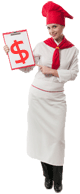 Job placement is your desired educational outcome, so make sure your chosen academy has mechanisms in place to get you where you want to go.  Internships and externships provide valuable perspective on the real workings of the industry.  Job boards that link students with available opportunities are maintained by some good schools.  Student-run restaurants are prominent features of schools that are truly dedicated to graduating seasoned professionals.
The culinary instructors employed by a school provide a good barometer for the level of excellence a school aspires to.  Renowned chefs are likely to attach themselves to institutions that reflect their own culinary values.  Training under noteworthy faculty is not only a feather in the cap of a culinary graduate, but it may also open employment doors among the instructors' contemporaries.
Florida Cooking Schools and Culinary Arts Programs
International Culinary Schools at the Art Institutes of Fort Lauderdale is one of 32 campuses offering this excellent culinary curriculum—emphasis on international cookery, starting with classic French—the keystone to all other Western cuisine. Degree programs in Ft. Lauderdale include: Bachelors Culinary Management, Associates Culinary Art, Associates Baking and Pastry, and Diploma Art of Cooking.
International Culinary Schools at the Art Institutes of Jacksonville continues the excellent chef training available on 32 campuses across the U.S. You learn classic French cooking and culinary methods, which lays the groundwork for other major international cuisine. Degree programs include: Bachelors Culinary Management, Associates Culinary Arts, and Diploma Culinary Arts Skills.
International Culinary Schools at the Art Institutes of Tampa is one of 32 campus locations that features the dynamic culinary arts school. Emphasis is on international cuisine under the guidance of experienced chef/instructors. Programs in Tampa include: Bachelors Culinary Management, Bachelors Food and Beverage Management, Associates Culinary Arts, Associates Wine, Spirits and Beverage Management, Diploma Baking and Pastry.
Orlando Culinary Academy is home to the world-class Le Cordon Bleu curriculum. You are steeped in intensive classic French cuisine and culinary theology. Faculty are masters themselves so chefs graduate with a highly respected education. Orlando is crammed to the gills with dynamic restaurants and world-class resorts, all of which crave well-trained and ambitious new chefs. Degree programs include: Associates Le Cordon Bleu Culinary Arts, Associates Le Cordon Bleu Patisserie and Baking, and Diploma Le Cordon Bleu Culinary Arts.
Le Cordon Bleu College of Culinary Arts – Miami is a hot campus location for tomorrow's new chefs. This city is colorful and flavored with some of the best new cuisine in the state. Imagine: you could be interning at one of Miami's hot restaurants in just a few months. Degree programs on the Miami campus include: Le Cordon Bleu Culinary Arts, Le Cordon Bleu Patisserie and Baking.
Florida Culinary Institute – West Palm Beach provides budding chefs and restaurant managers with a top-notch education that puts you on the fast-track to a fully realize career. Degree programs are available in Culinary Arts, International Baking and Pastry, Culinary Management, and Food and Beverage Management.
Johnson and Wales University – North Miami is a career-centric liberal arts college that has a long reputation for turning out award-winning chefs and culinary professionals. The school's alumni reads like an industry Who's Who. Degrees in North Miami include: Associates Culinary Arts, Associates Baking and Pastry Arts, Bachelors Culinary Arts and Food Service Management, and Bachelors Baking and Pastry and Food Service Management.
Florida State Colleges, Community and Technical Colleges Offering Culinary, Restaurant Management, and/or Hospitality Degrees
Atlantic Vocational Technical Center - Coconut Creek

Bethune Cookman College - Daytona Beach

Brevard Community College - Cocoa Campus

Brewster Technical Center – Tampa

Broward Community College - Ft Lauderdale

Central Florida Community College – Ocala

Charlotte Vocational Technical Center - Port Charlotte

Chipola Junior College – Marianna

City College - South Miami

Daytona Beach Community College - Daytona Beach

Edison Community College - Ft Myers

Erwin Technical Center – Tampa

First Coast Technical Institute - St Augustine

Florida Community College – Jacksonville

Florida International University – Miami

Florida Memorial College – Miami

Florida National College – Hialeah

Florida Southern College – Lakeland

Florida State University – Tallahassee

George Stone Area Vocational Technical Center – Pensacola

Gulf Coast Community College - Panama City

Hillsborough Community College – Tampa

Indian River Community College - Ft Pierce

Keiser College - Ft Lauderdale

Lake-Sumter Community College – Leesburg

Lake Technical Center – Eustis

Lee County High Tech Center - Cape Coral
Lincoln Tech - West Palm Beach

Lindsey Hopkins Technical Education Center – Miami

Locklin Technical Center – Milton

Lorenzo Walker Institute of Technology – Naples

Lynn University - Boca Raton

Manatee Technical Institute – Bradenton

McFatter Technical Center – Davie

Miami-Dade Community College – Miami

Miami Lakes Educational Center - Miami Lakes

Mid-Florida Tech – Orlando

North Technical Education Center - Riviera Beach

Northwood University - West Palm Beach

Nova Southeastern University - Ft Lauderdale

Okaloosa Applied Technology Center - Ft Walton Beach

Okaloosa-Walton Community College – Niceville

Orlando College – Melbourne

Palm Beach Community College - Lake Worth

Pensacola Junior College - Pensacola

Pinellas Technical Education Center – Clearwater, St. Petersburg

Ridge Technical Center - Winter Haven

Robert Morgan Vocational Technical Institute – Miami

Saint Petersburg Junior College - Pinellas Park

Saint Thomas University – Miami

Sarasota County Technical Institute – Sarasota

Schiller International University – Dunedin

Sheridan Vocational Center – Hollywood

Southeastern Academy – Kissimmee

South Florida Community College - Avon Park

South Technical Education Center - Boynton Beach

Southwest Florida College of Business - Ft Myers

Suwannee-Hamilton Technical Center - Live Oak

Technical Education Center – Kissimmee

Washington-Holmes Technical Center – Chipley

Webber College - Babson Park

Webster College – Holiday, Ocala

Webster Tech – Tampa

Valencia Community College - Orlando

University of Central Florida - Orlando
ACF Accredited Programs
Postsecondary
Atlantic Technical College
4700 Coconut Creek Pkwy,
Culinary Department,
Coconut Creek, FL 33063-3967
Phone: (754) 321-5100 x3028
Contact: Rona Moulu, CEC - rona.moulu@browardschools.com
Programs:
Certificate in Commercial Foods and Culinary Arts

Florida State College At Jacksonville
101 State St W,
Jacksonville, FL 32202-3099
Phone: (904) 766-6703
Contact: Wm. Robert Mark - wmark@fscj.edu

Programs:
Associate Degree in Culinary Management
Certificate in Hospitality and Culinary Arts
Florida Technical College
3831 W Vine St Ste 50,
Kissimmee, FL 34741-4650
Phone: (844) 402-3337
Email: info@ftccollege.edu
Programs:
Baking and Pasteleria Diploma
Culinary Arts Diploma

Gulf Coast State College
5230 W Highway 98,
Panama City, FL 32401-1041
Phone: (850) 769-1551
Email: advising@gulfcoast.edu 

Programs:
AS Degree in Culinary Management
Hillsborough Community College
4001 W Tampa Bay Blvd,
Tampa, FL 33614-7810
Phone: (813) 253-7478
Fax: (813) 253-7520
Contact: Frederick E. Jaeger, III - fjaeger@hccfl.edu
Programs:
AAS Degree in Restaurant Management
AS Degree in Culinary Management

Keiser University Center for Culinary Arts - Sarasota
6151 Lake Osprey Dr,
Attn: Michael Moench,
Sarasota, FL 34240-8419
Phone: (941) 907-3900 x 305
Contact: Michael Moench, CEC - mmoench@keiseruniversity.edu

Programs:
AS Degree Baking & Pastry
AS Degree in Culinary Arts
Keiser University Center for Culinary Arts - Tallahassee
1700 Halstead Blvd Ste 2,
Tallahassee, FL 32309-3484
Phone: (850) 906-9494
Contact: Deborah Miller - Dmiller@keiseruniversity.edu
Programs:
AS Degree in Culinary Arts
Keiser University Center for Culinary Arts Melbourne
900 S Babcock St,
Attn: James McGuinness,
Melbourne, FL 32901-1853
Phone: (321) 409-4800 ext 187
Contact: James P. McGuinness, CCE - jmcguinness@keiseruniversity.edu
Programs:
AS Degree in Culinary Arts
Lake Technical College
2001 Kurt St,
Eustis, FL 32726-6164
Phone: (352) 589-2250 x1866
Contact: Kenneth Koenig, CCC, CCE - koenigk@lake.k12.fl.us
Programs:
Certificate in Commercial Foods and Culinary Arts

McFatter Technical College
6500 Nova Dr,
Davie, FL 33317-7405
Phone: (754) 321-5843
Contact: Steven Mosley, CEC - steven.mosley@browardschools.com
Programs:
Certificate in Commercial Foods and Culinary Arts

Orange Technical College - Mid Florida Campus
2900 W Oak Ridge Rd,
Orlando, FL 32809-3701

Phone: (407) 251-6185
Contact: Lauren I. Cooke, CEPC, CEC - lauren.cooke@ocps.net
Programs:
Commerical Foods and Culinary Arts Certificate

Orange Technical College- Westside Campus
955 E Story Rd,
Winter Garden, FL 34787-3733
Phone: (407) 905-2018

Programs:
Commercial Foods and Culinary Arts Certificate
Pensacola State College
1000 College Blvd,
Pensacola, FL 32504-8910
Phone: (850) 484-1422
Contact: J. David Langham, CCC - jdlangham@pensacolastate.edu
Programs:
AS Degree in Culinary Management
Certificate in Culinary Arts


Pinellas Technical College - Clearwater Campus
6100 154th Ave N,
Clearwater, FL 33760-2140
Phone: (727) 538-7167
Contact: Brian G Minkin - minkinb@pcsb.org

Programs:
Certificate in Commercial Foods and Culinary Arts
Sheridan Technical College
5400 Sheridan St,
Hollywood, FL 33021-3346

Phone: (754) 321-5410
Fax: (754) 321-5680
Contact: Michael McDonnell - michael.mcdonnell@browardschools.com
Programs:
Certificate in Commercial Foods and Culinary Arts
Suncoast Technical College
4748 Beneva Rd,
Sarasota, FL 34233-1756
Phone: (941) 924-1365 x 62438
Fax: (941) 921-7902
Contact: Brian D. Knecht, CEC, CCA, AAC - brian.knecht@sarasotacountyschools.net

Programs:
Certificate in Commercial Foods and Culinary Arts
The International Culinary School At The Art Institute of Tampa
4401 N Himes Ave Ste 150,
Tampa, FL 33614-7086

Phone: (813) 393-5391
Fax: (813) 873-2171
Contact: Clyde R. Tanner, CEC - crtanner@aii.edu
Programs:
AA Degree in Baking and Pastry
AA Degree in Culinary Arts
BS Degree in Culinary Management
Secondary
Jacobson Culinary Arts Academy
Tarpon Springs High School
1411 Gulf Rd,
Tarpon Springs, FL 34689-2714
Phone: (727) 943-4900 ex 2188
Contact: Cathleen Ryan - ryanca@pcsb.org

McFatter Technical High School
6500 Nova Dr,
Davie, FL 33317-7405

Phone: (754) 321-5843
Contact: Steven Mosley, CEC - steven.mosley@browardschools.com

Sheridan Technical High School
5400 Sheridan St,
Hollywood, FL 33021-3346
Phone: (754) 321-5410
Fax: (754) 321-5680
Contact: Michael McDonnell - michael.mcdonnell@browardschools.com

The Villages High School
251 Buffalo Trl,
Attn: Chef John Woods,
The Villages, FL 32162-7176
Phone: (352) 259-3777
Contact: John J. Woods, CEC - john.woods@tvcs.org

Programs:
Baking and Pastry
Culinary Arts
Certificate & Job Training Programs
Federation of Dining Room Professionals
1417 Sadler Rd # 100
Attn: Bernard Martinage
Fernandina Beach, FL 32034-0301
Phone: (904) 491-6690
Fax: (904) 491-6689
Contact: Bernard Martinage - bernard@FDRP.com
Miami Job Corps Center
3050 NW 183rd St
Att: Stanley Shrondra, Finance Department
Miami Gardens, FL 33056-3536
Phone: (305) 620-3124
Fax: (305) 620-3289
Contact: Stanley Sharondra - stanley.sharondra@jobcorps.org
Culinary Training
Top Schools
Majors
Degree Types
Career Information