Culinary Arts and Hospitality Degrees in Idaho
It is true that the official Idaho State vegetable is the potato, but there is greater d­epth to the food landscape than just French fries and mashed potatoes. Idaho has a rich and dynamic food scene that could be characterized as an emerging culinary hotbed. Plus Idaho boasts a few excellent cooking schools that help set it apart from other states.
Though Idaho is landlocked, and her terrain can be described as rugged, the natural geographic features of the state provide a unique landscape that draws thousands of tourists and adventure seekers each year.  With so many hungry mouths to feed it is no wonder Idaho is making a mark on the culinary scene.
Resorts like the famed Sun Valley ski community are fertile grounds for budding young chefs and seasoned pros to strut their creativity for guests from around the world.  Lots of lakes for fishing and recreational opportunities lend themselves to working up an appetite, so eateries are quick to satisfy guests with hardy, rustic western fare.
Bigger cities like Boise play host to the more sophisticated eateries the state has to offer.  Idaho cuisine is best described as an eclectic mix of several influences.  The early French Canadian trapping trade left a small impression on an Idaho food tradition that is complimented by Latin flavors, as well as a European components contributed by Germans and other ethnic Europeans.
Agriculturally, Idaho is still tied to a robust tradition of wheat and potato production.  The local crops find their way into traditional Native American meals and creatively inspired modern dishes.
Choosing a Culinary School in Idaho
Boise, Twin Falls, and upscale Coeur d'Alene are some of Idaho's prominent culinary hotspots.   Regardless of your chosen hospitality or culinary course of study, you will find a degree program in one of these cities.  Students that want to get a job soon after graduating from culinary school should consider the myriad of employment options available to well-trained professionals.
Classic chef's training, food and nutrition studies, food technology, and hospitality and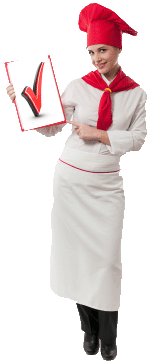 restaurant management programs each offer a different emphasis during school. By refining your dream job pool, you can get yourself on the proper educational path for your chosen specialty.
Food service industry careers and positions cover the gamut of possibilities. Here are some hospitality opportunities that might be available in various areas of Idaho:
Executive Chef or Sous Chef in a restaurant or bistro
Pastry Chef
Line Cook
Pantry Chef
Food and Beverage Director
General Manager
Chef in a hotel, resort or spa kitchen
Restaurant manager – front of the house
Kitchen manager - back of the house
Hotel manager
Personal Chef
Menu Consultant
Boise and Beyond: Getting a Chef's Job
Expect the culinary school you choose to be amply armed with the tools necessary to secure you a solid job upon completion of your studies:
Internship, externship and apprenticeship opportunities in Idaho, nationally or abroad
Professional chef/instructors
Guest chefs
Professional teaching and demo kitchens
Student-run restaurant catering to a demanding public
Career guidance short-term and long-term
Job placement
To increase your chances for chef work in Idaho, consider membership in the local chapter of a leading professional association, such as the American Culinary Federation's Chefs de Cuisine – Boise Chapter or Chefs de Cuisine of the Inland Northwest – Coeur d'Alene Chapter.
Pro industry groups like those listed above bring together like minded culinary professionals committed to growth and support of their careers and the regional industry. Students gain access to valuable job boards, have occasions to interact and network (build valuable connections), and are eligible for members-only scholarships and educational events.
Look for well-paying chef's jobs in the larger cities like Boise and Twin Falls. Salaries across the state vary depending upon your education, professional experience, and the type of establishment in which you'll work. Average salary for a sous chef in Boise is $30,000+ and for an executive chef, $40,000+.*
List of Idaho Cooking Schools
Boise State University - Boise

College of Southern Idaho - Twin Falls – The culinary arts program features Associate's of Applied Science degrees in the areas of culinary arts and hospitality management.  Technical certificates are also offered in specific specialty areas and post secondary certificates keep the educational ball rolling for chefs who have obtained a degree.

Idaho State University - Pocatello

Lewis-Clark State College – Lewiston – Food and beverage management and hospitality management degrees are featured obtained through the technical programs division of the school.  Hospitality Management candidates choose between Bachelor's and Associate's levels of achievement.  Food and beverage management students can earn a specialty certificate in the area of study.

North Idaho College - Coeur d'Alene – Here students can obtain a Culinary Arts – Technical Certificate that provides a background in entry-level culinary skills used in restaurant kitchens. The curriculum is weighted heavily toward practical experience, with two-thirds of the instruction time being fulfilled in the kitchen.

Ricks College – Rexburg

University of Idaho – Moscow – Food science is emphasized alongside agriculturally focused education programs.  Students who obtain a Bachelor's of Science degree in food science often work within the food service business as consultants or food chemists.
*Source: Indeed.com
ACF Accredited Programs
Secondary
ADA Professional Technical Center Meridian School District
1303 E Central Dr.,
Meridian, ID 83642-7991 Secondary Baking and Pastry
Phone: (208) 350-4396
Contact: Vernon L. Hickman, CCC, CCE - hickman.vernon@meridianschools.org
Contact: Staci Low - low.staci@meridianschools.org
Find A Culinary School near Fairfield With Open Eligibility Today!
Culinary Training
Top Schools
Majors
Degree Types
Career Information