Chef Training Schools in California
California boasts one of the most extensive assortments of culinary schools in the country. If you're a student chef fresh from high school, OR a working professional looking to build your resume with additional educational cred, there is a place for you to train in California.
The culinary climate is vibrant, even beyond the world renown wine regions of Napa and Sonoma.  Big cities host some of the most progressive and inventive restaurants in the world.  Chefs on the cutting edge want to be in Cali, at least for a time, because it fosters a form of culinary cross-pollination that is not present anywhere else.
Imagine cutting your culinary teeth in this hotbed of food and beverage innovation.  Wine, beer, fresh produce, seafood – it's all present in abundance in The Golden State.  And the captive foodie audience the state provides is unmatched by other states in scope and savvy.  Other regions look to California food professionals to set the pace and establish food trends – and for good reason since many of the brightest culinary stars shine on the West Coast.
Consider these huge benefits for chef students in California:
Top California Culinary Arts schools
Celebrity chefs galore
Cutting-edge menus
Diverse culinary scene from end to end
Wide spectrum of job opportunities
Regional professional hospitality organizations
Local festivals and competitions are food-centric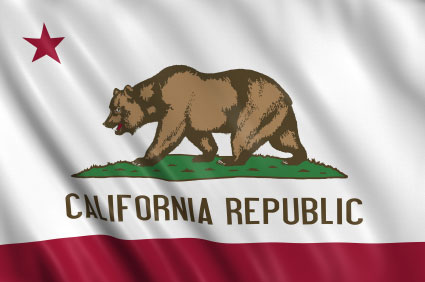 California Cuisine
When you think of California cooking your thoughts might go to notions like outrageous, maverick, or too natural to taste good.  Such are the extremes, but further examination illuminates a food scene that is diverse, ethnic, and down to earth.  For your chef studies, California's pool of culinary knowledge is deep, and the variety of food exposures at your fingertips represent invaluable input for forming your culinary point of view.
While studying in Cali, you might land an internship as a cook or prep chef at a leading restaurant in San Francisco, Sacramento, San Diego, or Hollywood.  This places you right at ground zero for soaking up the culinary scene.  And it is a requisite part of your education to do so, in a way that embraces the uniqueness of California's advanced food culture.
Your personal sojourn should include visits to local eateries, an examination of seasonal menus, and exposure to the work of the region's most innovative chefs.  Dissect their menus, and savor the way they incorporate local ingredients. Discover eclectic flavor combinations at out of the way bistros and cafes- get off the beaten path. Harvest the fruit of knowledge and return to your student kitchen with it for a hands-on trial and error session.
Local festivals and chef competitions are an excellent place to identify current trends and they afford student chefs an opportunity to participate in the scene. Volunteering in a festival kitchen puts you to work alongside working pros that you might tap for full time work down the road.  Better yet, flex your culinary muscle as a competitor in a student cooking competition ala Iron Chef America.
California: Culinary Bread Basket and Wine Center
Don't overlook California wine country, or you're missing the other half of the culinary equation in this part of the country. Napa and Sonoma have earned their spot on the oenological map. Award-winning reds and whites seem to pour forth from the earth as experienced winemakers and "terroir" meet head-on. Popular annual industry events/student field trips include:
California Wine Festival - Two venues are scheduled alternately in similar festival formats.  Orange County and Santa Barbara act as hosts to what are billed as the quintessential wine-tasting experiences.  Entertainers and craft purveyors tempt visitors with distractions, but indoctrinated foodies know that it is all about the wine and food, especially the magic the make together.  Restaurateurs put their best bites forward, against a backdrop of world class locally produced wines.  Culinary students are encouraged to absorb as much food and beverage pairing experience as possible, and these are the ideal venues for letting it sink in.
Uncorked! San Francisco Wine Festival – Held in Ghirardelli Square, this free event presents wine seminars and chef demonstrations from San Fran's premiere culinary masters.  Student oenophiles are exposed to food trends, and educated about wines by the makers themselves.
Western Food Service and Hospitality Expo – Imagine the vast array of influences that impact the food industry.  Equipment, agricultural products, wine and beer, design items, printed materials, and a myriad of other industry-specific areas are the focus of this industry trade event.  Education is a huge part of this gathering, with heavy-hitter presentations from chef/reps from the all the best schools.
California is an important food producer. Driving through the Central Valley, it is easy to visualize California's key place on the American culinary landscape. Important crops include: avocados, grapes, almonds, and citrus fruits. Regional chefs integrate locally grown, organic, fresh and seasonal ingredients as crucial menu components. Regional ingredients are often the focus of staged culinary competitions that draw foodies, eager to see live demos that pit chefs against each other ala Iron Chef America.
California chef competitions are opportunities for students to network with like-minded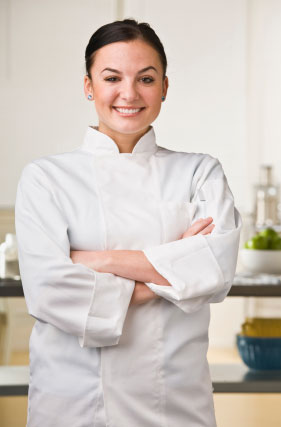 industry professionals. Compete yourself, or volunteer to help a local chef in the competition kitchen.  Your efforts will be rewarded at job hunting time.  Some fun regional throwdowns for chef students:
Sushi Masters Competition
Best Teen Chef Competition – It's never too late to start flexing your culinary muscle by competing directly with your peers.  Competitions challenge young minds to think outside the box in the kitchen, and stimulates creative on-the-fly.  This Art Institutes property is a great venue for making an early mark.
California Date Chef Competition
S. Pellegrino Almost Famous Chef Competition – This fun, but serious competition is held in Hollywood and sponsored by The Art Institutes culinary program.  Educational opportunities abound for serious student chefs.  Competitors are not household names, but by participating in the contest you raise your own profile within the industry.
Popular California Culinary Arts Schools
The Art Institute of California
Argosy University has a half-dozen The Art Institute of California campus locations across the state. Students can attend these degree & diploma programs:
Art of Cooking diploma
Baking and Pastry diploma
Associate's in Culinary Arts
Associate's in Baking and Pastry
Bachelor's in Culinary Management
The Art Institute of California – Hollywood
5250 Lankershim Boulevard,
North Hollywood, CA 91601
Phone: 1-818-299-5100
The Art Institute of California – Sacramento
2850 Gateway Oaks Drive, Suite #100
Sacramento, CA 95833
Phone: 1-916-830-6320

The Art Institute of California – Inland Empire
674 East Brier Drive,
San Bernardino, CA 92408-2800
Phone: 1-909-915-2100
The Art Institute of California – San Diego
7650 Mission Valley Road,
San Diego, CA 92108-4423
Phone: 1-858-598-1200
The Art Institute of California – San Francisco
10 United Nations Plaza,
San Francisco, CA 94102-4928
Phone: 1-415-865-0198
The Art Institute of California – Orange County
3601 West Sunflower Avenue,
Santa Ana, CA 92704-7931
Phone: 1-714-830-0200
Other Culinary Schools Across the State

San Diego Culinary Institute – San Diego – Programs include: Commis de Cuisine, Commis de Patisserie.
The Professional Culinary Institute – Campbell – French Culinary Institute campus that offers programs that include: Culinary Arts, Baking and Pastry, Hospitality, Sommelier.
College of the Canyons - Santa Clarita - The Institute for Culinary Education offers certification programs in culinary arts, wine studies, and baking & pastry.
Chef Eric's Culinary Classroom - Los Angeles – Professional programs include: Culinary Chef 1, Culinary Chef II, Culinary Baking I, Culinary Baking II, Culinary Basics, and Culinary Crash Course.
Living Light Culinary Institute – Fort Bragg – This academy offers unique culinary arts programs for professional and student chefs, as well as motivated novice cooking enthusiasts. Programs include: Gourmet Chef, Associate Chef, and Raw Culinary Arts Professional Chef.
California Colleges Offering Culinary Arts, Restaurant Management, and/or Hospitality Degrees
American River College - Sacramento

Bakersfield College – Bakersfield

Bauman College – Penngrove

Cabrillo College – Aptos

Cerritos College – Norwalk

Chaffey Community College – Rancho Cucamonga

City College of San Francisco - San Francisco

College of the Desert – Palm Desert

Contra Costa College – San Pablo

Cypress College – Cypress

Diablo Valley College – Pleasant Hill, San Ramon

Glendale Community College – Glendale

Grossmont College – El Cajon

Institute of Technology – Clovis, Modesto, Roseville

Laguna Culinary Arts Professional School - Laguna Beach

Lake Tahoe Community College - South Lake Tahoe

Long Beach City College – Long Beach

Los Angeles Trade Tech – Los Angeles

Merced College – Merced

Mission College – Santa Clara

Modesto Junior College - Modesto

Orange Coast College – Costa Mesa

Pasadena City College – Pasadena

Quality College of Culinary Careers – Fresno

Riverside Community College – Riverside

San Bernardino Valley College – San Bernardino

San Diego Mesa College – San Diego

San Joaquin Delta College – Stockton

Santa Barbara City College – Santa Barbara
ACF Accredited Programs
Postsecondary
City College of San Francisco
50 Phelan Ave,
San Francisco, CA 94112-1898

Phone: (415) 239-3154
Fax: (415) 239-3913
Contact: Tannis Reinhertz - treinher@ccsf.edu

Programs:
Associate Degree in Culinary Arts and Food Service Management
Baking and Pastry Certificate
Culinary Service Skills Training Certificate
Columbia College
11600 Columbia College Dr Ste 1,
Hospitality Department Chef
Dickinson, Sonora, CA 95370-8580
Phone: (209) 588-5135
Contact: Don G. Dickinson, CEC, CCA, AAC - dickinsond@yosemite.edu
Programs:
AS Degree Hospitality Management: Culinary Arts
AS Hospitality Management: Baking & Pastry Arts
Certificate of Achievement: Baking & Pastry Arts
Certificate of Achievement: Culinary Arts

Diablo Valley College
321 Golf Club Rd,
Pleasant Hill, CA 94523-1544
Phone: (925) 685-1230 x2555
Contact: Brian McGynn - bmcglynn@dvc.edu
Programs:
Associate Degree in Hospitality Studies, Baking and Pastry
Associate Degree in Hospitality Studies, Culinary Arts
Associate Degree in Hospitality Studies, Restaurant Management
Certificate in Baking and Pastry
Certificate in Culinary Arts
Certificate in Restaurant Management

Institute of Technology Clovis
564 W Herndon Ave,
Clovis, CA 93612-0105
Phone: (559) 326-1824
Contact: Kevin Arnett - karnett@iot.edu

Programs:
Culinary Arts Professional Diploma
Institute of Technology Modesto
5737 Stoddard Rd,
Modesto, CA 95356-9000

Phone: (209) 545-3100
Contact: Paul A Topping - ptopping@iot.edu
Programs:
AOS Degree in Culinary Arts Professional
Culinary Arts Professional Diploma
Los Angeles Trade-Tech College
400 W Washington Blvd,
Los Angeles, CA 90015-4108
Phone: (213) 763-7000
Fax: (213) 763-5393
Contact: Martin A. Gilligan, CEC, CEPC - gilligma@lattc.edu
Programs:
AA Degree in Culinary Arts
AA Degree in Professional Baking
Certificate in Culinary Arts
Certificate in Professional Baking

Orange Coast College
2701 Fairview Rd,
Costa Mesa, CA 92626-5561
Phone (714) 432-5835 x 2
Fax: (714)432-5609
Contact: William Barber, CEC - bbarber@occ.cccd.edu
Programs:
Associate in Science in Advanced Culinary Arts
Associate in Science in Advanced Baking and Pastry
Certificate of Achievement in Advanced Baking and Pastry
Certificate of Achievement in Advanced Culinary Arts

Certificate & Job Training Programs
San Diego Job Corps Center
1325 Iris Ave
Attn: Esmeralda Jones, Finance Department
Imperial Beach, CA 91932-3751
Phone: (619) 429-2307
Contact: Esmeralda Jones - jones.esmeralda@jobcorps.org
Fresh Starts Culinary Academy at Homeward Bound of Marin
1385 N Hamilton Pkwy
Att: Drew Drucker
Novato, CA 94949-8276
Phone: (415) 382-3363 ext 321
Contact: Drew Drucker - ddrucker@hbofm.org

Treasure Island Job Corps Center
351 Avenue H Bldg 442
Harvey Milk Memorial Admin. Bldg.
Attn: Charles Fitzgerald / Finance Dept.
San Francisco, CA 94130-1648
Phone: (415) 277-2425
fitzgerald.charles@jobcorps.org
Find A Culinary School near Ashburn With Open Eligibility Today!
Culinary Training
Top Schools
Majors
Degree Types
Career Information