Go to Cooking School in the Bayou State

Perhaps the biggest chef names associated with Louisiana are Emeril Lagasse and Paul Prudhomme. The two of them they have made famous the flavors of Cajun and Creole cuisine.  There is a diverse food culture in Louisiana; influenced by cooking styles from around the world.  For chefs to be, this is good news since it points to a host of educational opportunities within the Culinary Arts.
The state harbors some of the most distinct pockets of cultural cuisine in the U.S.  French, Spanish, Native American, and African components are mixed liberally to create Creole food.  Spices and adventurous combinations of ingredients set the food apart from its regional cousin Cajun cuisine.  Cajun food is heavily influenced by French traditions from a specific region of that country.
So unique are the cooking practices of the region, that an opportunity to study amongst these traditions is a tremendous career booster for emerging chefs.  And your culinary education must include a foray into the distinctive character of the local food scene.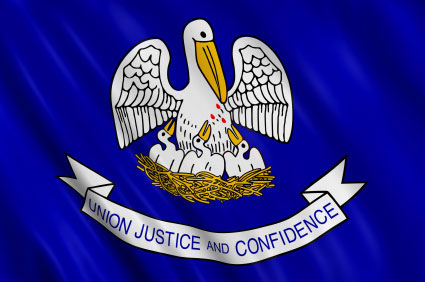 An Education in the Louisiana Culinary Scene
Louisiana is an important state on the food production landscape.  Soy, sugar, poultry, and dairy industries thrive, but are nonetheless overshadowed by the state's most highly coveted chef's commodity: Seafood.  Skilled Louisiana chefs manipulate the ocean's bounty in traditional and progressive ways.  Your homework assignment is to dissect local menus and gain an understanding of local trends.  Identify regional ingredients and how chefs are using them.
Lagasse and Prudhomme may have shined a light on one of the most unique culinary treasures in the country, but as a student chef you owe it to yourself to immerse yourself in the local food scene. Haute cuisine and down-home cooking have a place in your culinary point of view, so savor every opportunity to experience genuine regional fare, no matter how downscale.
Local food and wine festivals are plentiful in the state and are perfect venues for engaging with the foodie scene. Festival themes emphasize crawfish, hot sauce, and jambalaya - traditional Louisiana foods and ingredients. Food competitions and festival kitchens are places to get your hands dirty by actively participating. Guest chefs and food presenters bring valuable knowledge and experience that they are willing to share with students like you. Augment your classroom culinary studies with local color and culture at:
Louisiana Watermelon Festival
World Championship Crawfish Etouffee Cook-off – Eunice – Of all the critters pulled from the water, the crawfish holds a special place for Louisianans.  100+ teams compete for bragging rights at this annual festival celebrating the distinctly New Orleans dish-Ettouffee .  Smothered Crawfish over rice is the order of the day in professional categories and an amateur class that is perfect for chef students.
New Orleans Wine and Food Experience – Twenty-year festival that celebrates barbecue and other southern specialties, to raise money for charity.  Local chefs are under the spotlight putting their best bites forward for hungry food lovers.
Mudbug Madness
Chefs Jobs in Louisiana
Much of Louisiana draws tourists, so the food service and hospitality industries thrive in the state. If you are motivated, ambitious, and passionate about cooking you will land a job after graduation.  Make sure the school you choose provides a comprehensive culinary education and the help you'll need to access the job market. Good schools provide:
Local and regional internships, externships and/or apprenticeships with good restaurants and hotels
On-site student-run restaurant that caters to a busy public audience
Professional chef/instructors with industry connections
Career assistance
Job boards and placement help
Don't overlook the value of a student membership in a professional organization or association. like the local chapter of the American Culinary Federation. Many industry groups offer scholarships and other student benefits. You'll also have access to valuable job boards, and members-only educational events and conferences.
Networking with like-minded members creates an environment for the type of culinary cross-pollination that is invaluable input for your emerging culinary point of view.  Tap your association contacts for internships and employment opps.
Louisiana Cooking Schools
The New Orleans Culinary Institute is one of the top specialty schools in the state; or in the country for that matter. The programs are called Occupational Studies Degrees, so you know the focus here is on putting you to work in the industry.  Culinary Arts and Hospitality Management are areas of study featured at the school.  Real life kitchen training is the focus of the culinary track, so students hone their skills working in the kitchen of The Cellar, the schools open-to-the-public restaurant.
John Folse Culinary Institute provides one of the fastest growing programs at Nicholls State University.  The hands on curriculum uses an array of externship to supplement classroom learning.  Small class sizes are touted alongside modest tuition costs as your means to a first-class education, imparted by acclaimed working professional chefs.
Louisiana Community and Technical Colleges Offering Culinary Arts or Hospitality Degrees
Bossier Parish Community College - Bossier City

Delgado Community College - New Orleans – Unique culinary opportunities exist for students in three distinct Associate's of Applied Science tracks: Chef Apprentice, Caterer, or Pastry Arts.  The apprenticeship program requires over 4000 hours of work-study under a certified chef, and 900 hours of classroom study.  The caterer track also sets the school apart for specializing in this growing food service sector.

Grambling State University – Grambling

Louisiana State University – Baton Rouge

Louisiana Technical College – Cottonport-Lafayette-Lake Charles-Metairie-Minden-New Orleans-New Roads-Plaquemine-Ruston-Shreveport-Slidell-West Monroe – The array of culinary training options contained within the Louisiana technical school system covers all career ambitions.  The Culinary Arts and Occupations department offers an Associate's in Applied Science, Technical Diploma, Certificate of Technical Studies, and Technical Competency credentials

Northwestern State University of Louisiana – Natchitoches

Southern University - Shreveport

University of Louisiana - Lafayette

University of New Orleans - New Orleans
ACF Accredited Programs
Postsecondary
Baton Rouge Community College – Acadian Campus
3250 N. Acadian Thruway E.,
Baton Rouge, LA 70805-6631
Phone: (225) 359-9431
Contact: Michael P. Travasos - travasosm@mybrcc.edu
Programs
Culinary Arts and Occupations Technology Diploma
Bossier Parish Community College
6220 E. Texas St.,
Bossier City, LA 71111-6922
Phone: (318) 678-6434
Contact: Michael P. Travasos - travasosm@mybrcc.edu
Programs
Certificate in Culinary Arts
Delgado Community College
615 City Park Ave.,
New Orleans, LA 70119-4399
Phone: (504) 671-6145
Fax: (504) 483-4893
Contact: Vance C. Roux, CCC, CCE - vroux@dcc.edu
Programs
Associate Degree in Culinary Arts
Line Cook CTS
Pastry Arts CTS
Louisiana Culinary Institute
10550 Airline Hwy.,
Baton Rouge, LA 70816-4109
Phone: (225) 769-8820
Contact: April Ruffolo - april@louisianaculinary.com
Programs
AOS Degree in Culinary Arts - Concentration: Advanced Baking and Pastry
AOS Degree in Culinary Arts - Concentration: Advanced Culinary Arts
South Louisiana Community College – Lafayette Campus
1101 Bertrand Dr.,
Lafayette, LA 70506-4109
Phone: (337) 521-9639
Contact: Dale Martin, CC - dale.martin@solacc.edu
Programs
Associate Degree in Culinary Arts and Occupations
Culinary Arts and Occupational Tech Diploma
Sowela Technical Community College
PO Box 16950,
Lake Charles, LA 70616-6950
Phone: (337) 258-0263
Contact: Jerry J. Sonnier, CCE - jerry.sonnier@sowela.edu
Programs
AAS Degree in Culinary Arts
Diploma in Culinary Arts
Secondary
College Street Vocational Center
736 E. College St.,
Lake Charles, LA 70607-1822
Phone: (337) 217-4370 x 5304
Fax: (337) 217-4371
Contact: Corey A. Aguillard - corey.aguillard@cpsb.org
Certificate & Job Training Programs
Shreveport Job Corps Center
2815 Lillian St.,
Shreveport, LA 71109-2899
Phone: (318) 629-7541
Contact: Lillie Moore - moore.lillie@jobcorps.org
Culinary Training
Top Schools
Majors
Degree Types
Career Information