The "Bam!" Chef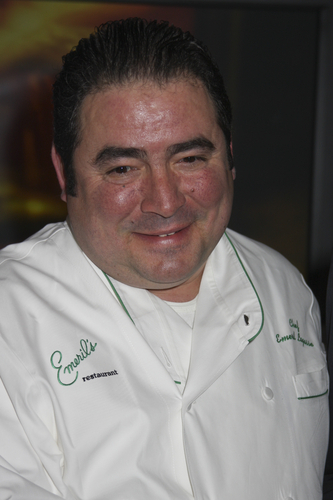 Highly visible chefs like Emeril Lagasse have redefined the notion of food celebrity. The emergence of a cadre of home-based gourmands has inspired interest in the careers and creations of top-level chefs.  For some, like Lagasse, it has fostered big business paradigms rich with diversity. Restaurants, product endorsements, books, media appearances and signature TV shows are now within the scope of culinary pursuits.
As a culinary student, your ambition should not be checked – you might be the next Lagasse, but the road to TV chef stardom is paved with serious cooking chops, and a track record of culinary success.  Know this going in, so that your early expectations are not frustrated by the reality that only a small percentage of culinary arts graduates reach super-stardom.
What is the precise formula for household-name success in the culinary field?  The paths to fame, for food TV stars are as varied as their culinary points of view, but Lagasse provides a case study for ambitious chef hopefuls.  "Bam!"gets people's attention, but for students seeking to emulate his success, Emeril's branded empire is worthy of a closer look.
Emeril's Formal Culinary Education
If you think first jobs aren't career shaping, think again. Emeril credits his part-time job as a teenager, baking bread in a Portuguese bakery, as fuel for his culinary career. He attended Johnson and Wales University in Providence, Rhode Island, at the school's main campus, majoring in Culinary Arts. JWU's programs provide solid foundations in culinary and pastry arts, incorporating true hands-on learning that is highly regarded within the industry respected grads.
Like legions of professional chefs who emerged before him, Lagasse worked as a fresh-faced Paris chef, learning classical French culinary technique, before returning to the U.S.  International experiences are solid resume entries for many high-profile chefs, and for Emeril, led to his unique signature style of cooking.
Emeril's Professional Development and Rise to Fame
Commander's Place restaurant in New Orleans launched Emeril's career, and the'Big-Easy' charisma of his signature menus. He reigned as Executive Chef for 7 years, carving out a unique niche for himself in the city.  His signature cooking style mixes Cajun and Creole cuisine, to form innovative American dishes.
After leaving Commander's Place, he became Chef/Owner of his own New Orleans restaurant, Emeril's, cementing his place on the national culinary scene. Between 1990 and 2007 Emeril opened restaurants non-stop in New Orleans, Orlando, Las Vegas, Miami, and Gulfport, Mississippi.  Emeril's Restaurant opening was followed by Nola, then by Emeril's New Orleans Fish House, in Las Vegas.
Emeril has hosted two successful Food Network programs, markets an array of cookbooks, endorses All-Clad cookware and Wusthof cutlery, and has also launched his own signature line of cast iron pots and pans. Guest appearances on network TV and face-time on home shopping channels has kept his branded image at the front of consumer culinary trends.
Emeril's Signature Cuisine
"New New Orleans" is exactly how Emeril describes his signature cuisine. His "essence" spices are characteristic of Cajun and Creole specialties. However, if you're a student of Emeril's success, it's interesting to note his departure from New Orleans cuisine with his Delmonico's Steakhouse, Table 10—a  New American cuisine restaurant, and Tchoup Chop--an Asian-Polynesian fusion venture.
Lagasse's restaurants have garnered consistent recognition from the gourmet community.  Emeril's was named "Restaurant of the Year" by John Mariani in Esquire magazine in 1990 and received the sought after Wine Spectator "Grand Award" in 1991. In the early 90's, Lagasse was named "Best Southeast Regional Chef" by the James Beard Foundation.  Emeril's Restaurant also earned the coveted Ivy Award. NOLA was recognized as "Best New Restaurant" by Esquire magazine in 1993 and has received national attention in Travel & Leisure and Southern Living magazines.
His third restaurant, Emeril's New Orleans Fish House has been named "Best Restaurant in Las Vegas" by Zagat.  Delmonico Steakhouse was named "Best Steakhouse" by Las Vegas Life magazine, and in 2004, received the Grand Award from Wine Spectator magazine.
Emeril's Chefs
Emeril retains the title of Executive Chef of his restaurants, but can hardly be expected to tackle the role independently. His Chef de Cuisines, or Head Chefs are among the most talented and ambitious culinary innovators working today:
Chef Nicholas Shust, of Emeril's Tchoup Chop in Miami, studied hospitality and restaurant management before taking a job as a line cook. Now he is Chef de Cuisine at Emeril's Asian-fusion property.
Chef Michael Ruoss, of Nola's in New Orleans worked his way through the kitchen ranks, after completing a culinary arts program.
Chef David Slater, of Emeril's New Orleans, studied at the Florida Culinary Institute and before landing at Emeril's, honed his skills with stints in fine-dining restaurants. He started as sous chef at Emeril's and now serves as Chef de Cuisine.
Find A Culinary School near Ashburn With Open Eligibility Today!
Famous Chefs
---
Culinary Training
Top Schools
Majors
Degree Types
Career Information