Italian Chef Mario Batali's Career and Rise to Fame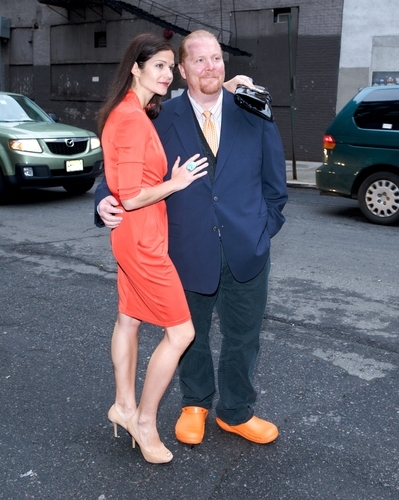 New York chef Mario Batali has been peddling traditional Italian fare on food TV since the mid 1990s. This son of an Italian American father has a passion for food in his gene pool and enjoyed an upbringing that was rich in food culture.
Batali has parlayed his passion for food into a celebrity career with several restaurants to his name, a slew of cookbooks, his own line of cookware and endorsements that bring his brand name to countless products. A long list of television programs and specials are responsible for elevating him to superchef status in the minds of countless adoring viewers.
His food credibility cannot be denied, especially in his area of specialty; regional Italian cuisine.  Batali is one of the original Food Network Iron Chefs, and has showcased his ability to transform the secret ingredient into creatively interpreted Italian-inspired fare.
His TV career was launched in the same flurry of on-screen culinary activity that catapulted contemporaries like Rachel Ray and Bobby Flay into the public spotlight.  His unique brand of on-screen instruction has served as one of the building blocks for the evolving celebrity chef category.
Batali's on-screen charisma translated well to viewers looking to elevate their cooking, and bring some integrity to their kitchens.  His extensive exposure to Italian cuisine, at its source, brought him instant credibility in the eyes of early TV foodies.
Chef Mario Batali's Culinary Education
Batali did the same thing after high school that many students do, he threw himself headlong into a traditional college education, in pursuit of a mainstream career. He earned his degree from Rutgers University in Spanish Theatre and Economics, but it was not long before he started studying at Le Cordon Bleu, London.
This famous culinary school specializes in classic French cuisine and Batali found the overall educational structure to be inhibiting. Besides, he was already in love with the idea of cooking classic Italian cuisine. So he did something to change his culinary path forward, he left Le Cordon Bleu and spent his work time under the tutelage of a number of influential London chefs.
After early-eighties stints at The Four Seasons and other noted restaurants, he moved to a tiny Italian village in1989 where he immersed himself for 3 years in the rustic Italian cooking of the region.  The training he absorbed there is the foundation for his specialty, authentic regional Italian cuisine, and provides the foundation for his restaurant menus.
Batali's Rise as Restaurateur
In 1993, Batali emerged from Italy and landed in New York City where he founded an Italian trattoria called Po. Batali then engaged in a successful partnership with Lydia Bastianich's son Joseph.  Their ventures include, Babbo, Lupa, Esca, Otto, Casa Mono, Bar Jamon, Bistro du Vent, and Del Posto.
Chef Batali has broken out of his New York mold and launched Osteria Mozza and Pizzeria Mosso in LA and most recently B&B Ristorante, Enoteca San Marco and Carnevino Italian Steakhouse in Las Vegas.

Batali's cuisine is best described as classic, but simple Italian or Spanish fare—menus loaded with grilled quail, duck, rabbit, handmade pastas and a penchant for ingredients like fennel, lemon, mushrooms, green chilies, and salami and sausage.
The Batali brand is entrenched in fine cuisine today, so it looks like he has come a long way from the short pants and orange Crocs that dominated his Food Network image.
Batali On Television
Batali found on-screen fame with appearances on multiple Food Network shows.  The burgeoning network was riding the wave of culinary awakening that caused wayward viewers to tune in for food advice.  The fascination with food was nothing new really, but a 24-hour channel devoted to only food-related programming changed the landscape forever.
Batali was in at the ground floor with his series Molto Mario.  The casual fact-laden cooking show brought the charismatic Batali into the homes and imaginations of countless home cooks.  With an added responsibility as one of the original Iron Chefs, Batali's star rose quickly.
After a successful run that included appearances through 2008, Batali and the Food Network parted ways.  The network did not renew his show, so the chef chose to resign his Iron Chef commitment as well.  Batali's presence during the foodie explosion was enough to cement his iconic celebrity chef status.
His new show is a jaunt through Spain with Fellow food expert Mark Bittman and celebrities like Gwyneth Paltrow.  The series plays to his strength as an orator of regional culinary traditions and practices by placing him in stimulating environments that allow him to expound.
Batali has published several cookbooks, including those like Babbo, that highlight recipes from his restaurants.  His most recent book goes with his latest personal pursuit of better health.  Batali has recently shed 40 pounds, so his book is filled with less caloric versions of Italian favorites that bring the luxuries of fine dining more in-line with the pursuit of good health.
Find A Culinary School near Ashburn With Open Eligibility Today!
Famous Chefs
---
Culinary Training
Top Schools
Majors
Degree Types
Career Information