Giada de Laurentiis, Everyday Italian Chef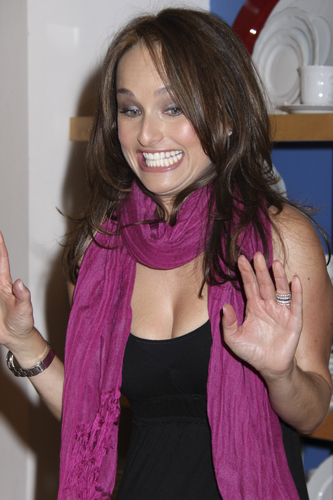 Giada de Laurentiis, of the Food Network's Everyday Italian fame, is well known for her presenting her simple Italian dishes in a way that speaks to home cooks. Her modern food point of view tweaks recipes appropriately for today's health-conscious and serious home cooks. Her culinary fame is further fueled by additional Food Network programs, best-selling cookbooks and signature Giada products.
As she recounts frequently on the network, Giada grew up in a large Italian family that turned out traditional Italian dishes.
Comfortable in the kitchen from an early age, her culinary experimentation showed a knack and love for preparing great food. Her grandfather, Italian film director, Dino de Laurentiis owned his own restaurant—DDL Foodshow—where Giada spent time during her formative years.
Being born in Rome with a restaurateur Granddad was enough to instill some early culinary credibility in a young lady whose culinary education took a slightly different turn than most celebrity chefs. Her story stands as an inspiration to adult career changers who share a passion for cooking that just won't go away.
Giada's Culinary Education
Out of high school Giada chose to study Anthropology rather than pursuing a career in the restaurant business.  Upon completion of her Anthropology degree program, she found her passion for cooking had not waned, despite the distraction of a conventional college education.
Her true calling could not be denied, so Giada chose to jump in and learn from Paris' best instructors at the world famous Le Cordon Bleu culinary school. The ambitious degree program she selected there specializes in both cuisine and patisserie.  Le Grand Diplome, as it's officially called, provides a combination of classic chef training alongside a comprehensive schooling in the patisserie specialty. 
She parlayed her successful culinary education into some high profile teeth-cutting positions in California. Early work was done in Los Angeles' Ritz Carlton fine dining kitchen until she tapped her family's Hollywood roots for a chef's job at Wolfgang Puck's famous restaurant to the stars - Spago in Beverly Hills.  After rubbing elbows with some of the best in the business, de Laurentiis eventually launched her own private catering company in 1998.
Giada's star was rising, and for good reason.  She was born with a celebrity pedigree that included actors and other famous Italian entertainers and personalities.  Her catering company, GDL foods, served the Hollywood elite with celebrity clients like Ron Howard.  Though it was not her early intention, her charisma and good looks, along with her association with a famous family made her very visible on the California food scene. But how did she end up in front of the Food Network cameras?
Food Network and Fame for de Laurentiis
Thanks to the fame and good fortune of the de Laurentiis clan, Giada was "discovered" in a magazine article that highlighted the family and each member's individual pursuits.  A Food Network executive reading the magazine recognized the potential for a fruitful pairing between the network and the chef, and the rest is history.

Her perkiness and attractive appearance acted as a double-edged sword early in her TV career, with viewers questioning the seriousness of her chops as a chef.  But her passion for Italian cooking and her skilled use of ingredients were eventually deemed genuine.  Since then, her good looks have done nothing but contribute to her meteoric rise to food fame.
To date, Giada's presence on the Food Network includes appearances on these shows:
Everyday Italian – Her signature show that first brought her toothy smile into American homes.  She has earned an Emmy for sharing healthy and accessible recipes for nearly a decade.
Behind The Bash – Behind the scenes expose of high-profile catered events that offers a unique vantage point for curious foodies.
Giada's Weekend Getaways – Launched in 2007, the show takes Giada out of the studio kitchen and places her in interesting culinary settings across the United States.
Next Food Network Star – Guest judge and contestant mentor on this popular chef competition that farms young talent for the network.
Iron Chef America – De Laurentiis has appeared in celebrity on celebrity versions of this celebrated show.
Giada At Home – Her most recent FN endeavor that showcases in-home party and meal planning.  Launched in 2010.
In addition to these recurring Food Network roles, she has also been featured on specials for the network, and acts as a celebrity chef correspondent for NBC's Today show.

Cookbooks and Giada's Brand
Giada's segue into publishing is a natural extension of her television work.  Her cookbooks routinely land and stick on the New York Times best-seller list, with more than one having held the number one spot.  Her Cookbooks:
Everyday Italian
Giada's Family Dinners
Everyday Pasta
Giada's Kitchen
Giada at Home
Her celebrity status has landed her some marketing contracts for food products like Barilla pasta, and she has an entire line of exclusive goods that are sold at Target stores.  Gourmet pasta sauces, flavored coffee, and kitchen tools – including small electrics like paninni presses- carry her image and endorsement.  What is currently absent from her resume is a signature restaurant in the vein of other celebrity chef endeavors.
Find A Culinary School near Ashburn With Open Eligibility Today!
Famous Chefs
---
Culinary Training
Top Schools
Majors
Degree Types
Career Information