Jamie Oliver's Career, His Chef Education and His Cuisine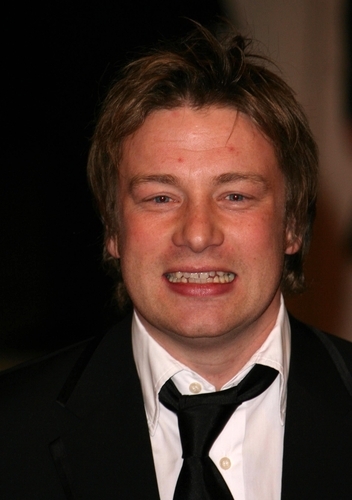 British celebrity chef Jamie Oliver is often associated with the title of his early work, "Naked Chef."   Yes, it's a sexy attention-grabber, but it's the food that is naked, not Jamie. His minimalistic, clean, rustic attention to garden-fresh, organic food provides the underlying philosophy for the successful TV series. Oliver has carved out his own distinct place in the culinary world, with an infectious accent, unpretentious lifestyle and a clear commitment to showcasing good food, for all people.
 
Like many of his celebrity chef peers, Oliver responded to his early popularity with a spate of television programs and documentaries, including:
The Naked Chef
Jamie's Kitchen
Jamie's Kitchen Australia
Jamie's School Dinners
Jamie At Home
The titillating title of "Naked Chef" opened up a hungry contingency of TV foodies to the style of cookery that Jamie still advances: simple, unprocessed, fresh from the garden gastronomy, where flash follows sustenance. His show Jamie at Home is nothing more than a cooking day in the life, which follows him as he pulls produce from his own garden, then prepares it in a rustic kitchen with basic cookware and utensils.
Jamie Oliver's Chef Education
Jamie's introduction to the culinary industry was as organic as his cooking philosophy. His parents operated a pub and eatery near his home in Essex, England. Jamie spent his childhood years stumbling around the kitchen of The Cricketers, getting his hands into basic food prep. He was ahead of years in culinary prowess, mastering basic apprentice chef skills by the time he was a teen.
He knew early on that cooking was his calling, so enrolled in the cooking school program at Westminster Catering College, now Westminster-Kingsway College, which accepts students into its career courses from the age of 16. Jamie enrolled at that age, and studied the school's well-respected Hospitality and Catering programs.

Oliver followed up his London cooking education with the well-shared path of many professional chefs: a stint in France. Working his way through the famous French culinary world and learning classical methods of French cookery. After returning to London he went to work as pastry chef and baker for Chef/Proprietor Antonio Carluccio, of Neal Street Restaurant fame, who now operates Carluccio's Caffes.
For three and a half years, Oliver worked at the well-received River Café, which brought him early media attention. A documentary about the restaurant featured on camera appearances that eventually led his first regular TV presence, on the Naked Chef.
Television and Fame
Oliver's TV credits are astonishing in breadth, but the scope of most of his shows remains similarly tied to promoting healthy, sustainable cuisine.  Through regularly aired installments of popular series' like Jamie at Home and Jamie's Ministry of Food, Oliver consistently attempts to mobilize the citizenry of various locales to engage in responsible eating practices.
Other series' like Jamie's American Road Trip and Jamie's Family Christmas showcase topical segments where Oliver applies his underlying themes to unique situations.  In Road Trip he focuses on homespun culinary creations, rather than elaborate fine-dining fare, while Christmas engages individual family members to assist in preparing holiday dishes.
Jamie's Kitchen and Jamie's Kitchen Australia depict Oliver's attempt to train disadvantaged youths in the Culinary Arts.  Successful candidates are offered employment in one of the chef's restaurants.  Another youth-oriented effort launched by Oliver was chronicled in a four part documentary called Jamie's School Dinner, when Oliver took over running the school lunch program of the Kidbrooke School, in Greenwich.  Healthier school lunch choices and Chef Oliver's activism raised public awareness, and led to the government of the UK playing an active role in improving menu alternatives.
Today, Oliver stays busy with multiple ventures, including the ongoing development of his restaurants. Fifteen Restaurant is a flagship statement that serves as a commercial enterprise and charitable foundation at once.  The school serves as training grounds for disadvantaged chef/students, who might not otherwise be given access to culinary education. The early effort was the inspiration for his documentary: Jamie's Kitchen, and now provides training at three locations.
Jamie's Italian is a restaurant foray into rustic Italian cuisine that attempts to bring fresh, traditional, and simple Italian dishes into the mainstream – at affordable prices. His latest venture is a partnership called Barbecoa, which emphasizes traditional cooking methods; utilizing wood ovens, charcoal, and smoke.
In addition to his TV work, restaurant group, and charitable philanthropy; Chef Oliver has published a string of cookbooks, some that parallel his on screen ventures.  He has furthered his brand by endorsing a major English supermarket chain and a wide variety of culinary wares.
Find A Culinary School near Ashburn With Open Eligibility Today!
Famous Chefs
---
Culinary Training
Top Schools
Majors
Degree Types
Career Information