Top Cooking Schools in Wyoming
Wyoming is decidedly rural, but there are cities and pockets of culinary experimentation that are worth a look for would be chefs, looking for an education.  There are a few culinary programs on the cutting edge in Wyoming.  The state is a tourist draw, so there are also substantial employment sectors that serve the discerning palates of visitors who come from around the world.
Natural attractions and skiing opportunities are sought by hungry visitors who want to treat themselves to gourmet meals once their sightseeing is done-that's where you come in.  A chef's education in Wyoming might land you on the job at a high dollar resort, or in the fine-dining kitchen of a metropolitan restaurant.
There is a strong agricultural presence in this state that is known for grain and beef production.  You're in the Wild West here, so expect some rustic frontier meals, but don't discount the state's progressive culinary innovators who manipulate indigenous ingredients in inventive ways.
You'll not find the laundry list of culinary schools in Wyoming that you would in California, but colleges and universities that engage in Culinary Arts education are equally as committed to graduating standout food professionals as any of the high-profile chef schools found in major U.S. cities.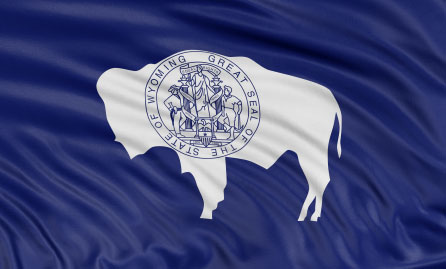 Sample the Local Culinary Scene in Wyoming
A generous portion of your complete chef's education should be learning the local lay of the culinary land.  In Laramie, Sheridan and Jackson, your adventures into the local food scene will help form your culinary point of view. Dissect local menus, and sample noted chef's best dishes.  Identify regional raw materials, paying particular attention to the way good chefs are using them.
Red meat, including beef and bison are popular menu components, but you'll also find fresh caught river trout and bass on the daily specials list. Anything traditional, sustainable and organic also qualifies for a place on the trendiest restaurant chalkboards.
Regional food and beverage festivals offer a concentration of an area's best culinary minds.  Tap these gatherings for networking opportunities, and don't be afraid to get your hands dirty in a festival kitchen. Local chefs are eager to put their best bites forward at these events, so trendy forms of culinary creativity are on display. 
Competitions ala Iron Chef America have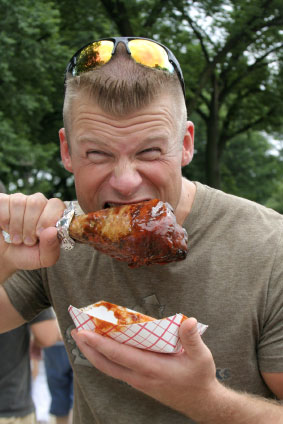 become a staple at food events, and they often include categories for emerging chefs and students. Participating in a student competition pays huge dividends by putting you in the spotlight, and under the gun.  Performing under pressure is a job skill that you'll need, so why not practice at a fun food event? Add these to your academic schedule:
Wyoming Brewers' Festival – Cheyenne- The California wine culture is widely known, but the Wyoming beer culture?  It's true, there is a revolution related to beer and food pairing that is sweeping the country, and it stops at this Wyoming Festival for a couple days in June.
Jackson Hole Summer Mountain Festival – This is the type of grass roots festival that can be exploited for work and learning.  It's not all about food, but where people gather for fun, they gather to feast.  Hungry mouths are the bottom line for your career, so don't be afraid to think outside the box when it comes to logging valuable cooking experience.  Grab a temp gig with a festival vendor to practice your craft.
Prep for the Wyoming Culinary Job Market
Cheyenne, Casper, Jackson Hole, and Laramie are ripe for new grads. Use your experience in tourist- related food service to leverage a position at a resort or other tourist destination.  An Associate's in Culinary Arts opens a lot of doors; so consider these jobs once your studies are complete.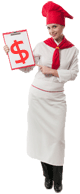 Entry- or mid-level line cook
Sous Chef
Caterer
Resort cook
Banquet chef in a corporate kitchen
Personal chef
Your level of experience influences your entry point, along with a host of other factors.  There is no doubt that a comprehensive chef's schooling will advance your mobility within the kitchen.  Your first job out of school won't be as Executive Chef, but with perseverance your path to a coveted kitchen management position can be quick.
Sweeten your networking opportunities with a membership in an industry association, such as the
Here you'll discover the motherlode of professional experience coupled with a membership willing to promote your career. Use professional organizations for access to private job postings, the latest industry news, and to participate in members-only conferences and educational events.
List of Wyoming Cooking Schools
The Wyoming Culinary Institute at Sheridan College is the first specialized culinary program to launch in the state. This top-notch program is educating the best new chefs in Wyoming. Students learn in state-of-the-art teaching kitchens, participate in exciting internships and externships, and enjoy the constant guidance of accomplished regional and national chefs. Curriculum is drawn from some of the best schools in the country. Degree programs: Associates Culinary Arts, Certificate Culinary Arts.

Wyoming Community and Technical Colleges Offering Culinary Arts, Pastry Arts, Restaurant Management, and/or Hospitality Degrees

Central Wyoming College – Jackson – The Culinary Arts program in Jackson takes advantage of the strong tourist culture within the state.  Students are taught in classrooms downtown, and then allowed to practice the craft within the kitchens and bake shops of some of the best area resorts.  The Four Seasons provides the primary venue for chef students to experience the precise advantages and limitations of professional kitchens.  State of the art industry equipment prepares students for the workplace in a way that places the most-used industry tools in their hands.  Culinary Arts Certificate, Credential, and Associate's of Applied Science programs solidly impart traditional kitchen technique alongside classic recipes.

Northwest College – Powell

Sheridan College – Sheridan

University of Wyoming – Larami
Find A Culinary School near Ashburn With Open Eligibility Today!
Culinary Training
Top Schools
Majors
Degree Types
Career Information