Alabama's Top Cooking Schools: Become a Chef in the Deep South
If you're shopping for a good cooking school in Alabama, you won't be short on schools to investigate.  Because in Alabama there are educational paths available for specialists in the hospitality industry including, dining room supervisors, kitchen managers, chefs, sous chefs, line cooks and nutritionists.
Associate's Degrees and Certificates are dispensed by Community and Technical Colleges that are on a mission to match skilled graduates with good jobs in the hospitality field. General Culinary Arts or specialized degrees like Pastry and Baking prepare passionate would be chefs for work in a variety of settings like, hotels, casinos, resorts, and cruise ships.
Alabama is Dixie through and through, so the comforting food traditions of the south are visible at every turn.  That doesn't stop larger cities like Birmingham, Huntsville, and Mobile from exhibiting their own unique culinary character.  The state supports a healthy agricultural economy that leaves local food professionals high on the hog when it comes to raw materials.
Poultry and eggs are produced for export and for local chefs to manipulate in innovative ways.  The dairy industry provides milk, cream, and cheese that further enhance the bounty of natural local products.  Nuts and grains are farmed alongside vegetables and cattle; which find their way across the country, and onto the plates of nearby foodies who clamor for the bounty of the local land.
For student chefs, it's all good news, since a formal cooking education is enhanced by the presence of a strong regional food scene.  Work-study and apprenticing roles are key to a well-rounded culinary point of view, so whether you study in Tuscaloosa or Montgomery, take advantage of whatever the food landscape offers.
The Professional Chef Scene in Alabama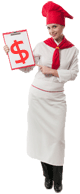 Alabama offers a vital culinary scene that can be mined by students for valuable real life lessons. Any chef's education should include a healthy dose of local food culture - so that local traditions are well-understood at job-hunting time.  Networking is essential for your successful career, so the industry alliances and contacts you form during school get you started in the right direction.
Sample from the most talked about local menus, and dissect local cuisine. Regional food events and festivals provide fertile grounds for the type of culinary cross-pollination that will propel your career forward.  Student competitions and festival-kitchen internships are great ways to get involved in the local scene, while you are honing your skills as a chef.
Professional organizations can be valuable tools for students who want access to job boards and members-only events.  Yearly conferences convey the state of the industry, and provide a concentration of culinary talent that is rarely assembled in a single location.  Scholarships and other industry opportunities are a byproduct of your association with a professional cook's organization.
Tap all your industry connections and lean on your school for job placement help.  Don't be afraid to think outside the box to illuminate culinary opportunities that might be outside the standard model.  Food awareness is at an all-time high, so trained cooks, who can make good food, are in demand across all sectors of the industry. In Alabama, there are chefs working in places like:
Casual and fine dining restaurants
Resorts and hotels
Spas
Indian Casinos
Businesses
Institutions such as schools and hospitals
Military chef
Top Cooking Schools in the State of Alabama
Culinard, the Culinary Institute of Virginia College, is located in downtown Birmingham. Within 36-weeks you can be working on the job, as a chef, following this dynamic and engaging immersion program in the culinary arts. Or, if you are a working food service pro, you can advance your educational standing with an Associate's Degree in Culinary Arts.
Trenholm State Technical College's award winning Culinary Arts program is accredited by the American Culinary Federation Accrediting Commission. Degrees include: Associate's in Culinary Arts, Associates in Culinary Arts/Hospitality Management and a Certificate in Culinary Arts. The training kitchen is also used by the culinary Olympic team, which means you learn among the best in the world. Speed and accuracy matter? You bet they do.
University of North Alabama recently bulked up its degree programs with the addition of the cutting edge 4-year Bachelors degree in Culinary Arts. Emphasis is on kitchen skills and culinary wizardry, but the additional academics included in this program allow for business and management courses that are designed for supervisors and entrepreneurs.
Alabama State Colleges, Community and Technical Colleges Offering Culinary and Pastry Arts, Restaurant Management, and/or Hospitality Degrees
Auburn University – Auburn
Faulkner State Community College – Bay Minette – Gulf Coast Culinary Institute at Faulkner State Community College is a comprehensive educator of hospitality professionals who graduate and work in management and other service positions within the industry. Associate's in Culinary Arts and certificate options for students who want to get to work quickly focus kitchen fundamentals and the ability to identify the things that make food great.  Hospitality Administration is another hot employment sector within the food lodging industry.  Kitchen supervisors are graduated by the Certificate program that instills management skills. Student-run eatery is Frederic's - open for dinner a few nights each week so students can cut their chops on the job. (www.faulknerstate.edu)
Jefferson State Community College – Birmingham – The Culinary and Hospitality Institute at this college administers two distinct degree programs that focus on different hospitality sectors.  Culinary Arts Associate's Degrees are awarded to kitchen professionals who exhibit proficiency in core classes like algebra, writing and communications.  Mastery of kitchen techniques and cooking practices prepares graduates for entry-level management work in hotels and restaurants.  Entrepreneurial efforts are also supported by your complete exposure to the industry through mock business plans and classroom contact with working owner/operators. (www.jeffstateonline.com)
Samford University – Birmingham – Nutrition and dietetics play an increasingly prominent role in the food service sector of the economy.  Schools and health care institutions are well versed in the talents of dietitians, but smaller venues and independent restaurants are now consulting with nutrition experts, in an effort to satisfy the dietary requirements of the food savvy public.  Bachelor's Degrees in the field carry clout for employment with large food companies, or as an independent voice for healthy eating. (www.samford.edu)

Shelton State Community College – Tuscaloosa

Tuskegee University – Tuskegee

University of Alabama – Tuscaloosa
ACF Accredited Programs
Postsecondary
Coastal Alabama Community College
3301 Gulf Shores Pkwy,
Gulf Shores, AL 36542-2715
Phone: (251) 968-3103
Contact: Ed Douglas - ed.douglas@coastalalabama.edu

Programs
Associate Degree in Baking and Pastry
Associate Degree in Culinary Arts
Certificate in Baking and Pastry
Certificate in Culinary Arts
Jefferson State College
4600 Valleydale Rd,
Birmingham, AL 35242-4607
Phone: (205) 983-5212
Fax: (205) 853-0340
Contact: Joseph D. Mitchell, CEC, CEPC, CCE, Ph.D - jmitchell@jeffstateonline.com

Programs
AAS Degree in Baking and Pastry
AAS Degree in Hospitality Mgmt: Culinary Arts
AAS Degree: Culinary Apprentice Option

Trenholm State Community College
8 Commerce St Ste 201 Ste 201,
Montgomery, AL 36104-3520
Phone: (334) 799-6547
Fax: (334) 286-9460
Contact: Brittany D. Foster

Programs
AAT Degree in Culinary Arts
AAT Degree: Culinary Apprentice Option


Wallace State Community College
801 Main St NW, PO Box 2000,
Hanceville, AL 35077-5462
Phone: (256) 352-7852
Contact: John Wilson - john.wilson@wallacestate.edu

Programs
AAS Degree in Culinary Arts
Certificate in Culinary Arts
Certificate & Job Training Programs
Gadsden Job Corps Center
600 Valley St
Att: Finance Department
Gadsden, AL 35901-2440
Phone: (256) 439-2921
Fax: (256) 546-0659
Contact: hill.mandy@jobcorps.org
Culinary Training
Top Schools
Majors
Degree Types
Career Information