Culinary Arts and Cooking Schools in Kansas

Kansas offers an agricultural bounty that is as diverse as any region in the country. Corn, beef, hogs and wheat are core production centers, and the food processing industry that exists alongside Kansas farming makes the state a key contributor when it comes to feeding the nation.
In small Kansas towns, the food scene is quaint and traditional – meat and potatoes.  But Wichita and other cities like Topeka and Dodge City exhibit urban food cultures that produce noteworthy cuisine.  The best educational opportunities for chefs are also centered around the larger cities, where four-year universities offer Bachelor's Degrees hospitality and restaurant management and community and technical colleges specialize in fast-track two-year Associate's and Diploma programs.
Kansas City stands as a food icon, established in the pantheon of regional culinary greatness as the home of Kansas City BBQ and Kansas City Strip Steaks.  The city hosts more than 90 Barbecue restaurants at last count, and organizes many BBQ competitions throughout the year.  A Kansas City Strip is cut similarly to its famous cousin, the New York Strip, and showcases the prized area beef.
You'll have plenty of opportunities to sample the local flavors if you choose a Kansas school for your chef's education, in fact, it should be considered part of your curriculum.  Molasses is the secret ingredient in the Kansas City sauce, so now you already know a little something about what's in store for you.
Kansas Food Scene
Make sure your cooking education includes some real-time lessons on the Kansas culinary scene. Learn which local chefs have the most unique and talked about dishes.  Identify seasonal ingredients, that are locally available, and take note of how they're being used by the best chefs in town.  You'll gain an understanding of local food trends that will help you find your own place within the local food scene.
Local festivals and regional food and wine are perfect for getting a snapshot of the local food culture.  Students who participate through internships, competitions or volunteering in festival kitchens come away with valuable contacts and firsthand exposure to the restaurant business in full swing. A few popular regional festivals for students:
Wichita Wagonmasters Downtown Chili Cook-off  - This festival heats it up with chili and chile love.  The chili cook off is open to individuals and teams who compete for over $5000 in prizes.  The Mayor's challenge pits leaders from Kansas cities against each other in the kitchen.  A hot pepper (chile) eating contest is another fun way for entrants to set themselves apart. (www.wagonmasterschili.com)
Kansas City Hog Wild BBQ Festival
American Royal BBQ Contest – Competition is a serious matter among entrants, and it's all for charitable causes.  The direct result of the yearly BBQ contest is a mountain of BBQ entrees being donated to feed the hungry. (www.americanroyal.com)
Clyde Watermelon Festival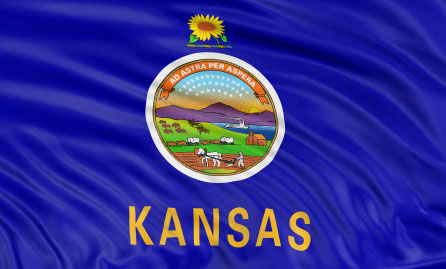 Tips for Choosing a Culinary School in Kansas
The cooking school you finally choose must have the tools to help you land a good job. It's up to you to shine with perseverance and hard work in the kitchen, but look to you degree to open some doors at the beginning of your career. Make sure your school has these things:
On-site student run restaurant that serves a busy public
Well-equipped training kitchens
Internship, externship and/or apprenticeship opportunities
Career planning assistance
Job placement success
Professional and well-respected chef/instructors
Kansas Schools and Colleges Offering Culinary, Restaurant Management, and/or Hospitality Degrees
The Art Institutes International – Kansas City -  Being part of a national network of educators in the Culinary Arts has its advantages for students who enroll there.  Talk about being connected!  The Institutes are known for strong industry ties around the world that place students in work-study and internship programs during school.  The degree programs offered by the educator are comprehensive within the culinary field.  Diplomas in Pastry and Culinary Arts are complemented by Associate's Degrees within those main cooking disciplines.  The granddaddy of credentials is the school's Bachelor of Arts Culinary degree that illustrates a strong commitment to the craft and prepares students for hospitality management jobs.

American Institute of Baking – Manhattan – This school is a leader in baking and food technology. The Baking School offers ultra-specialized courses for students interested in working as professional bakers in all sectors of the food service industry. Courses include Baking Science and Technology and a handful of professional baking certificates. The school occupies an unusual niche in the industry with a pilot bakery and other professional services, in addition to the renowned 16-week baking program. Working professionals are catered to in an intensive study track that draws students from amateur and pro ranks.

Butler County Community College - El Dorado

Barton Community College – The school focuses on producing Certified Dietary Managers (CDM, CFPP) who specialize in providing optimum nutrition care through foodservice management in hospitals, long-term care, schools, correctional facilities and other non-commercial foodservice settings. Students completing the dietary manager program are set to immediately enter the Associate in Science (AS) degree program and have the opportunity to transfer to a Bachelor of Science program.

Garden City Community College – Hospitality Management programs are offered alongside general business and management tracks.

Johnson County Community College - Overland Park- The hospitality and Tourism cluster offers a range of degrees that include Hospitality Management, Chef Apprenticeship, Pastry Arts, Food and Beverage Management, and Hotel and Lodging Management.  The apprenticeship program for chefs focuses on providing hands on training and hospitality theory.  Graduates earn an Associate's in Applied Science Degree from a program that is endorsed by several national cooking organizations.

Kansas State University - Manhattan
ACF Accredited Programs
Postsecondary
Johnson County Community College
12345 College Blvd.,
Overland Park, KS 66210-1283
Phone: (913) 469-8500
Fax: (913) 469-2560
Contact: Michael C. Milster, CEC, CCE, CCA - mmilster@jccc.edu
Programs
AAS Degree in Chef Apprenticeship
AAS Degree in Food and Beverage Management
Secondary
Broadmoor Technical Center
8200 W 71st St.,
Shawnee Mission, KS 66204-1715
Phone: (913) 993-8725
Contact: Ryan Flurry - ryanflurry@smsd.org
Programs
Secondary Baking and Pastry
Secondary Culinary Arts
Culinary Training
Top Schools
Majors
Degree Types
Career Information