Earn Your Chef's Whites in Maryland
It's not all about crab cakes in Maryland these days.  The state hosts a number of fine Culinary Arts and Hospitality programs that prepare students to look beyond the traditional crab-inspired delicacies of the region.  Maryland is small in size, but its diminutive position belies a robust food economy that is rife with opportunity for would-be chefs.
Agriculture and food production are important economic sectors in the state.  The Chesapeake Bay and offshore Atlantic waters provide abundant seafood; specifically, Blue Crab, Oysters and Striped Sea Bass.  Other regions provide fertile ground for farming cucumbers, melons, corn and tomatoes.  Dairy is a prominent industry that provides raw milk for artisinal cheese and ice cream.  Salisbury is home to the giant chicken conglomerate, Perdue Farms, so there is no shortage of protein for eager chefs to plate.
Maryland students seeking to master the kitchen arts choose educational tracks that come from four-year universities offering programs in Hospitality Management, community colleges with solid two-year degrees in Culinary or Pastry Arts, and technical colleges that specialize in fast-track diploma programs. Refine your chef dreams and give Maryland's culinary culture a hard look as a potential vehicle to your success.
Surveying the Maryland Culinary Scene
Baltimore and Washington D.C. are formidable metropolises that garner worldwide attention for their innovative cuisine.  The governmental culture of the region provides a steady flow of international travelers that come to town for business AND pleasure.  This receptive audience of worldly visitors makes for an extremely diverse and creative culinary scene.
There is great wealth in the area that supports a robust restaurant industry.  As a culinary student you are tasked to embrace the local food culture as part of your educational curriculum.  Seek out the best-known chefs and dissect their creative menus whenever possible.  Taste their food and ask them questions when you can.  The contacts you build during school are indispensable when it comes time to land a job.
On a student budget, it can be difficult to soak up the fine-dining fare that defines the area. Look to festivals and local food events that often feature affordable regional specialties prepared by standout chefs.  Attend the fests, or better yet, get yourself into a festival kitchen as a volunteer or intern.  You'll gain exposure to local food trends and create a network of like-minded industry professionals to tap for work and knowledge later.
You might even find yourself competing in a cook-off or Iron Chef challenge at one of these food-inspired gatherings:
Annapolis Rotary Crab Feast – You're invited to "Share a Crab" at this summer festival that pays homage to the Chesapeake's most famous foodstuff.  The feast is centered around the big male crabs that are so highly sought by foodies everywhere.  Vegetable crab soup, Maryland corn on the cob, and barbecue are also on the all-you-can-eat menu. 500 bushels of crabs are consumed at this festival each year.
Chesapeake Oyster and Beer Festival – February festival that includes an all you can taste menu of ten oyster varieties.  Whether you like your oysters raw, steamed, roasted, or Rockerfellered, this festival can accommodate you.  Grilled oysters are a novel preparation that goes extremely well with the 20 noteworthy beers that are tapped at this foodie event.
Havre de Grace Seafood Festival – Twenty-eight vendors prepare over 160 distinct dishes to satisfy hungry festival-goers.  Over a hundred local arts and crafts vendors ply their wares accompanied by the tunes of many featured musical acts.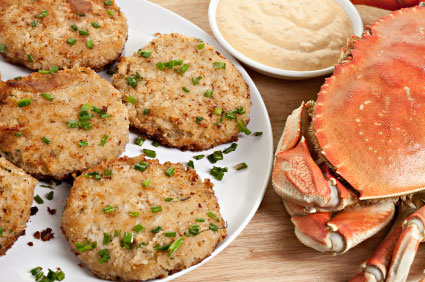 Chef Jobs in Maryland
Bethesda, Rockville, Gaithersburg—these are all suburbs of DC that provide clusters of very good job opportunities for chefs and restaurant professionals. Baltimore and Columbia are also fertile grounds for budding culinary minds. Make sure the cooking school you choose to attend is amply prepared to help you get a good job. Look for a school with the following features:
Internship, externship and/or apprenticeships
On-site, student-run restaurant(s)
Career guidance/Job placement
State of the art training kitchens
Also, consider a student membership in a professional organization like:
Central Maryland Chefs and Cooks Association
Groups like these draw large numbers of like-minded industry professionals joined together in a professional fellowship. Many use their memberships to network, collaborate and keep abreast of the latest industry trends. You might gain access to valuable job boards, educational events and annual conferences.
Salaries for chefs in Maryland vary based on a wide spectrum of factors, including:
Your level of education and specialization,
Years of professional experience,
Type of establishment in which you work,
Employer location within the state.
Annual salaries for experienced sous chefs with management duties might exceed $40,000. Chefs that work in major metro areas can generally expect to earn more than their suburban counterparts.
Maryland Cooking Schools and Community Colleges for Culinary Arts, Restaurant Management, and/or Hospitality Degrees
Baltimore International College – Baltimore delivers world-class culinary arts, catering and hotel management programs from basic Associates degrees to Masters level management. Degrees include: Associates Culinary Arts, Bachelors Hospitality Management, Bachelors Hospitality Management/Marketing, and Master of Science in Hospitality Management. Honors students have the opportunity to engage in an exciting externship in Ireland.

L 'Academie de Cuisine – Gaithersburg is the only truly specialized culinary arts school in Maryland. Study tracks are designed for serious amateurs as well as ambitious student chefs and professional cooks looking to turn up the heat on their careers. Choose from professional programs in Culinary Arts or Pastry Arts.

Allegheny College of Maryland – Cumberland – Culinary Arts, Dietary Manager and Hospitality Management Programs define the Hospitality Division of the school at three locations in Maryland.  The virtual buffet of degree choices goes beyond the typical offerings of many culinary programs.  An attractive option for Culinary Arts Program enrollees is to earn a degree in Hotel and Restaurant Management concurrently.  With both credentials, the scope of job possibilities is greatly enhanced.  A Dietary Manager Certificate is available for students who wish to flex their culinary muscle in an institutional setting as a nutrition expert.

Anne Arundel Community College – Arnold – Hospitality, Culinary Arts and Tourism are segment of the school's Professional Education Department.  A unique offering that addresses a current area of culinary interest is Anne Arundel's Wine and Beer Academy.  Here is the place for students to get up to speed on beverage trends to compliment their food chops.  Wine Certifications are preparatory for menu planning and restaurant entrepreneurism.  The Associate's program offers two distinct options in Culinary Arts or Hospitality Business Management.  Several Certificate Programs focus on individual segments of the industry, including Event Planning and Catering.  Bartending and Sanitation Certificates are also offered alongside an Italian Culinary Internship.

Baltimore City Community College – Baltimore

College of Southern Maryland – Multiple locations are in place for students who wish to pursue the school's Hospitality Management Associate's Degree.  The 63-credit program prepares students for employment in one of the many areas of discipline that comprise the industry.  Working students who wish to gain a credential are equally at home compared to enrollees with no experience in the kitchen.  The coursework emphasizes theory and hands-on training is provided through a series of internship opportunities.

Columbia Union College – Takoma Park

Frederick Community College – If you are early to make a commitment to a Culinary Arts career, you should tune-in to the High School student scholarship offered by Frederick.  $500 scholarships are awarded to competition winners alongside knife sets and textbook credits.  An A.A.S. Degree in Culinary Arts and Supervision includes people-managing classes that prepare graduates for real workforce scenarios.  Each discipline is also taught at a Certificate level to get students through the programs and on the job.

Howard Community College – Columbia – Certificates in Baking and Pastry, Food and Beverage Management and Professional Cooking prepare students for entry-level employment in hospitality industry jobs.  Culinary Management and Hospitality Management Degrees are offered at the Associate's level for committed students who want to step into lower- and mid-level management jobs upon graduation.

Lincoln Technical – Columbia
Montgomery College – Rockville

Morgan State University - Baltimore

University of Maryland - College Park-Princess Anne

Wor-Wic Community College – Salisbury – Popular for students who plan to transfer to Salisbury college after completing two-year degree.  For foodies there are three Certificate of Proficiency options; Culinary Arts, Hotel-Motel Management, and Restaurant Management.
ACF Accredited Programs
Postsecondary
Anne Arundel Community College – Hotel, Culinary Arts and Tourism Institute
101 College Pkwy.,
Arnold, MD 21012-1857
Phone: (410) 777-1225
Contact: John V. Johnson, CEC, CCE, AAC - jvjohnson1@aacc.eduu
Programs
AAS Degree in Hotel/Restaurant Management - Culinary Arts Option
AAS Degree in Hotel/Restaurant Management- Baking & Pastry Arts Option
Howard Community College
10901 Little Patuxent Pkwy.,
Columbia, MD 21044-3110
Phone: (443) 518-4785
Contact: Timothy M. Banks, CEC - tbanks@hoawrdcc.du
Programs
AAS Degree in Culinary Mangement , Professional Cooking
AAS Culinary Mgmt- Professional Baking and Pastries
Certificate in Baking and Pastries
Certificate in Professional Cooking
Stratford University Baltimore Campus
210 S. Central Ave.,
Baltimore, MD 21202-4407
Phone: (443) 518-4785
Contact: Damien Antoine Bagley, CEPC - dbagley@stratford.edu
Programs
AAS Degree in Culinary Arts
AAS Degree in Pastry and Baking
Professional Cooking Certificate
Wor-Wic Community College
32000 Campus Dr.,
Salisbury, MD 21804-1486
Phone: (410) 572-8719
Fax: (410) 334-2977 Contact: George Ojie-Ahamiojie, EdD - gojie-ahamiojie@worwic.edu
Programs
Hotel-Motel-Restaurant Management Culinary Arts Option AAS Degree
Hotel-Motel-Restaurant Management Culinary Arts Option Certificate
Secondary
Bladensburg High School Prince George's County Public Schools
4200 57th Ave.,
Bladensburg, MD 20710-1710
Phone: (301 669-6012 x 45231
Contact: Melissa Richardson - meli.richardson@pgcps.org
Carroll County Career and Technology Center
1229 Washington Rd.,
Westminster, MD 21157-5803
Phone: (410) 751-3669
Contact: Joan M. Alder - jmalder@carrollk12.org
Programs
Secondary Baking and Pastry
Secondary Culinary Arts
Cecil County School of Technology
912 Appleton Rd.,
Elkton, MD 21921-3920
Phone: (410) 392-8879
Contact: Nicole Parr - nmparr@ccps.org
Center for Career and Technical Education
14211 McMullen Hwy. SW,
Cumberland, MD 21502-5671
Phone: (301) 729-6486
Contact: Philip Carter - philip.carter@acpsmd.org
Center of Applied Technology North
800 Stevenson Rd.,
Severn, MD 21144-2207
Phone: (410) 969-3100 x 208
Fax: (410) 969-1967
Contact: Bruce S. Davis - bsdavis@aacps.org
Programs
Baking and Pastry
Culinary Arts
Center of Applied Technology South
211 Central Ave. E.,
Edgewater, MD 21037-2802
Phone: (410) 956-5900
Contact: Pamela Luckey Klink - pklink@aacps.org
Crossland High School
6901 Temple Hill Rd.,
Temple Hills, MD 20748-5207
Phone: (301) 669-6012 x 452310
Fax: (301) 749-5235
Contact: Melissa Richardson - meli.richardson@pgcps.org
Damascus High School
25921 Ridge Rd.,
Damascus, MD 20872
Phone: (240) 632-6933 x 452310
Fax: (301) 279-3147
Contact: Regina P. Breiterman - Regina_P_Breiterman@mcpsmd.org
Dorchester Career and Technology Center
2465 Cambridge Beltway,
Cambridge, MD 21613-3680
Phone: (410) 901-6950
Fax: (410) 221-8589
Contact: Charlene Zinnel, CCE - zinnelc@dcpsmd.org
Easton High School - Talbot County Public Schools
723 Mecklenburg Ave.,
Easton, MD 21601-3395
Phone: (410) 822-4180
Fax: (410) 221-8589
Contact: Pam Clay - pclay@tcps.k12.md.us
Frederick County Career & Technology Center
7922 Opossumtown Pike,
Frederick, MD 21702-2964
Phone: (310) 846-2404
Contact: Margie Liddick - margie.liddick@fcps.org
Gwynn Park High School
13800 Brandywine Rd.,
Brandywine, MD 20613-5806
Phone: (301) 669-6012 x 45231
Contact: Melissa Richardson - meli.richardson@pgcps.org
JM Tawes Technical & Career Center
7982 Tawes Campus Dr.,
Westover, MD 21871-3908
Phone: (410) 651-2287
Contact: James C. Washington - jwashington@somerset.k12.md.us
North Point High School
2500 Davis Rd.,
Waldorf, MD 20603-3857
Phone: (301) 753-1759
Contact: Christopher B. Willis - cwillis@ccboe.com
Oxon Hill High School
6701 Leyte Dr.,
Oxon Hill, MD 20745
Phone: (301) 669-6012 x 45231
Contact: Melissa Richardson - meli.richardson@pgcps.org
Paint Branch High School
14121 Old Columbia Pike,
Burtonsville, MD 20866-1721
Phone: (240) 632-6933
Fax: (301) 279-3147
Contact: Regina P. Breiterman - Regina_P_Breiterman@mcpsmd.org
Parkside Career and Technical Center
1015 Beaglin Park Dr.,
Salisbury, MD 21804-9311
Phone: (410) 677-5144 x 2657
Contact: Tony Hilligoss, CCE, AAC - thilligo@wcboe.org
Thomas Edison High School
12501 Dalewood Dr.,
Silver Spring, MD 20906-4100
Phone: (240) 632-6933
Fax: (301) 279-3147
Contact: Regina P. Breiterman - Regina_P_Breiterman@mcpsmd.org
Washington County Technical High School
50 W Oak Ridge Dr.,
Hagerstown, MD 21740-7302
Phone: (301) 766-8057
Fax: (301) 797-9743
Contact: Tammy S. Twigg - twiggtam@wcps.k12.md.us
Worcester Technical High School
6290 Worcester Hwy.,
Newark, MD 21841-2224
Phone: (410) 632-5050
Contact: Phillip E. Cropper - pecropper@mail.worcester.k12.md.us
Programs
Secondary Baking and Pastry
Secondary Culinary Arts
Find A Culinary School near Ashburn With Open Eligibility Today!
Culinary Training
Top Schools
Majors
Degree Types
Career Information