Culinary Schools in Washington State

A simple stroll through Seattle's Pike Place Market and you KNOW the region is all about good, fresh, local, and seasonal food. For a chef or baker who is just starting out, Washington is one of the most fertile culinary territories on the West Coast. Trendy eateries and a heightened food awareness make Washington a hotbed for culinary schooling.
The state is characterized by a heavy agricultural economy that leads the country in producing a wide range of crops.  Apples are perennially associated with the state, as are the Hops used for making beer.  Raspberries, Peas, Cherries and Grapes are also leading agricultural exports of the state.  Asparagus, Wheat, Cranberries, and Strawberries are cultivated for eager local chefs to manipulate into tantalizing culinary delights. 
Grapes are of particular interest to professional vintners who drive Washington's robust winery culture.  Beer too is a noteworthy category in a state that produces some of the most interesting and progressive brewery output in the country. The Columbia Valley is latitudinally similar to France's prized grape growing regions, so the environmental and climatic conditions are just right for cultivating Vinifera grape varieties.
The synergy is explosive where great wines meet creative culinary minds.  And the superlative foodie offerings cater to a brand of tourism that creates untold opportunities for working chefs and culinary students alike.  For prospective students exploring culinary schooling options, it is immediately evident that Washington State is a special place when it comes to food and beverages.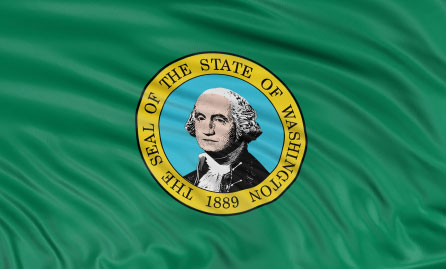 Choosing a Washington Cooking School
When you start dissecting the educational landscape for would-be chefs in Washington, you'll find nationally recognized culinary institutes along with an impressive array of colleges and technical schools that offer culinary arts, hospitality, and pastry arts degrees. It won't take long to identify the region as a hotbed of culinary knowledge and innovation and for students, that's good news. But with so many options for your culinary path forward, it pays to refine your approach.
Define your career goals up front, so you can place yourself on the fastest track available for fulfilling your chef dreams.  Your short-term educational requirements are one thing, but stay in touch with your grander vision too.  Find out which schools offer the programs that facilitate your long-term evolution as a culinary professional.  Pay particular attention to career guidance/job placement, internship/externship opportunities, and apprenticeships. These are essential components for gaining the kind of work/study experience most employers want to se on your resume.
Other important features of a good cooking school:
Well-equipped teaching kitchens that give you experience with all the latest industry equipment and technology
Professional chef/instructors
Accreditation from culinary organizations
Accomplished Alumni
Student-run restaurants that serve paying customers
Tap These Schools For Culinary Arts, Restaurant Management, and/or Hospitality Degrees
Bates Technical College –Tacoma
Bellingham Technical College – Bellingham – Great Culinary education awaits in a diploma level program that offer Certificates in Culinary Arts and Pastry alongside their two-year Associate's programs.  Award winning chefs are touted as faculty. And the American Culinary Federation has designated theirs as an Exemplary Program, distinguishing it as having the highest educational standard recognized by the Federation.  Pastry Arts students are held to the same high standard and are eligible for an Associate's or Associate's Transfer Degree upon completion of coursework.
Clark College – Vancouver – Associate's in Applied Science degrees are offered in two disciplines called Cooking/Food Management and Professional Baking.  First year students are indoctrinated into the craft through an intensive 10-point focus of study in food preparation and service.  Certificate of Proficiency is the designation given to the diploma programs offered in cooking and baking.  Food safety, health standards, classical cooking techniques and recipe analysis are key curriculum components at Clark College
Clover Park Technical College – Lakewood
Columbia Basin College – Pasco - Students considering enrollment are encouraged to call the school and speak directly to the administrator of the Culinary/Food Sciences program.  The school offers an intensive one-year Certificate for preparing to enter the workforce, or continuing your culinary education at a higher level.
Edmonds Community College – Lynnwood – A myriad of culinary arts degrees and certificates characterize this school's cooking department.  The Basic Commercial Cooking Certificate and Basic Catering Certificate are supplemented by an Advanced Commercial Cooking Certificate and a Pastry Certificate.  More ambitious students can pursue Associate's in Technical Arts Degrees in both Culinary Arts and Baking Arts.
International Air and Hospitality Academy – Vancouver
Lake Washington Institute of Technology – Kirkland – Baking Arts and Culinary Arts provide the core of culinary studies at the Institute.  Associate's Degrees are available in both areas, while a Culinary Arts Certificate of Proficiency can also be earned.  Associate's Degrees require 100-107 credits and can be completed in 6 quarters.  The Certificate is a 54-credit option.  During the course of study, students also accumulate National Restaurant Association Education Foundations certificates that make excellent resume fodder after graduation.  Graduates are eligible for certification as culinarians, by the American Culinary Federation.
Olympic College – Bremerton
Seattle Central Community College – Seattle
Skagit Valley College – Mt. Vernon – Professional Cooking Certificates prepare students to enter the workforce quickly and with a solid understanding of classical kitchen techniques and practices.  Technology Arts Associate's degrees are issue from the Culinary Arts department in two ways.  One is a general Culinary Arts/Hospitality Management Degree, while the other designates a culinary arts emphasis that keeps you in the kitchen during your schooling and doesn't include a broader hospitality industry education.
South Puget Sound Community College – Olympia
South Seattle Community College – West Seattle
Spokane Community College – Spokane
The Art Institute of Seattle – Part of a great national network of cooking schools, The Institute offers a few fine educational courses of study for would-be chefs.  Associate's of Applied Arts Degrees are dispensed in Culinary Arts or Baking and Pastry, but there is also a Bachelor of Science Program in Culinary Arts Management.  Art of Cooking and Baking and Pastry Diplomas serve students who want to get right to work or transfer their initial credential to another learning institution.
Washington State University – Pullman
Kitchen Academy in Seattle is the second KA campus delivering an innovative culinary arts program in one of the hottest food regions in the country. KA promotes immersive and intensive programs that have you on the job in under a year with a standout resume and a superlative set of cooking chops. Study tracks: Culinary Arts Diploma.
ACF Accredited Programs

Postsecondary
Bates Technical College
1101 Yakima Ave.,
Tacoma, WA 98405-4895
Phone: (253) 680-7247
Contact: Roger E. Knapp, CEC - rknapp@bates.ctc.edu
Programs
Associate of Technology Degree: Culinary Arts
Bellingham Technical College
3028 Lindbergh Ave.,
Bellingham, WA 98225-1518
Phone: (360) 752-7000
Fax: (802)751-2236
Contact: Michael J. McGreal, CEC, CCE - mmcgreal@jjc.edu
Programs
AAS Degree in Culinary Arts
Certificate in Culinary Arts
Certificate in Pastry Arts
Inland Northwest Culinary Academy at Spokane Community College
11810 N. Greene St.,
Spokane, WA 99217-5320
Phone: (509) 533-7283
Fax: (802)751-2236
Contact: Janet V. Breedlove - janet.breedlove@scc.spokane.edu
Programs
AAS Degree in Culinary Arts
Lake Washington Institute of Technology
11605 132nd Ave. NE.,
Saint Johnsbury, VT 05819-2361
Phone: (425) 739-8304
Contact: Janet Waters, CWPC - janet.shaffer@lwtc.edu
Programs
AAS Degree in Baking and Pastry
AAS Degree in Culinary Arts
Olympic College
1600 Chester Ave.,
Bremerton, WA 98337-1699
Phone: (360) 475-7316
Contact: Christopher H. Plemmons, CEC, AAC - cplemmons@olympic.edu
Programs
ATA Degree in Culinary Arts - Sous Chef
Certificate in Culinary Arts Specialty
Renton Technical College
3000 N.E. 4th St.,
Renton, WA 98056-4123
Phone: (425) 235-5845
Fax: (425) 235-7832
Contact: Douglas Medbury - dmedbury@rtc.edu
Programs
AAS Degree in Culinary Arts
AAS-T Degree in Culinary Arts -Transfer
Certificate in Culinary Arts
Seattle Culinary Academy At Seattle Central Community College
2405 E. College Way,
Mount Vernon, WA 98273-5899
Phone: (360) 416-7721
Fax: (360) 416-6620
Contact: Dani A. Cox, CCC, CWPC, CC - dani.cox@skagit.edu
Programs
ATA Degree in Baking and Pastry
ATA Degree in Culinary Arts
Certificate in Professional Cooking
South Puget Sound Community College
2011 Mottman Rd. S.W.,
Olympia, WA 98512-6218
Phone: (360) 596-5445
Fax: (802)751-2236
Contact: Daniel Martinson, CCE - dmartinson@spscc.ctc.edu
Programs
AAS Degree in Culinary Arts
Wine Country Culinary Institute at Walla Walla Community College
500 Tausick Way,
Walla Walla, WA 99362-9270
Phone: (509) 524-4800
Fax: (509) 527-4249
Contact:Dan R. Thiessen - dan.thiessen@wwcc.edu/a>
Programs
AAS Degree in Culinary Arts
Secondary
Cascadia Technical Center
12200 NE 28th St.,
Vancouver, WA 98682-7858
Phone: (360) 604-1054
Fax: (360) 604-1052
Contact: R. Andrew McColley, CEC, CCE - andrew.mccolley@evergreenps.org
Programs
Baking & Pastry Arts
Culinary Arts
Puget Sound Skills Center
18010 8th Ave. S.,
Burien, WA 98148-1908
Phone: (206) 631-7303
Contact: Kevin L. Blaylock, CEC, CSCE, CCA - kevin.blaylock@highlineschools.org, Tony Poplin - poplintd@hsd401.org
Tri Tech Skills Center
5929 W. Metaline Ave.,
Kennewick, WA 99336-1494
Phone: (509) 222-7309
Fax: (509) 222-7301
Contact: Luanne Wiles - luanne.wiles@ksd.org
Wenatchee Valley Technical Skills Center
327 E Penny Rd, Attn:
Wenatchee, WA 98801-8106
Phone: (509) 662-8827
Fax: (802)751-2236
Contact: Betty Palmer
Certificate & Job Training Programs
Columbia Basin Job Corps
6739 24th Ave. N.E.,
Moses Lake, WA 98837-3246
Phone: (509) 793-1666
Fax: (802)751-2236
Contact: Theresa Clement - clement.theresa@jobcorps.org
Goodwill of the Olympics and Rainier Region Culinary Skills Training Programe
714 S. 27th St.,
Olympia, WA 98504-0001
Phone: (253) 573-6633
Fax: (253) 573-6510
Contact: Jeff Pratt - jeffp@goodwillwa.org
Rouxbe Cooking School
1020 213th Pl. N.E.,
Sammamish, WA 98074-6712
Phone: (503) 819-6973
Contact: Ken Rubin - ken@rouxbe.com
Culinary Training
Top Schools
Majors
Degree Types
Career Information