New Mexico's Culinary Schools
Let's talk about southwestern cuisine and how it has shaped the culinary points of view of some of the best chefs working today. Ever hear of a guy named Bobby Flay?  You're not the only one, Flay has parlayed his signature Southwestern touch into a chef-branded phenomenon that places him on top in the restaurant game, and brings him into American homes through his TV chef duties at the Food Network.
New Mexico is crammed with notable restaurants and chefs that service authentic southwestern meals; in popular places like Santa Fe, Taos and Albuquerque. As a student, your overall curriculum should include a liberal dose of local food culture, to help reinforce what you learn at school.  The culinary arts education system in the state includes a mixture of state universities, community colleges and technical institutes. Sound programs at the Associate's Degree level are preparatory for entry or mid-level employment in professional kitchens.
The melting pot of influences that defines New Mexico's cuisine; Spanish, Mexican, Native American, is on display across the state.  Whether you land in Las Cruces, Rio Rancho or Sante Fe for your chef's education, there will be ample opportunities for your immersion studies within the local culinary scene.  You may not be the next Bobby Flay, but you will walk away from your New Mexico chef's education with a firm grasp on a distinctively American regional cuisine.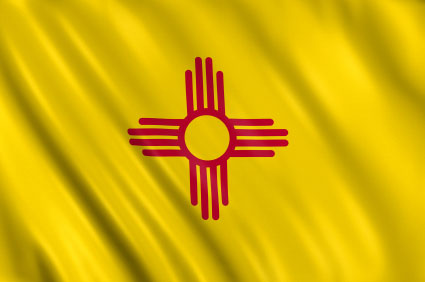 New Mexico Food, Flavors and Festivals
While you're in school, dine at the best-reviewed local restaurants to acquaint yourself with regional flavors.  Dissect top menus with an eye toward the chef's use of local ingredients.  Identify nuances that make or break a successful dish. Check out the regional farmers markets and learn how the farm scene influences culinary trends.
A student budget can be prohibitive, so think outside the box for learning opportunities that wont destroy your bottom line.  Regional food events and festivals provide earn-while-you-learn opportunities for ambitious students who don't mind getting their hands dirty in a festival kitchen.  Valuable contacts are made where so many foodies gather, so consider this added benefit of participating.
Chef competitions have become crowd pleasers at many food events, so look for chances to flex your cooking school muscles in a Throwdown or Iron Chef challenge. Add at least a couple of these foodie fests to your culinary arts curriculum:
New Mexico Wine Festival at Bernalillo – Labor Day weekend festival that highlights several music acts against a backdrop of New Mexico wines and regional chefs' best bites. Students benefit from the food and beverage pairing experience of food vendors and winery professionals.
Santa Fe Wine and Chili Festival
Fiery Foods and BBQ Show - Albuquerque – This giant trade show celebrates every aspect of all hot things.  Fiery peppers are a staple New Mexico ingredient, so their use is featured prominently at the festival tasting booths.  The show has operated for more than twenty years, so there is no sign of waning interest in flavorful, but spicy cuisine.  Chef students who attend have a rare opportunity to dissect one of the main flavor impacts found in food.  You will develop your own fiery palate by participating in a spicy food tasting tour.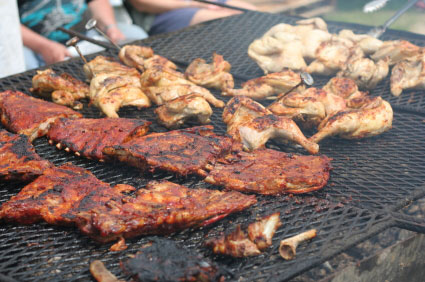 Choose a Culinary School
Since your ultimate goal is a successful culinary career launch, make sure the school you choose has the tools and services in place, to propel you smoothly to the next professional level:
Professional chef/instructors
State-of-the-art teaching kitchens
Student-run restaurant that serves a demanding public
Career guidance and continuing education
Job boards and placement help
Internship/externship opportunities with successful companies
Industry connections for apprenticeship placement
Professional endorsements from industry organizations like ACF
Get a Cooking Job in New Mexico
Explore all available options for culinary work in New Mexico. Popular chef employers include restaurants and hotels, but check out spas and resorts for off the beaten path employment opportunities. Catering and banquet work is abundant in tourist regions that do high-volume service, to a steady stream of travelers.  Personal chef or freelance chef careers, and restaurant owner/operator roles are within the grasp of talented cooks with the right educational credentials.
For networking resources and valuable professional connections, consider a membership with a respected professional organization, like the local Rio Grande Valley chapter of the American Culinary Federation, in Albuquerque. Associations like these give you access to private job listings and members-only educational events and conferences.
Salaries for chefs in New Mexico vary widely based on years of experience, level of education, and prevailing economic conditions. What's clear is that your upward mobility within the hospitality industry is greatly accelerated by a culinary arts education. Salaries for sous chefs in Albuquerque, Santa Fe, and Taos fall between $30,000 and $45,000.
New Mexico Community and Technical Colleges Offering Culinary Arts, Restaurant Management, and/or Hospitality Degrees
Albuquerque Technical Vocational Institute – AlbuquerqueACF Accredited Programs

Central New Mexico Community College – Rio Rancho – Several campuses are administered by this system, so location depends on classes you take.  The Culinary Arts Associate's Degree program includes the requisite theoretical and practical training for employment as a kitchen professional, or in a non-cooking role within the hospitality industry.  Management, budgets, personnel – these are the matters that chefs and sous chefs must handle, so they are discussed within the Associate's program.

Crownpoint Institute of Technology – Crownpoint

New Mexico State University - Las Cruces – The school of Hotel, Restaurant and Tourism Management provides a focused program for educating hospitality professionals.  The Bachelor of Science degree provides a four-year curriculum that includes some dedicated chef's training.  100 West Café is a student lab/restaurant that serves the public; providing real world training grounds that mirror fast paced professional kitchens.  Career professionals should consider the benefits of a four-year degree since upward mobility within the industry is enhanced by advanced studies.

Santa Fe Community College - Santa Fe – Culinary Arts Associate's in Applied Science credentials are the two-year rewards from a hands-on program that prepares students for careers as line cooks, sauciers, salad chefs, pastry chefs, and caterers.  Certificate Programs are:  Patissier or Culinary Arts.  The curriculum of each discipline focuses on the nuts and bolts of a career in the kitchen, without the advanced coverage of kitchen management principles that might be found in an advanced degree.

Southwestern Indian Polytechnic Institute – Albuquerque

University of New Mexico - Albuquerque
ACF Accredited Programs
Postsecondary
Central New Mexico Community College
525 Buena Vista Dr. SE,
Albuquerque, NM 87106-4023
Phone: (505) 224-3896
Contact: Victoria Martinez - vmartinez157@cnm.edu
Programs
Associate of Applied Science in Culinary Arts, Advanced Baking & Pastry Concentration
Associate of Applied Science in Culinary Arts, Culinary Arts Concentration
Navajo Technical University
PO Box 849, Lower Point Rd., State Hwy 371,
Crownpoint, NM 87313-0849
Phone: (505) 786-4127
Contact: Robert L. Witte, CEC, CCA, AAC - rwitte@navajotech.edu
Programs
AAS Degree in Baking and Pastry
AAS Degree - Culinary Arts
Certificate in Professional Baking and Pastry
Certificate - Professional Cooking
Find A Culinary School near Ashburn With Open Eligibility Today!
Culinary Training
Top Schools
Majors
Degree Types
Career Information