Illinois Schools Offering Culinary Arts Degrees
Imagine studying culinary arts, baking and pastry, or hospitality management in one of the most diverse food cities in the country.  How about exciting Chicago? If you live in the region or are looking to relocate to further your culinary career then this is one of the most dynamic areas of the country.
The size of Illinois' biggest city is enough to maintain culinary diversity in itself, but the cities rich immigrant and cultural history add further depth to its role of one of the United States hottest culinary proving grounds.  From the street vendor of Polish wurst to the fine-dining scene in the city, Chicago's food integrity cannot be questioned.
And that's just one Illinois city! The Windy City is only one of many Illinois localities whose diverse melting pot of ethnic influences and American cuisine defines the robust food culture of the state.  For culinary students there is no shortage of opportunities to soak up the regional flavors of Illinois.
Students should consider local food knowledge to be an essential part of their overall education.  By wading into the local food scene would-be chefs gain valuable exposure to local culinary trends.  The knowledge sinks in quickly to help form a student chef's unique culinary point of view.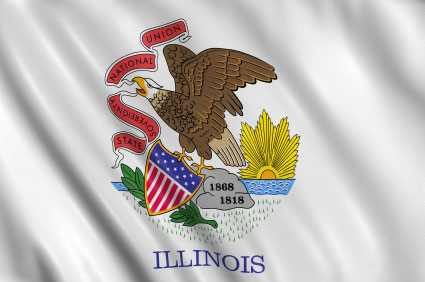 Illinois Regional Food Festivals
Immersing yourself in the local food scene while your sweating it out in a demanding cooking school curriculum is a natural extension of your craft so why not make the rounds of regional food and wine festivals. These events are perfect vehicles for pulling together all that is richest in the area: chefs, restaurants, food tastings, wine pairings, cooking classes, and chef competitions.
Local standout chefs are often featured attractions in cooking competitions that challenge their creativity.  Students can learn a lot at these events since guest chefs are really putting forward their best bites. But the ultimate experience is garnered by jumping into the fray to compete on your own.
Some regional Illinois food attractions that might prove valuable to chefs in training include:
Taste of Chicago – This five-day festival might be the premiere food festival in the country.  Chicago's diverse food culture is duly represented in a festival experience that includes music and family fun.  The focus is on the food though with countless restaurants putting their best foot forward for eager foodies.

Celebrity chefs appear in cooking demonstrations that amp up the education benefit of the fest, but the prepared food that is offered for sale steals the spotlight from even the most engaging TV chef personalities.

Three million people hit this Grant Park festival every year, so you can bet chef are eager to gain positive exposure during the event. Students who participate in competitions and tasting events forge valuable industry relationships that can be tapped for employment and collaborations later on.


Windy City Wine Festival – An intimate fall festival that offers the opportunity to sample fare from a handful of restaurant exhibitors in a relaxed environment that is conducive for students to interact with guest chef's and other industry players.
Tour de Champagne Chicago
International Beer Tasting and Chili Cookoff – Urbana plays host to this festival that focuses on the vibrant beer-brewing culture of Illinois.  Chili cooks at all levels are judged on creativity and taste, in a cookoff that includes a student category.
Chicago Gourmet – Is an Epicurean Festival sponsored by Bon Appetit Magazine.  The Fest is an upscale presentation of culinary refinement presented by over 100 of Chicago's top restaurants.  The list of guest speakers and industry presenters reads like a who's who of the world's best culinary minds. 

Celebrity chefs are present with their characteristic TV personas, but the event also draws from the hardcore foodie culture of Bon Appetit Magazine.  Any student would bank volumes of industry knowledge from some type of involvement in this event.
Professional Food Service Industry Associations in Illinois
Student chefs typically get discounted student membership to professional associations. Why not join? Organizations like these give you ample opportunity to forge strong industry alliances with experienced professionals, as well as business contacts that might be looking for good employees.
Take advantage of discounted admissions to national and regional conferences, educational events and tap any chef scholarships that are available through the association. A few Illinois organizations that might help propel your career are:
Chicago Chefs of Cuisine – This American Culinary Federation chapter is dedicated to supporting the industry on many fronts.  Education is recognized as one key to a chef's success, so linking established professionals with emerging chefs is an important function of the organization. Urban chapters are particularly active so Chicago members have lots of opportunities to participate.
Illinois Restaurant Association – This organization promotes the industry from an owner/operator perspective, including lobby efforts related to food legislation.  Education certificates are provided in areas like sanitation and alcohol serve safe programs.
Heart of Illinois Hospitality Association – Has a stated mission: To Provide Leadership for the Members by Developing and Maintaining a Most Favorable Public Attitude Toward the Hospitality Industry in Central Illinois. To Collect, Analyze, Discuss and Disseminate Information Concerning Affairs of the Area Hospitality Industry.
Score a Chef Job in Illinois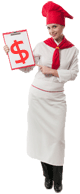 Chicago, especially, is a competitive culinary market, but with the right credentials the combination can be easily cracked. Some of the key factors that help you get a leg up in the job market include: your education, your level of professional experience and a track record of internship successes.
By selecting a school that provides tons of hands-on training and gives you the opportunity to work in a student-run kitchen, you are setting the stage for post-graduation employment. Use your school's career placement services and apprenticeship programs to jump start your career and don't forget to tap the contacts you have established during your time in school.
Internships often lead to full-time employment at your internship property or through contacts made on the job.  Your culinary point of view should include a sense of discipline that is easy for prospective employers to recognize.  Your career mobility will be enhanced by embracing a positive and enthusiastic attitude toward your interning assignments – even when they don't represent your dream job.
Illinois Top Cooking and Culinary Schools
Cooking and Hospitality Institute of Chicago – Le Cordon Bleu Program delivers a world-class curriculum modeled on that developed by the famous Le Cordon Bleu in Paris, France. Students learn the fundamentals of classic French cooking, the cornerstone of other Western cuisine. When you graduate you can be sure your resume is at the top of the heap as far as industry respect and professional skills go. Programs of study on the Chicago campus include: Associates Le Cordon Bleu Culinary Arts, Associates Le Cordon Bleu Patisserie and Baking, and Certificate in Le Cordon Bleu Culinary Arts.
International Culinary Schools at the Art Institutes of Chicago is just one of 32 world-renowned campuses in North America. This very popular culinary program features a list of alumni that reads like a Who's Who of American chefs. You get solid grounding in international cuisine, including classic French cooking. Learn all the knife skills and cooking methods you need to proudly wear your chef's whites. Degree programs include Bachelors Culinary Management, Associates Culinary Arts, Associates Hospitality Management, Professional Baking and Pastry Certificate, and Professional Cooking Certificate.
Chicago's Community Kitchens program offers basic culinary and kitchen sanitation training to disadvantaged adults with a strong ambition for a successful restaurant career. Students learn skills that allow them to make a strong bid for entry-level restaurant and institutional kitchen jobs. With perseverance and motivation enrollees can excel in this business. Sponsors include the Chicago Food Bank.
French Pastry School – Chicago offers an ultra-specialized culinary curriculum directed at budding French pastry chefs. Chef-faculty are some of the best in the business so the certificate program is appealing to new recruits and seasonal professionals seeking to nail down their understanding of Pastry Arts.
Illinois State, Community and Technical Colleges Offering Culinary, and/or Hospitality Degrees
Belleville Area College – Belleville

Benedictine University – Lisle

Black Hawk College – Moline

Chicago State University – Chicago

City Colleges of Chicago-Harold Washington College – Chicago

City Colleges of Chicago-Kennedy-King College – Chicago

College of Du Page - Glen Ellyn

College of Lake County – Grayslake

Dominican University - River Forest

Elgin Community College – Elgin

Illinois Central College - East Peoria

Illinois Valley Community College – Oglesby

Joliet Junior College – Joliet

Kaskaskia College – Centralia

Lake Land College – Mattoon

Lewis and Clark Community College - Godfrey

Lexington College – Chicago

Lincoln Land Community College – Springfield

Loyola University – Chicago

Moraine Valley Community College - Palos Hills

Northern Illinois University – Dekalb

Northwestern Business College – Chicago

Northwestern Business College - Hickory Hills

Oakton Community College - Des Plaines

Olivet Nazarene University – Bourbonnais

Parkland College – Champaign

Robert Morris College – Chicago

Roosevelt University – Chicago

Southern Illinois University - Carbondale

University of Illinois at Urbana - Champaign
ACF Accredited Programs
Postsecondary
College of Dupage
425 Fawell Blvd.,
Glen Ellyn, IL 60137-6599
Phone: (630) 942-2720
Fax: (630) 942-3876
Contact: Timothy B. Meyers, CCC, CCE - meyerst@cod.edu
Programs
Associate Degree in Baking and Pastry
Associate Degree in Culinary Arts
Illinois Central College
1 College Dr,
East Peoria, IL 61635-0002
Phone: (309) 690-6889
Contact: Charles R. Robertson
Programs
AAS Culinary Arts Management
Joliet Junior College
1216 Houbolt Rd.,
Joliet, IL 60431-8311
Phone: (815) 280-1239
Fax: (815) 280-2696
Contact: Michael J. McGreal, CEC, CCE - mmcgreal@jjc.edu
Programs
AAS Degree in Culinary Arts
Kendall College
900 N. North Branch St.,
Chicago, IL 60642-4288
Phone: (312) 752-2039
Contact: Leigh Uhlir - leigh.uhlir@kendall.edu
Programs
AAS Degree in Baking and Pastry
AAS Degree in Culinary Arts
Moraine Valley Community College
9000 W. College Pkwy.,
Palos Hills, IL 60465-2478
Phone: (708) 974-5679
Contact: Dean Eliacostas - eliacostasd@morainvalley.edu
Programs
AAS Degree in Culinary Arts
Richland Community College
1 College Park,
Decatur, IL 62521-8512
Phone: (217) 875-7211
Contact: Brian Tucker - btucker@richland.edu
Programs
AAS Degree in Culinary Arts
Secondary
Technology Center of DuPage
301 S. Swift Rd.,
Addison, IL 60101-1495
Phone: (630) 620-8770
Fax: (630) 691-7592
Contact: Faith Jennetta, CEPC - faithj@tcdupage.org
Certificate & Job Training Programs
Joliet Job Corps Center
1101 Mills Rd,
Joliet, IL 60433-2865
Phone: (815) 768-8904
Contact: Finance & Administration Department - jofinance@adamsaai.com
Auguste Escoffier School of Culinary Arts - Online
150 N. Martingale Rd.,
Schaumburg, IL 60173-2080
Phone: (224) 698-2110
Fax: (224) 698-2155
Contact: Miles Mitchell - mmitchell@staff.escoffier.edu
Find A Culinary School near Ashburn With Open Eligibility Today!
Culinary Training
Top Schools
Majors
Degree Types
Career Information