Seattle Degrees, Courses, and Apprenticeships for Student Chefs

Pike's Place, Seattle's renowned farmer's market, underscores this city's love of fine and fresh food. You'll discover that Seattle is home to more than its share of excellent cooking schools. Your biggest decision will be how to choose one from the other.
Seattle's proximity to some of the most fertile ground in the country means fresh, fresh, and more fresh. Many of the nicest restaurants and well-known chefs create menus that change with the bounty of the seasons. The wine industry is also alive and kicking. Washington's Columbia Valley is home to over 550 wineries*, many of which are earning top awards for viticulture. Overall, organic, vegan and environmentally conscious culinary methods figure prominently in the Pacific Northwest. Don't forget that much of the bounty also comes from the sea: dungeness crab is a local menu staple.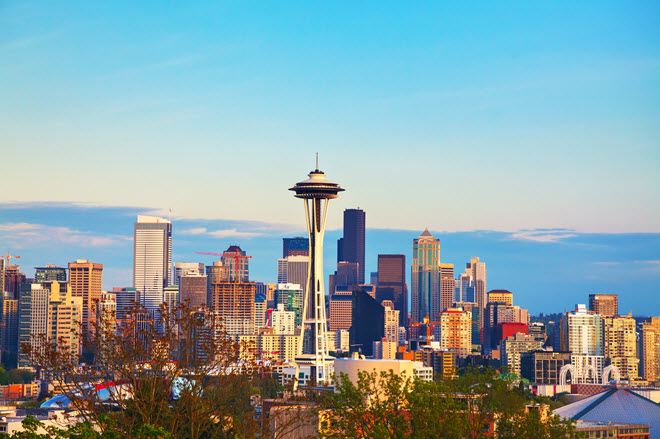 The Space Needle, Mount St. Helens and Mt Rainier—these punctuate the skyline in and around Seattle, framing the culture and cuisine. This city is accessible by foot and public transit and you can easily escape to nature when you need a work and study break or simply some natural inspiration for your new dishes.

Local Community Schools
The Seattle Culinary Academy programs at Seattle Central College emphasize classical and modern techniques that cover a wide range of cooking styles and will help you develop an appreciation for International cuisine, sustainable food practices and fine dining. Their expert chef instructors will help you build a well-rounded set of skills so you can launch your dream job in the fast-growing food service industry or other related field.
Seattle Central College
Seattle, WA 98122
Houston, TX 77022
206-934-5424
SeattleCulinary@seattlecolleges.edu
You'll not only learn to cook from savory to sweet for the modern palate, you'll also receive hands-on training in one of their several student-operated restaurants on campus, including the upscale Alhadeff Grill. Students have the opportunity to learn all aspects of the industry, from back to front of house.
South Seattle College
6000 16th Avenue SW
Seattle, WA 98106
206-934-5300
Lake Washington Institute of Technology
The Culinary Arts Associate of Applied Science degree prepares LWTech graduates to work in a commercial kitchen including restaurants, bakeries, cafeterias, delis, hospitals and other specialty shops.

Students will gain skills in every facet of working in a commercial food service operation as they learn basic cooking principles, terminology and food handling practices. Practical experience is provided with all stations of line cooking, inventory, daily specials production, garde manger work, sauce preparation and commercial equipment maintenance. Students will be prepared to work in a commercial kitchen, restaurant, catering company, cafeteria, deli or other specialty shop.
Lake Washington Institute of Technology
11605 132nd Avenue NE
Kirkland, WA 98034
425-739-8100
The Culinary Arts program shows you the tricks of the trade, preparing students to work in the hospitality industry. Using a professionally equipped kitchen, students learn knife skills, advanced cooking methodologies, garde manger techniques, and more. Degree graduates have the opportunity to become a certified Culinarians through the American Culinary Federation.
Renton Technical College
3000 NE 4th St.
Renton, WA 98056
425-235-2352
The program provides in-depth culinary training designed to build careers in restaurants, hotels, caterers, fine bakeries, resorts and institutions offering food services. As the program unfolds, the students will focus on areas of cooking specialty and gain hands-on experience working in the Olympic Café, The Fireside Bistro and at various banquets and catered events.
Olympic College
1600 Chester Avenue
Bremerton, WA 98337-1699
360-792-6050
The program combines classical cooking methods with regional flair while providing you the skills to run a profitable business. Learn food service management, preparation, and restaurant service while gaining experience working in their kitchens, campus restaurant and at catered events.
Edmonds Community College
20000 68th Ave W
Lynnwood, WA
425-640-1459
info@edcc.edu
The Culinary Arts program prepares students for a rewarding, fast-paced career in the commercial food, and restaurant management industry. Bates offers the only American Culinary Federation (ACF) accredited culinary arts degree and certificate program in the region. Graduates of the associate degree program will be Certified Culinarians (CC) through the ACF.
Bates Technical College
1101 S. Yakima,
Tacoma WA 98405
253-680-7000
Culinary Arts program offers everything students need to be successful in the culinary world, from classes in basic cooking skills to restaurant management. Students experience the fast-paced atmosphere in the real-world setting of the college's upscale public dining facility, the Rainier Room. They learn what it takes to improve their own personal cooking skills, which can be put to use whether or not they pursue a culinary career, and can also train in every aspect of restaurant management. If you love to cook - or want to learn how - culinary arts might be the program and career path for you.
Clover Park Technical College
4500 Steilacoom BLVD SW
Lakewood WA 98499-4004
253-589-5800

Non-accredited Cooking Schools in Seattle
All classes are hands-on, include a full dinner with wines and beverages and are 3 hours in length, unless otherwise specified. Reservations required and must be prepaid with a credit card.
Blue Ribbon Cooking
2501 Fairview Ave.
E. Seattle, WA 98102
206-328-2442
Cooking classes that focus on traditional food crafts and technique, five-course family-style dinners, culinary camp for the kids, power lunches for makers who are itching to enter the food industry, food swaps for people who are looking to keep their cooking time social, and cookbook club potluck suppers, where they pick a cookbook that they're excited about and invite everyone to share their creations.
The Pantry
1417 NW 70th Street,
Seattle WA
206-436-1064
Find A Local Culinary School Today!
Popular School Locations
---
Culinary Training
Top Schools
Majors
Degree Types
Career Information