Seattle Degrees, Courses, and Apprenticeships for Student Chefs
Pike's Place, Seattle's renowned farmer's market, underscores this city's love of fine and fresh food. You'll discover that Seattle is home to more than its share of excellent cooking schools. Your biggest decision will be how to choose one from the other.
Seattle's proximity to some of the most fertile ground in the country means fresh, fresh, and more fresh. Many of the nicest restaurants and well-known chefs create menus that change with the bounty of the seasons. The wine industry is also alive and kicking. Washington's Columbia Valley is home to over 550 wineries*, many of which are earning top awards for viticulture. Overall, organic, vegan and environmentally conscious culinary methods figure prominently in the Pacific Northwest. Don't forget that much of the bounty also comes from the sea: dungeness crab is a local menu staple.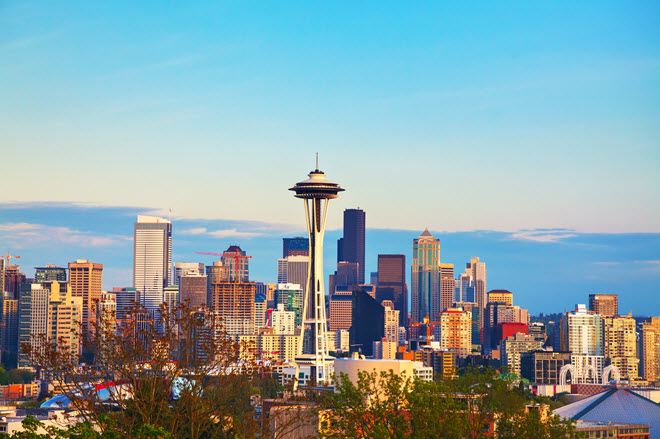 The Space Needle, Mount St. Helens and Mt Rainier—these punctuate the skyline in and around Seattle, framing the culture and cuisine. This city is accessible by foot and public transit and you can easily escape to nature when you need a work and study break or simply some natural inspiration for your new dishes.

Local Community Schools
Seattle Central College's Seattle Public Academy focuses on both classic and modern techniques as part of its curriculum to help give its graduates a well-rounded skill set to build their careers with. Students can expect to be exposed to a wide array of cooking styles, sustainable food practices, and the essential points of fine dining.
Seattle Central College
Seattle, WA 98122
206-934-5424
SeattleCulinary@seattlecolleges.edu
The South Seattle College's Culinary Arts program has produced award-winning graduates and a fair number of successful executive chefs. The program's curriculum equips students with the experience they need not only to take on the nuances of international cuisine but also the essential skills and knowledge to build a career in the restaurant industry.
South Seattle College
6000 16th Avenue SW
Seattle, WA 98106
206-934-5300
Lake Washington Institute of Technology
The Lake Washington Institute of Technology provides Associate of Applied Sciences degrees for both Baking and Culinary Arts. Its culinary program introduces students to the many faceted aspects of restaurant management to help them build successful careers in commercial food service.
Lake Washington Institute of Technology
11605 132nd Avenue NE
Kirkland, WA 98034
425-739-8100
Renton Technical College's Culinary Program introduces students to the finer points of professional cooking, equipping them with the experience and skills needed to excel in the hospitality industry. Some of the skills they can expect to learn include advanced cooking techniques, garde manger techniques, and knife skills. The institution's graduates also get the prospect of becoming certified Culinarians through the American Culinary Federation.
Renton Technical College
3000 NE 4th St.
Renton, WA 98056
425-235-2352
Olympic College's Culinary Arts Program delivers comprehensive training to provide students with the skill sets they need to build careers across the food service industry. Students gradually take on areas of cooking specialties as they progress through the program. They also have the opportunity to gain hands-on working experience at the Fireside Bistro, Olympic Café, and a host of catered events.
Olympic College
1600 Chester Avenue
Bremerton, WA 98337-1699
360-792-6050
The Culinary Arts Program at Edmonds Community College caters to 60 students annually. It combines classic cooking techniques with regional flavors and imparts skill sets that would help its graduates build successful careers as restaurateurs.  Students gain hands-on experience from working at various kitchens in the field, including the College Café.
Edmonds Community College
20000 68th Ave W
Lynnwood, WA
425-640-1459
info@edcc.edu
Bates Technical College offers the only Culinary Arts program accredited by the American Culinary Federation; its associate degree graduates receive the Certified Culinarian accreditation.
Bates Technical College
1101 S. Yakima,
Tacoma WA 98405
253-680-7000
Clover Park Technical College provides students with the skills and experience they need to flourish in food service and hospitality through its Culinary Arts program, which combines basic cooking training with lessons on restaurant management and hands-on training at its in-campus restaurant.
Clover Park Technical College
4500 Steilacoom BLVD SW
Lakewood WA 98499-4004
253-589-5800

Non-accredited Cooking Schools
Blue Ribbon Cooking, founded in 1995, offers a broad array of hands-on cooking classes and events  for food enthusiasts both young and old. It also offers family-styled catering that has since become one of its most popular offerings.
Blue Ribbon Cooking
2501 Fairview Ave.
E. Seattle, WA 98102
206-328-2442
Styling itself as a community kitchen, The Pantry focuses on delivering a hands-on cooking experience that focuses on traditional techniques and fostering community rapport between its attendees.
The Pantry
1417 NW 70th Street,
Seattle WA
206-436-1064
Find A Culinary School near Ashburn With Open Eligibility Today!
Popular School Locations
---
Culinary Training
Top Schools
Majors
Degree Types
Career Information