Orlando Culinary Arts Schools: Career Programs for Student Chefs

When you think of Orlando, think big time resorts, sun, sand millions of tourists each year, plus some of the most dynamic restaurants in the country.
Be a Chef at Disney World
Disney imagined a fantastic world in which everyone can feel free to be a child. And Orlando's Disney World is world famous for over the top technology and spectacle. But Disney World also collects together some of the finest restaurants in the world. Here celebrated chefs and some of the leading restaurant managers provide uncompromised dining experiences and a global collection of flavors.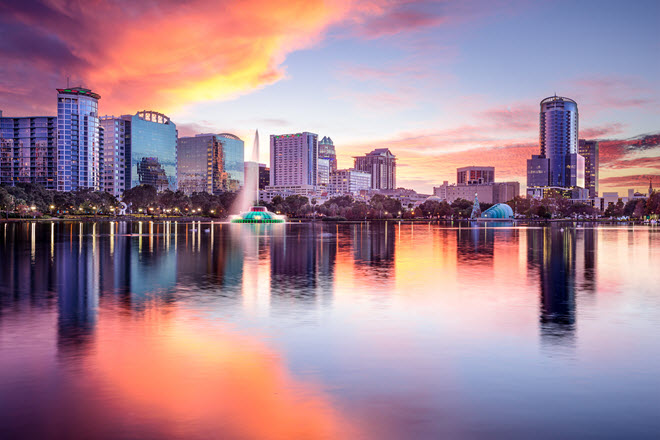 Study in the food service industry in Orlando and parlay your opportunity to hone your skills at Orlando resorts and restaurants. You may even be able to bring out the inner performer. Disney's food service needs 365 days a year include:
A few hundred master chefs, including executive chefs, assistant chefs, pastry chefs, specialty chefs, and guest chefs.
Thousands of cooks.
Hundreds of food prep workers to chop, clean and more.
And with over 300 restaurants you better bet Disney hand-picks some of the most savvy restaurant managers they can find.
Award winning chef-owned restaurants like Wolfgang Puck's Café and Emeril Lagasse's Emeril's Orlando and Tchoup Chop punctuate the culinary landscape.

Local Community Schools
Accredited by the American Culinary Federation. Its Associate of Science degree in Culinary Arts presents a comprehensive curriculum that includes laboratory sessions, academic preparation and hands-on experience. Students acquire professional knowledge of food, its preparation and handling and cooking from basic to advanced. The curriculum includes an externship to prepare students for entry-level positions in the foodservice industry.
Keiser University
900 South Babcock Street
Melbourne, Florida 32901
877-636-3618
For fledging chefs, hoteliers, restaurant managers and tourism professionals can get a first class education at Valencia. Their programs stress hands-on experience, which you'll get through internships as well from the banquet rooms, commercial-sized instructional kitchen, dynamic point-of-sale system, and hotel front desk simulation area housed on the West Campus. From meeting planning to menu planning, they'll help you prepare for a career in this exciting industry.
Valencia College
500 W Livingston St
Orlando, FL 32801
407-582-1507
Their diploma program in Culinary Arts will provide you with the necessary knowledge to work, manage, and cook in any modern kitchen. In addition, Florida Technical College's proximity to the highly touristic area of Orlando/Kissimmee and South Florida allows for many opportunities to work in hotels, resorts, timeshares, restaurants, theme parks, cruises or even to open your own restaurant. This 13-month program is mostly hands-on, with classes beginning every month.
Florida Technical College
12900 Challenger Parkway
Orlando, Florida 32826
855-201-4759
info@ftccollege.edu
The purpose of the Professional Culinary Arts & Hospitality program is to prepare a student for successful employment in the food service/hospitality industry.
Lake Technical College
1565 Lane Park Cut-Off
Tavares, Florida 32778
352-742-6463

Non-accredited Cooking Schools in Orlando
Designed to give their customers a kitchen to learn, practice, and have fun in. Their classes are meant to entertain, amuse, and inspire you, giving you confidence no matter what you're cooking up. Their classes cover a world of cuisines and trendy topics, a baker's dozen of techniques, special seasonal topics, and even guest appearances by celebrity chefs—TV stars, cookbook authors, and local restaurateurs. You can even schedule private, customized classes for special occasions from showers to birthdays to company team-building events.
Publix Aprons Cooking School
7524 Dr Phillips Blvd
Orlando, FL 32819-5148
407-226-9796
The Kids Cooking Connection provides a structured environment where kids can learn the basics of good nutrition and healthy food preparation. Certified Healthy Hands instructor Tracy Mohr is passionate about teaching kids to love fruits and veggies and fun ways to prepare them. She has more than 30 years of experience working with kids, teaching dance, and entertaining kids at Disney World™. They offer cooking classes that follow the Healthy Hands Cooking curriculum, that follows the ChooseMyPlate.gov education guidelines. The Kids Cooking Connection also offers their own creative series of classes, providing many enrichment opportunities for kids of all ages to explore as they learn a life skill.
Kids Cooking Connection
13790 Bridgewater Crossings Boulevard, Suite 1080
Windermere, FL 34786
407-791-3346
Find A Local Culinary School Today!
Popular School Locations
---
Culinary Training
Top Schools
Majors
Degree Types
Career Information