Join the Ranks of Award-Winning Chefs: Cooking School in Austin
Austin Texas has gained a reputation for hip and laidback living. But this small southwestern Mecca has a diverse and growing community that includes as its backbone a furiously creative and innovative restaurant and hospitality industry. Good food is at home in Austin. So if you're thinking about going to culinary school then look no further.
A couple of the nationally ranked programs are right here plus distinct local schools that reflect the area trends. And if your passion is truly food then don't miss out on all that Austin has to offer in the way of cuisine. Take the five and four-star restaurants in Austin: executive chefs – many quite celebrated – have earned their stripes for taking regional, clean and common ingredients and pushing them to the next level of sophistication, pairing them with equally common flavors- simple flavors to complex and layered flavors-- to make a truly distinct taste sensation. Restaurants run the gamut from Tex-Mex to five-star sushi, French, steak, seafood and wild game, and bistro style.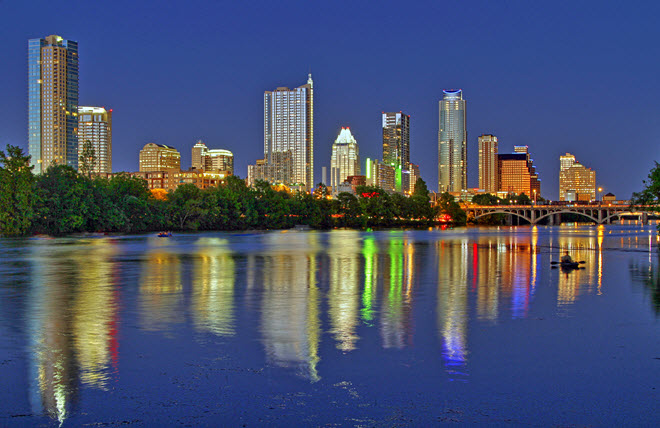 Outside the executive chefs themselves consider the demands on the teams of assistant chefs, pastry and bakery chefs, kitchen prep cooks and wait staffs. Find out how to get the skills you need to jump into one of these excellent establishments. Austin culinary arts programs can teach you the skills you need AND help place you into a local kitchen job.
Local Community Schools

Auguste Escoffier School of Culinary Arts
Kickstart your restaurant career with cooking and pastry arts programs at the Auguste Escoffier School of Culinary Arts.

The school offers the following programs:
Associate of Applied Science Degree in the Culinary Arts
Diploma in Culinary Arts
Associate of Applied Science Degree in Pastry Arts
Diploma in Pastry Arts
This culinary arts school is proud to announce that 95% of its graduates finds employment after finishing their course (excluding the Applied Science in Culinary Arts program).
Auguste Escoffier School of Culinary Arts
6020-B Dillard Circle
Austin, TX 78752
1-866-552-2433

Austin Community College District
Their program is developed for students who aspire to learn essential skills needed in managing commercial food and beverage systems. ACC helps train candidates for higher level positions as well as management training responsibilities in the culinary world.

After graduating, students who have become junior members of the American Culinary Federation are qualified to apply for first level chef certification, obtaining a Certified Culinarian certificate. The Culinary Arts Program is accredited by the Accreditation Council for Business Schools and Programs (ACBSP).
Austin Community College District
5930 Middle Fiskville Rd.
Austin, Texas 78752
512-223-7747
apps@austincc.edu

Natural Epicurean Culinary Arts Academy
The culinary arts academy provides beginners and experienced chefs with crucial skills needed to prepare delicious vegan and macrobiotic dishes. Students will learn how to manage their kitchen and plan natural, whole foods.

Founded in 1994 by certified macrobiotic counselor Elizabeth Ann Foster, the Natural Epicurean Academy of Culinary Arts embodies her vision to advance the appreciation and cooking of natural, whole foods in the Southeast.
Natural Epicurean Culinary Arts Academy
3005 South Lamar Blvd.
Suite D-109 #380
Austin, TX 78704
(512) 476-2276
info@naturalepicurean.com

Non-accredited Cooking Schools in Austin
This cooking school has engaging and well-trained chefs who provide detailed classes. Learn the basics and take your culinary skills to the next level. The school's goal is to help empower students to learn how to prepare any recipe they wish to master.
Some of their classes include:
Sushi for beginners
Bread by hand
Homemade pasta
Dinner party 101
Genre - Italian, Indian, French, American Regional, etc.
Silver Whisk Cooking School
Austin, TX
(512) 826-8841
Find A Culinary School near Ashburn With Open Eligibility Today!
Popular School Locations
---
Culinary Training
Top Schools
Majors
Degree Types
Career Information