Cooking and Culinary Schools in Pasadena Train Chefs and Pastry Chefs
Pasadena, California is a city of approximately 150,000 people located 10 miles to the northeast of downtown Los Angeles. The city is well known for hosting the annual Rose Bowl and Tournament of Roses Parade.
With its proximity to one of the larger metropolitan areas in the United States it is a culturally diverse area. Within the city there are two colleges that offer a degree in the culinary arts. The first is the Pasadena City College and the second is Le Cordon Bleu College of the Culinary Arts.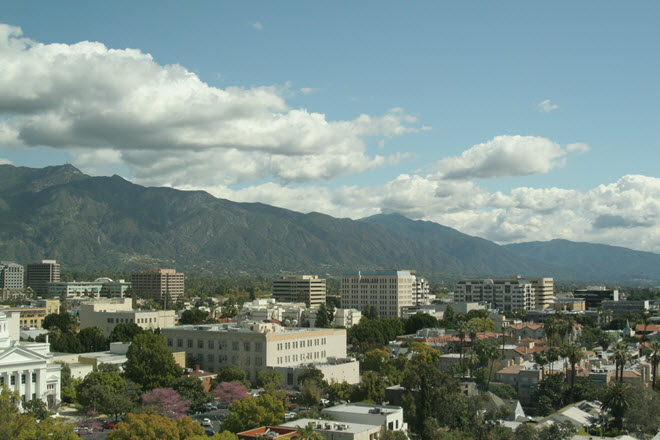 Pasadena City College – Culinary Arts Program
The Culinary Arts Program at Pasadena City College offers students a chance to learn about the various food industries. Graduates from this program will have the ability to seek employment at hotels, health care facilities, cafeterias, restaurants and in education. The program teaches individuals as cooks, bakers, as well as managerial training. The program can be completed in four three month semesters with the required 40 units. Each semester focuses on a different aspect of the food industry allowing for to students to learn all the various aspects of their chosen field of study.
Introduction to Culinary Arts/Food Services
This course focuses on learning the basics of food preparation including proper tool usage through both demonstration and hands-on experience. It also provides a history of food services and provides the students with a knowledge of safety and sanitation requirements within the food industry.
Introduction to Food Services Production
This course focuses on menu development for both breakfast and lunches and provides the student experience and information on how to garnish foods, and preparing various soups and sauces.
Quantity Cooking Techniques
This program teaches students how to cook for large groups of people as may be found within such places as cafeterias and restaurants focusing on menu development, buffet preparation, and service.
Supervision of Food Services
This course provides the student with information for management of various food establishments including a study on food purchasing and cost control.

The four courses mentioned above are the required courses for attaining a Certificate of Achievement in the Culinary Arts from the Pasadena City College. There are several other optional courses also available to the students which can allow a student to gain hands-on experience in the food services as well as introductory and advanced courses in baking and pastries as well as catering. This college does not offer an online training course in the study of the culinary arts.

Local Community Schools

Institute of Culinary Education
The Institute of Culinary Education is a recognized leader in culinary education, providing students with a dedicated faculty of chef-instructors, and a sterling placement record that places a strong emphasis on entrepreneurial ventures. Its award-winning curriculum is one of the leading culinary arts programs in the country.
Institute of Culinary Education
521 East Green Street,
Pasadena, CA 91101
888-718-2433
The award-winning professional Culinary Arts program at New School of Cooking delivers students hands-on instruction from experienced chefs. Its courses include both standard cooking techniques and intricate culinary techniques, along business classes and career development assistance to support students as they enter the food industry. Besides its degree programs, it also provides 20- and 4-week cooking series classes and one-day workshops for casual learners; its cooking series programs also come in Spanish.
New School of Cooking Pasadena Campus
525 E. Colorado Blvd.
Pasadena, CA 91101
844-895-4224
A fast-growing institution, Glendale Community College provides a culinary arts degree that covers many aspects of the professional food service and baking industries. The program is supported by many partner organizations, including Hilton Hotel and Oakmont Country Club.
Glendale Community College
1500 North Verdugo Road
Glendale, CA 91208
818-240-1000
Los Angeles Trade Technical College
The Culinary Arts Pathway at Los Angeles Trade Technical College delivers programs that teach students the skills needed for a successful lifelong career in the food service industry. This pathway offers degrees and certificates in baking, culinary arts, and restaurant management. It is one of the oldest continually operating culinary arts programs in the country.
Los Angeles Trade Technical College
400 West Washington Blvd,
Los Angeles, CA 90015
213-763-7000
Mt. San Antonio College's culinary arts program prepares students for the real-world challenges of running a restaurant. Besides providing practical training while running a real business through a fully-functioning student-run bakery and restaurant, the program also hones their students' communication and critical thinking skills, which are vital to the operations of a food service operation.
Mt San Antonio College
1100 N. Grand Ave.,
Walnut, CA 91789
909-274-7500
Los Angeles Harbor College offers an Associate Science Degree in Culinary Arts that aims to prepare and qualify students for a career in the food industry, incorporating both concept theory and practical applications in its curriculum. The program utilizes a full-production model that provides students the chance to hone their proficiencies in a real time environment.
Los Angeles Harbor College
1111 Figueroa Place,
Wilmington, CA 90744
310-233-4000
The Institute for Culinary Education (iCUE) at College of the Canyons provides three certificate programs in baking and pastries, culinary arts,and wine studies, with an associate degree in culinary arts coming soon.
College of the Canyons
26455 Rockwell Canyon Rd
Santa Clarita, CA
661-259-7800
Cerritos College's Culinary Arts, Baking and Pastry, and Culinary Management programs ncorporates 800-hour kitchen laboratory training and real-time training at the institutions' three on-campus food outlets: the Falcon Room restaurant, the Cerritos College Culinary Arts Cafe, and the on-campus banquet and catering service. Students rotate through several stations that give them a comprehensive view of the operations of a professional kitchen and gain experience in all aspects of running and managing a restaurant.
Cerritos College
11110 Alondra Blvd.
Norwalk, CA 90650
562-860-2451
The program is designed to train and prepare students for careers in all aspects of the culinary arts and hospitality fields. The design of the program is balanced between developing the culinary tactile skills of food preparation and the management qualities necessary for career growth.

Successful students will be prepared to work as prep cooks, line cooks, sous chefs, and kitchen managers, restaurant managers in a wide range of food service settings, such as restaurants, hotels, catering operations, and institutional kitchens. The program will focus on cooking skills development, problem solving, supervision, kitchen management skills and challenging students to critically evaluate the strengths and weaknesses of culinary operations and identify entrepreneurial approaches to restaurant operations.
Los Angeles Mission College
13356 Eldridge Avenue
Sylmar, CA 91342
818-364-7600
The Culinary Arts Department of Long Beach City College offers professional and practical experience to students in the day-to-day operations of a professional kitchen, which is paired with a comprehensive curriculum of courses that cover all aspects of the food service industry. The program offers both certificate and associate degrees, which help students prepare for advanced courses and pave the way for a lasting career in the food service profession.
Long Beach City College

LAC Campus
4901 East Carson St.
Long Beach, CA 90808
562-938-4111

PCC Campus
1305 E. Pacific Coast Highway
Long Beach, CA 90806
562-938-4111
Cypress College's culinary arts program engages students through a state-of-the-art learning environment. Learners are instructed by dedicated professionals in the culinary and hospitality industry and receive hands-on experience on the fundamentals of the food service industry. The program offers both associate of science degrees and certificates in hotel management, restaurant management, culinary arts, and baking.
Cypress College
1830 W. Romneya,
Anaheim, NOCCCD
714-484-7000
Orange Coast College provides advanced certificate programs in both culinary arts and baking/pastry, which can be paired with the general education credits for the associate of science degree. Hands-on training is the key learning component of the programs, which are paired with supplemental lectures. These certificartes are accredited by the American Culinary Federation Foundation Accrediting Commission.
Orange Coast College
10880 Wilshire Blvd Suite 1101
Los Angeles, CA, 90024
714-432-5072
Los Angeles Mission College's culinary arts program trains students on all aspects of the culinary arts and hospitality industries. The program aims to meet the needs of both hands-on cooking and food preparation skills and management proficiencies necessary for career advancement in professional culinary operations. Graduates of this program can work in a variety of positions in the food service industry.
Los Angeles Mission College
13356 Eldridge Avenue
Sylmar, CA 91342
818-364-7600

Non-accredited Cooking Schools in Pasadena
Eatz provides learners with the unique experience in cooking all the items in their menu. Each class not only provides hands on instruction but also comes with a four- or five-course meal with cocktails or wine.
Eatz
612 N. La Brea Ave,
Los Angeles, CA 90036
eatzla@gmail.com
Hipcooks delivers hands-on cooking classes that appeal to novice and seasoned culinary enthusiasts. Its teaching methods eschew measuring implements and encourage tasting, allowing the students to cook their dishes to their preferred tastes.
Hipcooks East LA
642 Moulton Ave Unit E21
Los Angeles, CA 90031
323-222-3663
hipcooks@hipcooks.com
Hipcooks West LA
2833 S Robertson Blvd
Los Angeles, CA 90034
310-841-2738
hipcooks@hipcooks.com
Chef Eric's Culinary Classroom
A European-trained professional chef, Chef Eric Crowley provides learners (both aspiring and professional chefs) with hands-on cooking classes and technical education to improve their culinary proficiency in a professionally designed kitchen setting.Chef Eric's culinary classroom has been featured in TruTV, E! Entertainment, and the Los Angeles Times.
Chef Eric's Culinary Classroom
2366 Pelham Avenue
Los Angeles, CA 90064
310-470-2640
Chefs Center
Founded in 2007, Chefs Center delivers culinary solutions for entrepreneurs interested in building, growing, and expanding a food-based enterprise. It offers both a shared workspace and free hands-on technical assistance for food entrepreneurs.
Chefs Center
45 N. San Gabriel Blvd,
Pasadena, CA 91107
(626) 744-9995

Urban Kitchen
Urban Kitchen not only provides catering for gatherings and private events but also offers public and private cooking classes specializing in creating various dishes such as pasta, bread, and seafood.
Urban Kitchen
1009 1/2 South Fair Oaks Ave,
South Pasadena, CA 91030
(626) 403-5633
Find A Local Culinary School With Open Eligibility Today!
Popular School Locations
---
Culinary Training
Top Schools
Majors
Degree Types
Career Information