Cooking Schools in Dallas: Commpare Programs
Along with passion for cooking comes a passion for eating and enjoying all types of food. Dallas delivers both: a handful of fine culinary schools and a unique and surprising array of restaurants and eateries. This cosmopolitan metro area is hardly the sparse western outpost town once depicted in the movies. Here is a city built on big industry and with a populace as varied as any other major American city.
Culinary arts schools offer programs designed to meet the needs of an industry on an unstoppable upward trajectory. Plus you'll find classes suited to both full-time and part-time students, college-age and adult learners.
Since most chef training programs feature externships in their curriculums, expect to have the opportunity to work and learn in some of the best Dallas restaurants and hotels and from some very notable chefs.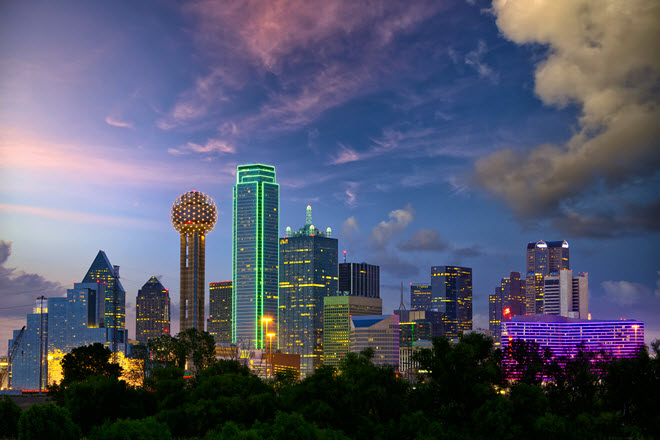 Learn From the Best in Dallas
If you're studying to become a chef in Dallas then sample all the finest fare. A few of Dallas's top restaurants include:
The French Room located inside The Adolphus Hotel is an award-winning restaurant with a corps of top chefs in the kitchen and a sumptuous menu. Dishes are known for their innovative French-American character.
Fuse, one of a notable number of fusion restaurants, is a hip trend-setter. Diners are treated to innovative and fearless taste combinations.

Local Community Schools
Their Culinary, Pastry and Hospitality Program provides complete cooking instruction and hands-on training to prepare students for the challenges of the industry. Acquire the essential skills needed to deliver delectable three-course meal services. While studying, you'll also have opportunities to build strong connections that will enrich your training in the culinary and hospitality industry.
El Centro College
801 Main St.
Dallas, TX 75202
214-860-2000
International Culinary School at the Art Institute of Dallas
This prestigious school offers an accredited Culinary Arts Associate of Applied Science Degree. Students are immersed in a creative and challenging environment that closely resembles real-world experiences. Here, they learn international cuisine and refine their culinary techniques. The Dallas Culinary Arts programs is supported by highly experienced faculty members. They also offer a certificate course that can be completed in four quarters.
The Art Institute of Dallas
8080 Park Lane, Suite 100
Dallas, TX 75231-5993
800-275-4243
Collin County Community College District
Get ready for a career in the food service industry with quality education from Collin's Culinary Arts program. Their curriculum provides a wide range of hands-on food preparation classes, teaching fundamental culinary skills for efficient commercial kitchen management.

The program is developed by industry professionals and taught by experienced food service administrators. The Collin's Culinary Arts program is fully accredited by the American Culinary Federation Education Foundation.
Collin County Community College District
3452 Spur 399
McKinney,Texas 75069
972-548-6790
TWU offers a BAS in Culinary Science and Food Service Management together with a Culinology® certification program approved by the Research Chefs Association. This program combines the art of cooking with food science.

Students can learn and apply extensive culinary knowledge on nutrition and relevant food research. They can also personalize their degree with higher level courses to obtain certification as a research chef or culinary scientist. For those who wish to enhance their education, the school offers the following courses:
Nutrition
Exercise and Sports Nutrition
Food Science and Flavor Chemistry
TWU Graduate Degree
Texas Woman's University
304 Administration Dr.
Denton, TX 76204
940-898-2000
Tarrant County College District
TCC offers an Associate of Applied Science degree in Culinary Arts to help prepare aspiring chefs and restauranteurs for the commercial food service industry. The school takers pride in a professional faculty with years of teaching experience, as well as modern kitchens and dining facilities. Class sizes are controlled to maintain quality education, enabling professors to give each student the attention they need.

Students may also choose from the following certificate courses:
Baking and Pastry
Culinary Arts I
Catering/Private Chef  
Tarrant County College District
2100 Southeast Pkwy,
Arlington, TX 76018 817-515-3609
katrina.warner@tccd.edu

Non-accredited Cooking Schools in Dallas
The first Sur La Table store opened in Seattle's iconic Pike Place Market in 1972. Even then, it was where passionate cooks got the best culinary equipment from all around the world. The store employed helpful and highly knowledgeable employees who were serious about cooking too.

In 1996, Sur La Table started providing its first cooking class to people. Today, they have over 120 stores across the U.S. while offering one of America's largest hands-on cooking programs.
Sur la table
3700 Vision Drive, Suite 120
Fort Worth, TX 76109
214-219-4404
slt147@surlatable.com
Find A Local Culinary School With Open Eligibility Today!
Popular School Locations
---
Culinary Training
Top Schools
Majors
Degree Types
Career Information