Cooking Schools in Dallas: Commpare Programs

Along with passion for cooking comes a passion for eating and enjoying all types of food. Dallas delivers both: a handful of fine culinary schools and a unique and surprising array of restaurants and eateries. This cosmopolitan metro area is hardly the sparse western outpost town once depicted in the movies. Here is a city built on big industry and with a populace as varied as any other major American city.
Culinary arts schools offer programs designed to meet the needs of an industry on an unstoppable upward trajectory. Plus you'll find classes suited to both full-time and part-time students, college-age and adult learners.
Since most chef training programs feature externships in their curriculums, expect to have the opportunity to work and learn in some of the best Dallas restaurants and hotels and from some very notable chefs.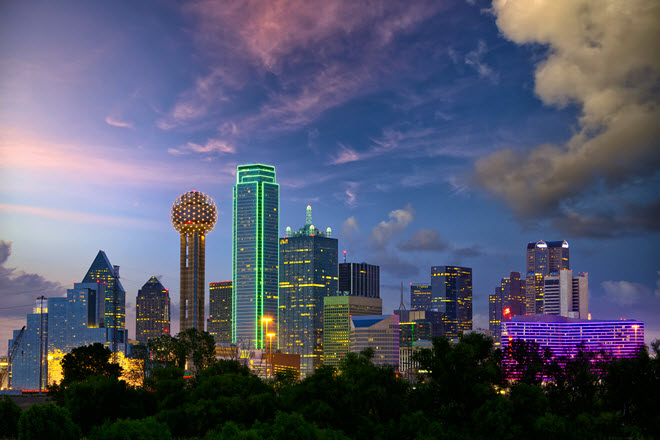 Learn From the Best in Dallas
If you're studying to become a chef in Dallas then sample all the finest fare. A few of Dallas's top restaurants include:
The French Room located inside The Adolphus Hotel is an award-winning restaurant with a corps of top chefs in the kitchen and a sumptuous menu. Dishes are known for their innovative French-American character.
Fuse, one of a notable number of fusion restaurants, is a hip trend-setter. Diners are treated to innovative and fearless taste combinations.

Local Community Schools
The Food and Hospitality Institute provides training through classroom instruction and hands-on participation in Culinary Arts, Bakery/Pastry Arts, and Food and Hospitality Management. Students get real world experience each semester preparing complete three-course meal services that are open to the public.
El Centro College
801 Main St.
Dallas, TX 75202
214-860-2000
International Culinary School at the Art Institute of Dallas
The International Culinary Schools are some of the most popular in the nation. This well-known program has consistently graduated award-winning chefs. The curriculum spans a range of cuisines and teaches you the ins and outs of kitchen management. More than that you are guided to explore your own creativity with flavors and ingredients. Programs include diploma, Associates degrees and Bachelors degrees in general culinary arts, pastry/baking, restaurant management and beverage management.
The Art Institute of Dallas
8080 Park Lane, Suite 100
Dallas, TX 75231-5993
800.275.4243
Collin County Community College District
A part of the college's Institute of Hospitality and Culinary Education (IHCE), Collin's Culinary Arts program will prepare you for a variety of food preparation positions and for career advancement in the food service industry. The program curriculum emphasizes a broad selection of hands-on food preparation courses, building on culinary foundation skills that will allow you to be effective in a commercial kitchen environment.

The curriculum is designed by industry experts and taught by experienced food service management professionals, and the program is fully accredited by the American Culinary Federation Education Foundation.
Collin County Community College District
3452 Spur 399
McKinney,Texas 75069
972.548.6790
TWU offers the only Culinology program in Texas approved by the Research Chefs Association (RCA). Their Culinary Science and Food Service Management degree combines culinary arts with food science training.

Upon completion of this program and after passing the exam, you will have associate's and bachelor's degrees and RCA's Culinology certification.
Texas Woman's University
304 Administration Dr.
Denton, TX 76204
940-898-2000
Tarrant County College District
Their program is designed to prepare you to enter a career in commercial food preparation for hotels, restaurants, and clubs. They offer the only comprehensive program of study in Tarrant County.

Faculty with years of professional experience teach their courses in state-of-the-art food service and dining facilities on Southeast Campus. Controlled class size allows for individual attention.
Tarrant County College District
1500 Houston St Fort Worth, TX 817-515-3609
katrina.warner@tccd.edu

Non-accredited Cooking Schools in Dallas
In 1972, the first Sur La Table store opened in Seattle's Pike Place Market. It was a place where serious cooks found a surprising selection of culinary tools from around the world, with helpful, knowledgeable employees who loved cooking, too.

They've now grown to more than 130 stores across America, with a website and catalog viewed by millions of people each year and a highly regarded cooking class program.
Sur la table
4525 Cole Avenue Suite 190
Dallas Knox District, TX 75205
214-219-4404
slt147@surlatable.com
Find A Local Culinary School Today!
Popular School Locations
---
Culinary Training
Top Schools
Majors
Degree Types
Career Information