Where are the Best Culinary Arts Programs in Miami?
Miami is one big fusion. And the food is amazing. If you love to cook and you imagine yourself busting out with some edgy Latin-Cuban-American-Southern-Contemporary dish, Miami may just be the city in which to make that happen. Get cooking in South Beach.
Leading culinary schools like Le Cordon Bleu and Johnson and Wales are indicative of a rich food culture. Programs like these are not for hobby bakers and cooks, but for serious students of cuisine. When you want to know how to really chop with a set of Wusthof culinary knives you go to one of these top schools and cut your teeth in a real pro kitchen alongside real working chefs. And then you go and get yourself a real job—could be as dishwasher in a trendy South Beach kitchen- jobs that today's master chefs count among their first. And if you're real about cheffing in Miami then you'll do the time.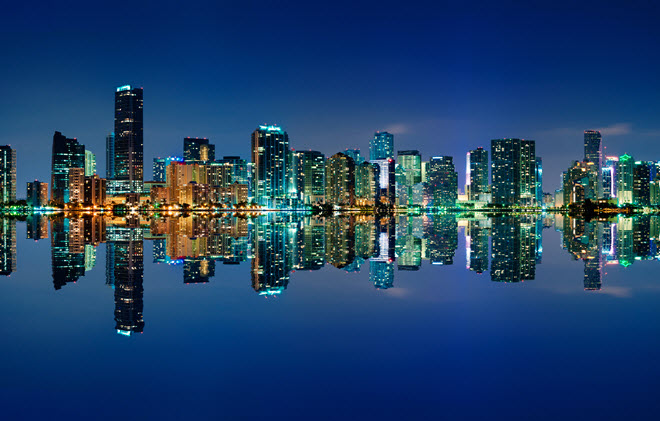 Before you make a choice on Miami culinary school check out the degrees available and the time you'll invest. If you're a career changer you'll need a school that offers evening and weekend courses, and you'll find most do because many chefs come to the career off another, before they realize they just love cooking too much to do anything else. Check out the faculty and the career assistance. Ultimate goal is the job you'll get after graduation and it's to your advantage to have a school that has community connections with local restaurants, job needs, and can also provide the necessary resume and interviewing tools you'll need to leverage a job.

Local Community Schools
Johnson and Wales University's culinary program bring together the artistic aspects of cooking with nutrition and science, management training, global citizenship, and hands-on work experience that helps its students stand out from their peers.  This integrated curriculum provides students with the necessary range of skills for them to move forward in the food service industry. The program offers both associate and bachelor of science degrees in several food industry fields.
Johnson and Wales University
1701 NE 127th Street,
North Miami, FL 33181
866-598-3567
As one of the most highly regarded tertiary educational institutions in America, Miami Dade College delivers a culinary arts program thart is at the cutting edge for culinary excellence. Besides an award-winning curriculum, the Miami Dade program is noted for its ongoing singular experiences that introduce its student body to some of the world's best chefs. Certified culinarians from the program have gone on to work in some of the leading restaurants in Miami and across the country.
Miami Dade College
300 NE 2nd Ave,
Miami, FL 33132
305-237-8888
The culinary program at the Art Institute of Tampa guides learners through the fundamental techniques and industry principles of the culinary arts and food service and introduces them to various regional cuisines. Students receive hands-on restaurant and kitchen operations management experience under the direction of professional facilitators at the campus restaurant The Tutored Chef. The program offers both an associate of arts and diploma in the culinary arts.
Art Institute of Tampa
4401 North Himes Avenue, Suite 150
Tampa, FL 33614-7086
866-703-3277
Lindsey Hopkins Technical Education Center
This program imparts technical knowledge and skills necessary for employment within the food industry. Students not only learn the fundamentals of commercial cooking and baking but also the intricacies of running a culinary operation through hands-on work experience.
Lindsey Hopkins Technical Education Center
750 NW 20th St,
Miami, FL 33127
305-324-6070
Miami Lakes Educational Center
The Professional Culinary Arts and Hospitality Program at the Miami Lakes Educational Center aims to equip students with the necessary experience and skill sert to build careers in the food service industry.
Miami Lakes Educational Center
5780 NW 158th Street,
Miami Lakes, FL 33014
305-557-1100
Robert Morgan Educational Center
The Culinary Arts program at Robert Morgan Educational Center recieved an articulation agreement with the Culinary Institute of America. Students who complete two years of culinary arts studies here would meet the pre-enrollment requirements,and those who complete the Servsafe industry certification exam are awarded course credits to the institution.
Robert Morgan Educational Center
18180 S.W. 122 Avenue
Miami, FL 33177
305-253-9920
Graduates at Sheridan Technical College's culinary arts program have the opportunity to transfer their credits toward an associate degree in Broward College or the Florida College System, with additional credits available based on other industry credentials gained. The program is a combination of classroom, practical, and online work.
Sheridan Technical College
5400 Sheridan Street
Hollywood, Florida 33021
754-321-5400
William T McFatter Technical College
The Professional Culinary Arts & Hospitality program at McFatter Technical College prepares students for careers in the commercial foods industry. It is a mix of laboratory and classroom activities, online learning, and culinary arts procedures, and teaches the industry standards in food service. It also offers specializations in vegetarian and plant-based cuisine.
William T McFatter Technical College
6500 Nova Drive
Davie, Florida 33317
754-321-5700
The American Culinary Federation Education Foundation-accredited culinary program at Atlantic Technical College provides comprehensive hands-on training through the many facets of the commercial food industry from food preparation to operations management.  Credits from this program can be transferred toward an associate in science degree in Broward College or selected schools in the Florida College System.
Atlantic Technical College
4700 Coconut Creek Parkway
Coconut Creek, Florida 33063
754-321-5100

Non-accredited Cooking Schools in Miami
Founded by Chef Maria Cummins in 2005, Real Food Academy is committed to teaching children and adults alike on how to prepare delicious, healthful meals by substituting processed ingredients with all-natural counterparts. In addition, it also offers private cooking lessons for parties and corporate events, with custom menus prepared by professional chefs.
The Real Food Academy
570 NE 81st Street
Miami, FL 33138
786-590-0671
Gastronomicom Culinary Academy
Founded in France in 2005, the Gasrtronomicom Culinary Academy opened its American campus in Miami. A cooking program comprised entirely of hands-on classes, it provides students with the skills and techniques to master the art of French cooking. French language and restaurant management courses are also provided.
Gastronomicom Culinary Academy
2151 Lejeune Rd, Suite 110
Coral Gables, Fl 33134
786 534 7325
gastronomicom@culinaryschool.us
Find A Culinary School near Ashburn With Open Eligibility Today!
Popular School Locations
---
Culinary Training
Top Schools
Majors
Degree Types
Career Information