Where are the Best Culinary Arts Programs in Miami?

Miami is one big fusion. And the food is amazing. If you love to cook and you imagine yourself busting out with some edgy Latin-Cuban-American-Southern-Contemporary dish, Miami may just be the city in which to make that happen. Get cooking in South Beach.
Leading culinary schools like Le Cordon Bleu and Johnson and Wales are indicative of a rich food culture. Programs like these are not for hobby bakers and cooks, but for serious students of cuisine. When you want to know how to really chop with a set of Wusthof culinary knives you go to one of these top schools and cut your teeth in a real pro kitchen alongside real working chefs. And then you go and get yourself a real job—could be as dishwasher in a trendy South Beach kitchen- jobs that today's master chefs count among their first. And if you're real about cheffing in Miami then you'll do the time.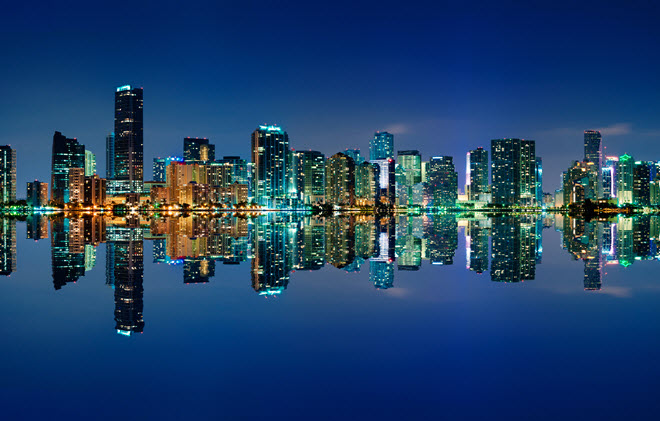 Before you make a choice on Miami culinary school check out the degrees available and the time you'll invest. If you're a career changer you'll need a school that offers evening and weekend courses, and you'll find most do because many chefs come to the career off another, before they realize they just love cooking too much to do anything else. Check out the faculty and the career assistance. Ultimate goal is the job you'll get after graduation and it's to your advantage to have a school that has community connections with local restaurants, job needs, and can also provide the necessary resume and interviewing tools you'll need to leverage a job.

Local Community Schools
The programs combine the craft and art of cooking with science and nutrition, management skills, global citizenship and a variety of work experience opportunities that will set you apart from the competition.

Benefit from an integrated arts and sciences curriculum to provide you with the analytical, critical thinking, and communications skills necessary for long-term career advancement.

When you graduate, be positioned to pursue the growing range of food service careers locally or around the world.
Johnson and Wales University
1701 NE 127th Street,
North Miami, FL 33181
866-598-3567
Their two-year Associate in Science program provides real-world knowledge, understanding and technique from some of the best practicing chefs in the industry. Engaging, hands-on classes are presented in their brand new, state-of-the-art building located within the MDC Wolfson Campus in the dynamic and evolving community of downtown Miami.
Students are offered opportunities to connect with world-class chefs from Miami and beyond, and participate with them in special events.
Miami Dade College
300 NE 2nd Ave,
Miami, FL 33132
305-237-8888
In the Culinary Arts Programs at The Art Institute of Tampa, a branch of Miami International University of Art & Design, you will have the opportunity to obtain foundational knowledge and skills in the fundamental techniques and theories of the culinary arts and in industry practices. Your culinary arts courses will introduce you to culinary concepts, theories, the principles of sanitation and safety, as well as different regional cuisines.
Art Institute of Tampa
4401 North Himes Avenue, Suite 150
Tampa, FL 33614-7086
866-703-3277
Lindsey Hopkins Technical Education Center
The program provides students with the technical knowledge and skills for employment in the areas of commercial cooking and baking as cooks, bakers, and/or food preparation workers in the commercial foods and culinary arts industry.
Lindsey Hopkins Technical Education Center
750 NW 20th St,
Miami, FL 33127
305-324-6070
Miami Lakes Educational Center
The objective of the Professional Culinary Arts and Hospitality Program is to provide quality educational training designed to meet the current and future needs of the food industry. To accomplish this, the following guidelines are established: assist students to choose, prepare for, enter, and be gainfully employed in the food service/hospitality industry field; offer a program which emphasizes sound fundamentals while responding to the needs of the food service/hospitality industry; provide courses to meet current and specific needs of the student and the food service/hospitality industry.
Miami Lakes Educational Center
5780 NW 158th Street,
Miami Lakes, FL 33014
305-557-1100
Robert Morgan Educational Center
RMEC Culinary Arts Program earned an articulation agreement with the Culinary Institute of America in recognition of it's commitment to culinary arts and core values of leadership, excellence, professionalism, ethics and respect for diversity.

Students completing at least two years of Culinary arts at RMEC meet the pre-enrollment requirement of at least 6 months industry experience. Students successfully completing the Servsafe Industry certification exam will be awarded course credit at the CIA.
Robert Morgan Educational Center
18180 S.W. 122 Avenue
Miami, FL 33177
305-253-9920
The program covers Garde Manger (Cold Foods), Hot Foods, Culinary Baking, Sanitation & Safety, Nutrition, Supervision & Management, and Controlling foodservice costs. This program is accredited by the American Culinary Federation Education Foundation, Inc. Accrediting Commission and articulates with Broward College towards a Culinary Arts Management Degree. Students may apply for experiential credit if currently employed in a qualified food service position. Total hours each term will be a combination of classroom, lab and on-line work. Qualified students have the opportunity to obtain the ServSafe and Certified Culinarian Certifications.
Sheridan Technical College
5400 Sheridan Street
Hollywood, Florida 33021
754-321-5400
William T McFatter Technical College
The Professional Culinary Arts & Hospitality program offers students the opportunity to prepare for employment as pastry, restaurant, hotel and resort cooks, in addition to basic management positions in the Commercial Foods industry. Professional Culinary Arts & Hospitality students may enter this program at the beginning of each quarter however, they must meet minimum academic standards in reading, mathematics and language prior to graduation. National Commercial Foods Certifications are offered in Sanitation, Nutrition, and Hospitality Supervision in an on-line environment for ACF Certification.

This Professional Culinary Arts & Hospitality program is a blend of classroom/lab activities, on-line activities, and culinary arts procedures. Students learn the industry standards to be successful in Dining Room Services, Food Production, Garde-Manger, and Baking and Pastries.
William T McFatter Technical College
6500 Nova Drive
Davie, Florida 33317
754-321-5700
Their program is a comprehensive, practical, hands-on experience for volume food preparation. They immerse the future professional in many aspects of the commercial food industry. Students will be taught through hands-on experiences in setting-up banquets and food preparation, including hors d'oeuvres, smoking meats, charcuterie, along with baking and pastry basics.

This program is accredited by the American Culinary Federation Education Foundation (ACFEF).
Atlantic Technical College
4700 Coconut Creek Parkway
Coconut Creek, Florida 33063
754-321-5100

Non-accredited Cooking Schools in Miami
At the Real Food Academy, their cooking classes in Miami for kids and adults are all about good times, good tastes, and good eating habits. Founded in 2008 by Head Chef Maria Cummins, the mission of the academy isn't just to teach kids how to cook delicious meals, but also to teach them what types of ingredients to cook with.

They also offer private cooking classes for birthday parties, corporate events, or any other type of get-together, where one of the professional chefs will design a custom menu for the celebration.
The Real Food Academy
570 NE 81st Street
Miami, FL 33138
786-590-0671
Gastronomicom Culinary Academy
Led by a dedicated and enthusiastic team that has years of training and professional experience who crave to share it with you from the moment you start your journey into the world of culinary arts.

Our teachers, who have experience in the real world of cooking, pastry, wine and hotel management, will provide an excellent education and share with you all their secrets.
Gastronomicom Culinary Academy
2151 Lejeune Rd, Suite 110
Coral Gables, Fl 33134
786 534 7325
gastronomicom@culinaryschool.us
Find A Local Culinary School Today!
Popular School Locations
---
Culinary Training
Top Schools
Majors
Degree Types
Career Information