Culinary Arts Schools in the Houston Area
Houston, Texas is home to an impressive array of restaurants. Flavors go well beyond the traditional southwestern steakhouse that is often considered the cornerstone to the Texas culinary world. The culinary schools alone are symbolic of the sophistication of the Houston palate.
Houston is a key industrial port with a business heritage nearly unrivalled even among the top metro areas in the U.S. The city is most known for its oil heritage, top-notch medical centers and the Johnson Space Center, a key component in the NASA Space program. Thanks to these industries the economy continues onward and upward and the population builds with increasing diversity. Where there is world-class business and commerce comes a demand for good food and talented well-trained chefs.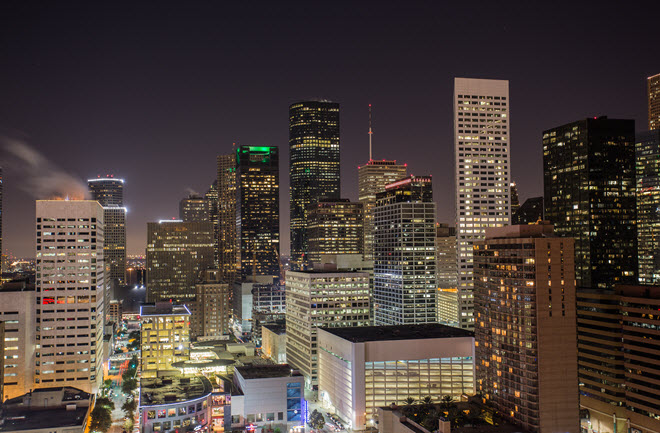 With the Houston skyline as a backdrop you can study to become a chef or restaurant manager, even master cook, at an excellent culinary program. Externships, a key part of most cooking programs, put you into restaurants where you learn from some of the best chefs in the Houston food and wine scene.
Whether you're fresh out of high school or a career changer pursuing your true career passions you'll find full-time and part-time programs that give you the skills and savvy you need to carve out a niche in the Houston food industry. Check out the Houston culinary schools.

Local Community Schools
Founded in 1998, Culinary Institute Lenotre offers several programs that help students master the essentials of French haute cuisine through flexible teaching schedules with a choice of three shifts and ten-week terms, along with real-world experience at the .The school not only provides a range of top-notch culinary programs and electives but also a modest selection continuing education programs for seasoned food industry professionals. The school has been ranked #1 in Niche.com's ranking of best college for culinary arts in America for two consecutive years.
Culinary Institute Lenotre
7070 Allensby St.
Houston, TX 77022
713-692-0077
The International Culinary Schools at the Art Institute of Houston offer an aggressive and challenging culinary program to engage passionate students, boasting of an expert faculty and a regional competition for teen chefs. The program aims to hone students in the competitive and innovative world of global cuisine and imparts the skills and experience needed to meet the expectartions of modern diners and employers.
Art Institute of Houston
4140 Southwest Freeway
Houston, TX 77027
800-275-4244
Houston Community College offers both certificates for bakers, prep cooks, and pastry cooks and an associate of applied science in culinary arts. Their culinary arts degree prepares students for leadership positions in the food industry.
Houston Community College
3100 Main Street,
Houston, TX 77002
713-718-2000
San Jacinto Community College's culinary arts program delivers basic training and educations for cooks and apprentice chefs. The progprimarily on technical food preparation and technical skills, food composition, and the use and maintenance of professional food service equipment. The program is accredited by the American Culinary Federation Education Foundation Accrediting Commission (ACFEFAC).
San Jacinto Community College
8060 Spencer Hwy.
Pasadena, TX 77505
281-998-6150
information@sjcd.edu
Lee College Huntsville Center's Culinary Arts program imparts vital skills to help students succeed in today's engaging and dynamic work environment. Its program comprises two certificates of completion that can be applied toward an Associate of Applied Science Degree in Culinary Arts.

Lee College
2665 Prison Road #1,
Lovelady, TX 75851
936-291-0452
hclc@lee.edu
The culinary arts program of Alvin Community College prepares learners for a broad assortment of entry-level positions in food service, through a well-rounded program that teaches both cooking skills and other aspects of managing a food service enterprise, including liberal arts, business, and computer courses.
Alvin Community College
3110 Mustang Road,
Alvin, Texas 77511
281-756-3500

Non-accredited Cooking Schools
Well Done Cooking Classes offer 20 different courses throughout the year, almost all of which can be taken in any order. The program provides both amateur and experienced cooks with a warm and easygoing environment and the opportunity to learn from passionate expert instructions. Students who finish alll the courses receive not only a Certificat of Completion in the Culinary Arts but also a custom chef jacket embroidered with their name. The program has been featured in Prime Living Magazine, Food Network, and TLC.
Well Done Cooking Classes
2811 Airline Drive, Suite 5
Houston, TX 77009
832-782-3518
help@welldonecc.com
Mains Course Cooking School has among the largest hands-on cooking facilities in the Houston area and offers both indoor and outdoor cooking lessons. It provides an engaging environment for culinary learners with question-and-answer rounds and carefully selected recipes that students can confidently cook art home.
Main Course Cooking School
18750 Interstate 45
N. Spring, TX 77373
281-825-4440
info@mccooking.com
Find A Culinary School near Ashburn With Open Eligibility Today!
Popular School Locations
---
Culinary Training
Top Schools
Majors
Degree Types
Career Information