Pursue Your Passion for Cooking at a Minneapolis Cooking School

Despite its reputation for cold and snow, Minneapolis has gained notoriety for its culture, including fine food and dynamic cuisines. The Twin Cities is one of the major metro hubs in the Midwest, and crammed with activities for all seasons. You'll find a few of the most popular culinary schools right here in downtown Minneapolis--a very good sign of a robust food scene.
Restaurants are plentiful and where there are exciting and noteworthy eateries there must also be a clever chef behind the menu. Cooking school is hot and if you're in the mood to shake up a kitchen with some innovation of your own then now may be just the time to enroll in cooking school. Thanks to pop culture T.V. sensations like Iron Chef, Essence of Emeril, and Throwdown! with Bobby Flay chefs are in high demand and regardless of economic nosedives good food remains a priority.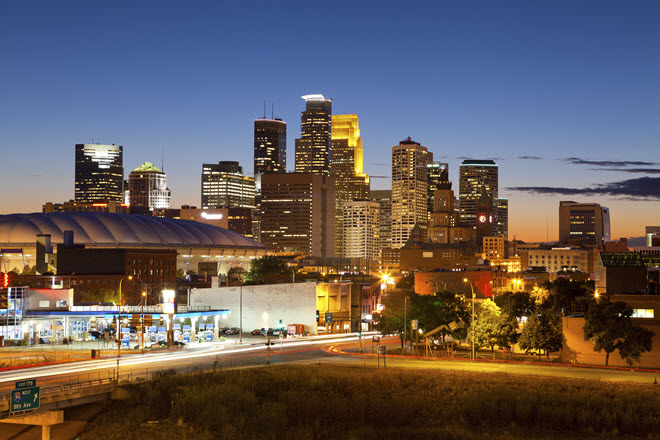 Choosing a Cooking School in Minneapolis
Before you select a culinary school program take some time to compare the following factors:
What types of degrees or programs does the school offer?
How much time does it take?
Do they have scholarships and/or financial aid?
Is this program designed to teach professional chefs?
Does the school provide career placement and career assistance?
Are there any student run restaurants?
The mission of most culinary arts programs is to give you all the essential training, techniques and tools you need to nurture your inner Iron Chef, but you must bring the passion and the energy. Remember, most master chefs once started their culinary careers as dishwashers and vegetable choppers.

Local Community Schools
Graduates of the Culinary Arts Associate of Applied Science (AAS) Degree will be eligible for Certified Culinarian award from the American Culinary Federation, as well as more advanced certificates with requisite culinary industry work experience.

The Culinary Arts Diploma program prepares individuals for career opportunities in hotels, restaurants, clubs and institutional food service facilities.​

The Culinary Arts AAS Degree and Culinary Arts Diploma programs are accredited by the American Culinary Federation Education Foundation's Accrediting Commission (ACFEF).
Saint Paul College
235 Marshall Ave
Saint Paul, MN
651-846-1555
registration@saintpaul.edu
HTC's Culinary Arts program gives you the skills to saute, decorate cakes, carve chocolate, design menus, prepare banquets, and cater large events. You'll gain a solid foundation of cooking and technique. What's more, students train to be a part of a gourmet restaurant by experiencing all stations within the food service industry such as "front of the house" in HTC's on-campus gourmet dining room. Students will also experience the theoretical side of the business, learning exactly what it takes to run a restaurant business and succeed. Top off your education with a bit of ice carving, pulled and blown sugar, fundamentals of wine, and international cuisine.
Hennepin Technical College
9000 Brooklyn Blvd,
Brooklyn Park, MN 55445
763-488-2435
info@hennepintech.edu

Non-accredited Cooking Schools in Minneapolis
Wants to bring friends and family together in the kitchen by teaching children and adults lifelong cooking skills that can ignite creativity, build self-esteem, and most importantly create memories that will last forever.
Way Cool Cooking School
16544 W. 78th Street
Eden Prairie, MN 55346
952-949-6799
Find A Local Culinary School Today!
Popular School Locations
---
Culinary Training
Top Schools
Majors
Degree Types
Career Information