Culinary Arts Schools in San Antonio, Texas

San Antonio is one of the leading tourist attractions in Texas with its popular River Walk and historic Alamo. Tourists drive the hospitality business into which most chefs and restaurant/hotel managers go. But economically the city is experiencing big growth, another key to boosting the demand for chefs and pastry chefs. Take a look at a few of the major corporations that maintain strongholds in the city: Clear Channel, Microsoft, USAA, and Bank of America.
But let's talk food, restaurants and chefs of San Antonio, for that is what will largely determine your future in the region.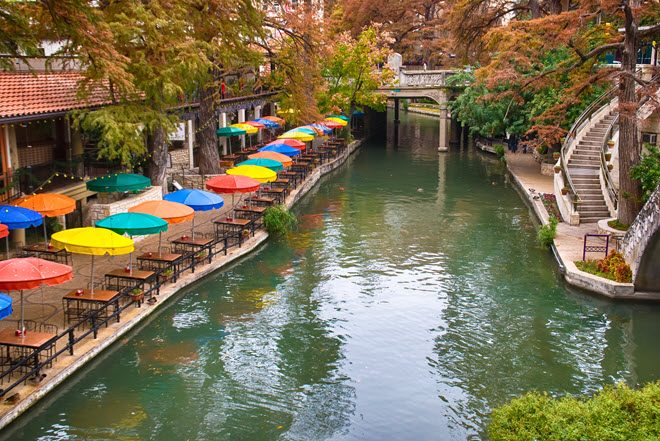 Because of its situation in the southwest you can bet that San Antonio dishes up some pretty good Tex-Mex and related American-Mexican fusions. But the job of fine restaurants and chefs is to deliver dynamic and exciting flavors and ingredients that go beyond the usual.
Top chef-owned restaurants in San Antonio:
Bruce Auden's Biga on the Banks delivers fresh seasonal ingredients, eclectic French-style dishes.
Bryan West's Café Paladar aims to take regional cuisine to the level of art. Paellas, tapas, sangrias and simple Tex-Mex is re-imagined.
If you just can't hold back your love of cooking, check out the top culinary schools in San Antonio and go for it.

Local Community Schools
The CIA Texas campus in San Antonio is home to a diverse and energetic community of food lovers who have a special interest in Latin cuisine. They welcome students seeking a career in culinary or baking and pastry arts, entrepreneurs looking to launch new ventures in the food business, or homegrown chefs who are just looking to expand their skills for friends and family.
Culinary Institute of America
312 Pearl Parkway, Building 2, Suite 2102
San Antonio, TX 78215
210-554-6400
The Art Institute of San Antonio
Starting with fundamentals like knife skills, using kitchen tools, and developing culinary techniques, they'll guide you through everything from basic cuts to managing a menu to working as part of a team. Each course builds on what you've had the opportunity to learn—and that curriculum includes more than 20 popular international cuisines, including Latin, Asian, and American Regional.
The Art Institute of San Antonio
10000 IH-10 West, Suite 200
San Antonio, TX 78230
888-222-0040
Savor Culinary Institute of America
Located on the Texas campus of The Culinary Institute of America, and nestled in the Pearl, Savor restaurant showcases the extraordinary talents of their CIA student-chefs as a culmination of two years of rigorous study.

For seven weeks, the students gain hands-on experience working in Savor's professional kitchen, followed by seven additional weeks serving in the dining room, where they learn both contemporary and formal service techniques. This way, CIA students receive professional restaurant experience while providing a seamless dining experience for their guests.
Savor Culinary Institute of America
200 E Grayson Street, Suite #117
San Antonio, TX 78215
210-554-6484
The Culinary Arts program prepares students for careers in the visitor and hospitality industries that are vital to the San Antonio and South Texas economy. The industry has grown handsomely in the recent past and is currently the city's second largest industry. Approximately 8 million people visit San Antonio per year, and the tourism industry has an estimated $4 billion impact on the city's economy.
St. Philip's College

MLK Campus
1801 Martin Luther King Drive
San Antonio, TX 78203
210-486-2000

SW Campus
800 Quintana Road
San Antonio, TX 78211
210-486-7000

Non-accredited Cooking Schools in San Antonio
Established in April 2003, Young Chefs Academy offers cooking classes to children in a safe environment that encourages discovery and creativity. While learning food preparation skills is the main ingredient at YCA, each class adds a heap of kitchen safety, a scoop of etiquette, a handful of table setting, a pinch of menu planning, and laughter to taste.
Young Chef's Academy
20330 Huebner Rd, Ste.110
San Antonio, TX 78258
210-402-0023
sanantoniotx@youngchefsacademy.com
Find A Local Culinary School Today!
Popular School Locations
---
Culinary Training
Top Schools
Majors
Degree Types
Career Information