Culinary Arts Schools in San Antonio, Texas

San Antonio is one of the leading tourist attractions in Texas with its popular River Walk and historic Alamo. Tourists drive the hospitality business into which most chefs and restaurant/hotel managers go. But economically the city is experiencing big growth, another key to boosting the demand for chefs and pastry chefs. Take a look at a few of the major corporations that maintain strongholds in the city: Clear Channel, Microsoft, USAA, and Bank of America.
But let's talk food, restaurants and chefs of San Antonio, for that is what will largely determine your future in the region.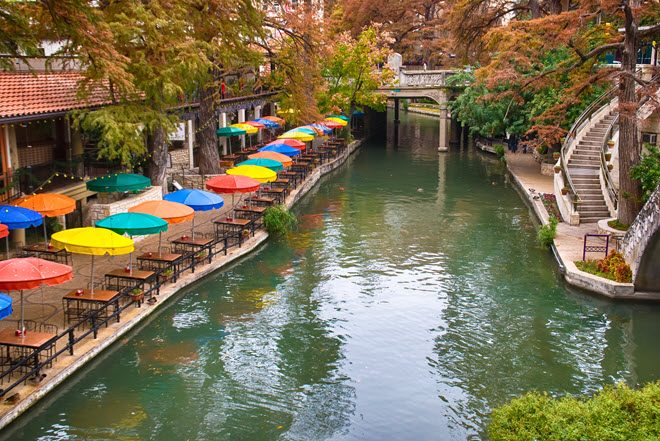 Because of its situation in the southwest you can bet that San Antonio dishes up some pretty good Tex-Mex and related American-Mexican fusions. But the job of fine restaurants and chefs is to deliver dynamic and exciting flavors and ingredients that go beyond the usual.
Top chef-owned restaurants in San Antonio:
Bruce Auden's Biga on the Banks delivers fresh seasonal ingredients, eclectic French-style dishes.
Bryan West's Café Paladar aims to take regional cuisine to the level of art. Paellas, tapas, sangrias and simple Tex-Mex is re-imagined.
If you just can't hold back your love of cooking, check out the top culinary schools in San Antonio and go for it.
Culinary Institute of America – San Antonio
CIA-San Antonio offers a number of 30-week professional certificates in Culinary Arts. During this time frame you are exposed to the major international cuisines, emphasizing Mediterranean, European and American, and their ingredients and flavors. Other courses cover pastry and baking, food hygiene and sanitation, and presentation.
Texas Culinary Academy – Le Cordon Bleu Program
This nearby popular school is located in Austin, about an hour drive north of San Antonio. The Le Cordon Bleu culinary program is based on the famous French school of the same name. This intensive curriculum is designed specifically for serious culinary students whose final goal is a dynamic career in a top-notch restaurant. Core courses include classic French cuisine and cooking methods, traditional American fare and emphasis on ingredients and techniques. Pursue degree programs that emphasize savory or sweet, including: Associate of Applied Science in Le Cordon Bleu Culinary Arts or professional Certificates in Le Cordon Bleu Culinary Arts or Patisserie and Baking.
Find A Local Culinary School Today!
Popular School Locations
---
Culinary Training
Top Schools
Majors
Degree Types
Career Information