Sacramento Area Culinary Arts Schools
Sacramento, capital of California, is situated about an hour or so outside San Francisco. This growing secondary city is strong in agriculture and hospitality—keys to any thriving food service industry. In fact you're not very far from Napa and Sonoma—the chief wine growing region of the country, also a natural companion for food.
The growth in hotel and convention center construction in the Sacramento area over the last few years indicates a higher demand for food industry professionals, including chefs, cooks, all types of kitchen assistants, wait staff and management. Where the hospitality business is booming, jobs for pro cooks and passionate chefs are plentiful.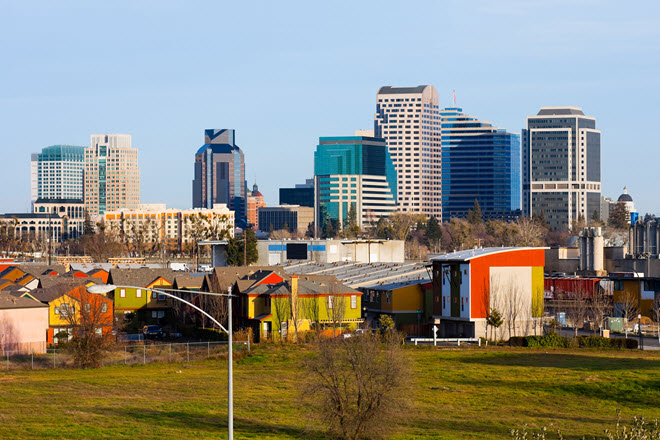 This is all good news if you're looking for a culinary arts program in Sacramento. A quick exploration of the region's top restaurants and chefs—including Randall Selland, Patrick Mulvaney, and Biba Caggiano-- is indication of an exciting and dynamic industry. Go to culinary school in Sacramento and you get the opportunity to study alongside some of the most well-known chefs and owner/chefs in the area. Most of them started their careers as dishwashers and lowly cooks, content to just exist in a professional kitchen. If this describes you then most Sacramento culinary schools will more than get you close to a restaurant, most programs are built around an externship that places you working right in the guts of a kitchen, either in a restaurant, resort, or hotel.

Local Community Schools
The Culinary program at Consumnes River College provides students with the essential skills needed for employment in commercial culinary service. The school offers an associate's degree in Culinary Arts Management and Restaurant and Food Service Entrepreneurship. It also offers certificate degrees in skills related to the food service industry.

Consumnes River College
8401 Center Parkway
Sacramento, CA 95823
916-691-7344
info@crc.losrios.edu
The Napoli Culinary Academy is a non-profit program that delivers diploma programs and other educational opportunities in the culinary arts. An offshoot of the phenomenally successful Café Napoli, the academy's program is dedicated to teaching students the management aspects and principles needed to survive and flourish in the highly competitive world of the restaurant industry.
Napoli Culinary Academy
2811 Airline Drive, Suite 5
Houston, TX 77009
832-782-3518
info@napoliculinaryacademy.com

Non-accredited Cooking Schools in Sacramento
Good Eats Cooking Classes, hosted by Paulette Bruce, offers several exciting lessons on various culinary specialties.
Good Eats
3340 11th Street
Sacramento, CA 95818
916-498-9804
paulette@goodeatscookingclasses.com
Find A Culinary School near Fairfield With Open Eligibility Today!
Popular School Locations
---
Culinary Training
Top Schools
Majors
Degree Types
Career Information