Popular San Diego Cooking Schools

Located right along the American-Mexican border, San Diego generously mixes the culinary characteristics of both. This southern California city is a large metro area crammed with tourist attractions and dozens of key corporations. And not far away, along the shore, you can find some of the best surfing in the world.
Foods characteristic of the area include avocado, olive oil, mushrooms, some citruses, and seafood. Like much of the West Coast, you'll find an emphasis on ultra-fresh, seasonal, and natural and organic. And don't forget California's wines that compliment many a meal. As a student or apprentice chef, you will learn how to choose the freshest products, butcher your own meats, make sensible portion sizes and how to generally handle and prepare the native ingredients.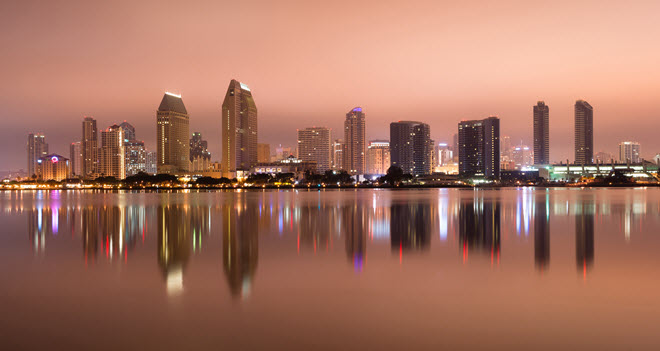 Cooking Schools San Diego
National Culinary and Bakery Arts School
Earn degrees in Culinary Arts or Bakery and Pastry Arts. This San Diego school specializes in helping you learn what you need to know to hit the ground running in almost any kind of kitchen.
International Culinary Institute at the Art Institute of San Diego
This campus is just one of 30 located in various areas across the country. Lucky for you this is one of the most in-demand and well-known chef programs. Choose from Associates of Science in Culinary Arts, Associates of Science in Baking and Pastry, or Bachelors in Culinary Management. You are led by a faculty of well-known chefs and have the opportunity to apply what you learn to real life restaurants. Learn both classic and contemporary cuisines and prep techniques, portion size and common food prep practices.
San Diego Culinary Institute
The Commis programs literally mean apprentice chef programs. At the San Diego Culinary Institute the idea behind the educational model is to first study what the really good chefs do, then apply what you've seen and learned in a practical or real world environment (kitchen/restaurant). These intensive programs are designed to equip you for diverse kitchen environments. Choose from one of two programs: Commis de Cuisine (or general culinary arts) or Commis de Patisserie (or pastry chef).
Find A Local Culinary School Today!
Popular School Locations
---
Culinary Training
Top Schools
Majors
Degree Types
Career Information