Popular San Diego Cooking Schools
Located right along the American-Mexican border, San Diego generously mixes the culinary characteristics of both. This southern California city is a large metro area crammed with tourist attractions and dozens of key corporations. And not far away, along the shore, you can find some of the best surfing in the world.
Foods characteristic of the area include avocado, olive oil, mushrooms, some citruses, and seafood. Like much of the West Coast, you'll find an emphasis on ultra-fresh, seasonal, and natural and organic. And don't forget California's wines that compliment many a meal. As a student or apprentice chef, you will learn how to choose the freshest products, butcher your own meats, make sensible portion sizes and how to generally handle and prepare the native ingredients.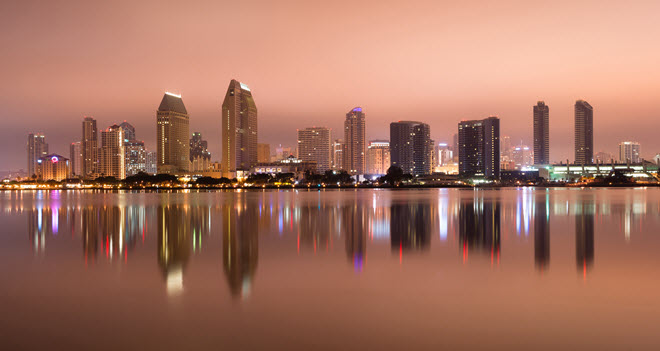 Local Community Schools
The Culinary Arts program of Southwestern College has two components and provide students with the skills and techniques they would need to build a flourishing career in the food service and hospitality industries. This program also incorporates computer literacy and written communications as part of its program, equipping them for the fast-paced, rapidly changing world of food service.
Southwestern College
900 Otay Lakes Rd
Chula Vista, CA 91910-7297
619-421-6700
The associate's degree program for Culinary and Baking at San Diego Mesa College puts students in the track toward a fruitful career in the food service industry. The program utilizes a classroom-run restaurant open to the public and incorporates green initiatives such as composting and buying local produce to reduce its environmental impact.
San Diego Mesa College
7250 Mesa College Drive
San Diego, CA 92111-4998
619-388-2600
Culinary Arts classes are taught by a variety of instructors who have degrees as well as professional experience as executive chefs. The program is designed to give the basic principles as well as hands-on experience needed for careers in this field. Classes are enhanced with field trips, guest speakers, and opportunities to work with professionals in the local area.
Grossmont College
8800 Grossmont College Drive
El Cajon, California 92020
619-644-7000

Non-accredited Cooking Schools
Featured in many national publications such as Forbes and USA Today, Cozymeal offers exclusive cooking lessons from expert chefs and cater to both individual learners and corporate events. Classes and events are easy to book and can take place in both a home kitchen or a specially selected premier venue. It provides cooking demonstrations, less ons, and other culinary experiences in multiple cities across the country.
Cozymeal
501 W Broadway, Suite 800,
San Diego, CA 92101
619-642-2212
Formerly known as Cooking 4 Life, the Kamen Company offers a broad array of cooking and nutrition classes for health-conscious Saladmaster users. Their lessons feature nutritionists, chefs, and dietitians and include both cooking basics and specialist classes such as vegan cooking.
9145 Chesapeake Dr.
San Diego, CA 92123
858-433-0085
Founded by Bib Kasrai, a self-taught chef, Harvard Cookin' Girl provides a host of culinary experiences and cooking lessons to children and adults alike. It takes pride in cooking "grandma food" recipes and providing its clients with a transparent dining and learning experience that showcases how food is cooked in front of and alongside them.
Harvard Cookin Girl
7441 Girard Ave.
La Jolla, CA 92037
858-888-3509
Find A Culinary School near Fairfield With Open Eligibility Today!
Popular School Locations
---
Culinary Training
Top Schools
Majors
Degree Types
Career Information