Popular San Diego Cooking Schools

Located right along the American-Mexican border, San Diego generously mixes the culinary characteristics of both. This southern California city is a large metro area crammed with tourist attractions and dozens of key corporations. And not far away, along the shore, you can find some of the best surfing in the world.
Foods characteristic of the area include avocado, olive oil, mushrooms, some citruses, and seafood. Like much of the West Coast, you'll find an emphasis on ultra-fresh, seasonal, and natural and organic. And don't forget California's wines that compliment many a meal. As a student or apprentice chef, you will learn how to choose the freshest products, butcher your own meats, make sensible portion sizes and how to generally handle and prepare the native ingredients.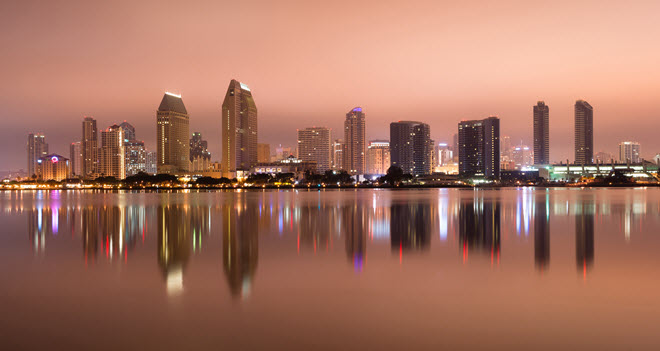 Local Community Schools
The Culinary Arts program has two components—the Baking and Pastry certificate and the Cooking and Baking certificate/degree programs. These programs prepare students for work in the restaurant and hospitality industry by focusing on the development of kitchen skills and food handling techniques in both the baking and culinary specialty areas. Students will understand how to work with foods and the function of ingredients, baking and cooking methods, food economics, nutrition, and kitchen safety and sanitation. A dual focus in baking and pastry as well as culinary kitchen skills is emphasized. Oral and written communications and computer literacy skills are an integral part of the program, and a work experience internship is required at the advanced certificate and associate degree levels.
Southwestern College
900 Otay Lakes Rd
Chula Vista, CA 91910-7297
619-421-6700
The Culinary Arts/Culinary Management program is one of the few in the nation that operates a classroom driven restaurant open to the public. The main cafe operates four days a week, in a restaurant-replicated environment, as part of the laboratory, preparation, and service curriculum requirements. Students learn in real-time and obtain immediate feedback from both instructors and those served. Students, faculty, staff and their community neighbors reap the benefit of extraordinary meals served at unbelievable prices.
San Diego Mesa College
7250 Mesa College Drive
San Diego, CA 92111-4998
619-388-2600
Culinary Arts classes are taught by a variety of instructors who have degrees as well as professional experience as executive chefs. The program is designed to give the basic principles as well as hands-on experience needed for careers in this field. Classes are enhanced with field trips, guest speakers, and opportunities to work with professionals in the local area.
Grossmont College
8800 Grossmont College Drive
El Cajon, California 92020
619-644-7000

Non-accredited Cooking Schools in San Diego
Offers the best in culinary experiences by pairing local consumers and companies with some of the nation's top chefs for cooking classes, food tours and culinary team building events.
Consumers as well as small and large companies use them regularly for all their culinary needs, from celebrations with family and friends to team building events to office meal delivery.
Cozymeal
501 W Broadway, Suite 800,
San Diego, CA 92101
619-642-2212
Their commitment is to bring health consciousness into cooking and food choices. When pariticpating in their programs you will learn to update traditional recipes to delicious healthy ones. They share a vision of health and happiness with their customers.
Cooking 4 Life
10225 Barnes Canyon Rd
San Diego, CA
858-433-0085
The series features classic rustic dishes authentically prepared following the recipes passed down from generations of home cooks from around the world. This is truly "Grandma's Cooking" at its best and healthiest.
Harvard Cookin Girl
7441 Girard Ave.
La Jolla, CA 92037
858-888-3509
Find A Local Culinary School Today!
Popular School Locations
---
Culinary Training
Top Schools
Majors
Degree Types
Career Information