Best Cooking Schools in Pittsburgh
Pittsburgh, formerly known as a steel town, is home to a rich culinary history. It's also known as "America's Most Liveable City", according to the Places Rated Almanac. Various types of American food were born here, such as the Big Mac, famous Primanti Bros. sandwiches, Klondike bars, and ketchup. It is also home to the Phipps Conservatory and Gardens, Carnegie Science Center, and many restaurants and coffeehouses. The city's diverse ethnic background offers cuisines for any taste. Pittsburgh's low cost of living as well as its ever-growing restaurant and hospitality scene makes it a great place for aspiring chefs to live and work.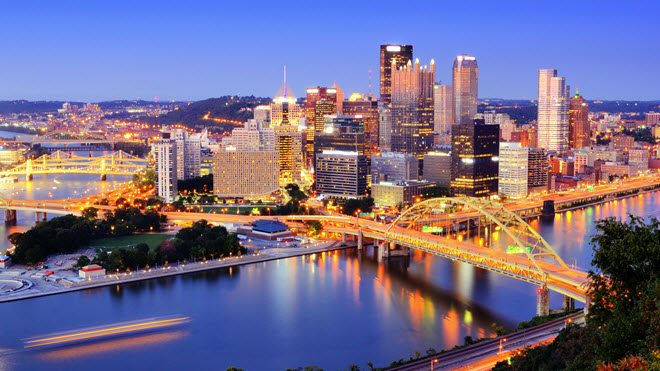 Pittsburgh's culinary schools produce many fine chefs and culinary artists. Let's take a look at a few of the best places to learn the trade.

Local Community Schools

Community College of Allegheny County
The culinary arts program of the Community College of Allegheny county is a non-apprenticeship curriculum geared to meet the modern demands of the hospitality. Besides hands-on laboratory experience, students are expected to complete at least 300 hours of externship. The program accepts both full- and part-time students.
Community College of Allegheny County
800 Allegheny Avenue
Pittsburgh, PA 15233
412-237-3100
Bidwell Training Center's culinary program prepares learners for an entry-level job at the food industry. The center's kitchen labs have a teacher–student ratio of 1:4. In addition, its program incorporates management training and a shifting menu that allows students to take on the challenges of the industry.
Bidwell Training Center Inc
800 Allegheny Avenue
Pittsburgh, PA 15233
412-323-4000
Butler County Community College
The Culinary Arts program at Butler Community College helps its students refine their techniques in an industrial kitchen setting, preparing them for the tasks of the modern restaurant industry. The program offers both a certificate and an associate's degree in Culinary Arts.
Butler County Community College
901 S Haverhill Rd
El Dorado, KS 67042
316-218-6256
Westmoreland County Community College
Westmoreland County Community College's Culinary Arts program offers state-of-the-art kitchen laboratories and expert instructors with industry experience. Offering both a degree and a diploma, it is one of the best culinary programs in the region and has produced some of the country's top chefs, including Certified Master Chef Rich Rosendale.
Westmoreland County Community College
145 Pavilion Ln,
Youngwood, PA 15697
724-925-4000
infocenter@westmoreland.edu
Forbes Road Career and Technology Center
The Forbes Road Career and Technology Center's Culinary Arts program guides learners through all the aspects of commercial restaurant operations from cooking to sanitation and management.  
Forbes Road Career and Technology Center
607 Beatty Road
Monroeville, PA 15146
412-373-8100

Non-accredited Cooking Schools
Once an offshoot of the Peter Kumps School in New York, Gaynor's School of Cooking continues the tradition of excellence laid out by its predecessor. Its programs not only include basic cooking and baking classes but also international programs and mixology courses.
Gaynor School of Cooking
309 East Carson Street
Pittsburgh, PA 15219
412-325-2703
Chop, Wok & Talk began as the only Southeast Asian cooking school in the Pittsburgh area. Today, the hands-on class has expanded onto a variety of other culinary traditions from across the glob, including Greek.
Chop Wok Talk
5404 Penn Avenue
Pittsburgh, PA 15206
412-362-0679
Find A Culinary School near Fairfield With Open Eligibility Today!
Popular School Locations
---
Culinary Training
Top Schools
Majors
Degree Types
Career Information