Best Cooking Schools in Pittsburgh

Pittsburgh, formerly known as a steel town, is home to a rich culinary history. It's also known as "America's Most Liveable City", according to the Places Rated Almanac. Various types of American food were born here, such as the Big Mac, famous Primanti Bros. sandwiches, Klondike bars, and ketchup. It is also home to the Phipps Conservatory and Gardens, Carnegie Science Center, and many restaurants and coffeehouses. The city's diverse ethnic background offers cuisines for any taste. Pittsburgh's low cost of living as well as its ever-growing restaurant and hospitality scene makes it a great place for aspiring chefs to live and work.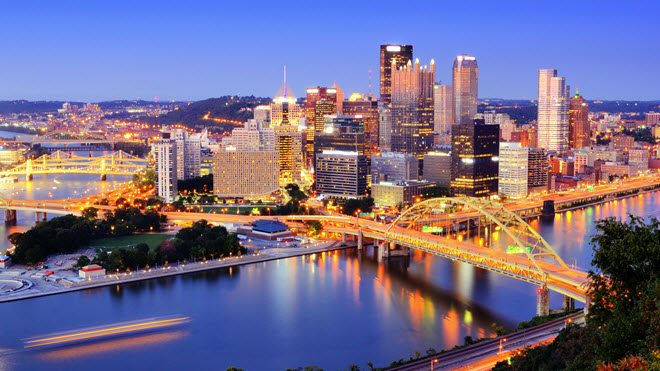 Pittsburgh's culinary schools produce many fine chefs and culinary artists. Let's take a look at a few of the best places to learn the trade.

Local Community Schools

Community College of Allegheny County
This culinary arts non-apprenticeship curriculum is planned to meet the increasing employment needs in the 21st century for trained chefs and culinary experts. The program includes classroom and food laboratory experiences and requires students to complete an externship with a minimum of 300 hours. This program accommodates both part- and full-time students. Students are expected to be well-groomed in compliance with standards of sanitation. Uniforms will be required for all lab classes. Only students officially enrolled in the program may take CLR courses.
Community College of Allegheny County
800 Allegheny Avenue
Pittsburgh, PA 15233
412-237-3100
The major is a hands-on, dynamic program designed to prepare you for entry-level employment in the food industry. They teach you the fundamentals of classic cuisine in kitchen labs with a 1:4 teacher-to-student ratio. You learn important management skills while preparing meals from a menu that changes daily. By the time you graduate, you will have the expertise to take this growing industry by storm.
Bidwell Training Center Inc
800 Allegheny Avenue
Pittsburgh, PA 15233
412-323-4000
Butler County Community College
Committed to flexible pathways for their student's success. Courses are offered in varying delivery formats; face-to-face, blended and online. When reviewing this pathway, please check the Class Schedule to identify which format the course is offered to make sure you are selecting the delivery modality that fits your needs.
Butler County Community College
901 S Haverhill Rd
El Dorado, KS 67042
316-218-6256
Westmoreland County Community College
With fully equipped state-of-the-art kitchens, knowledgeable professors and a direct line to connections within the industry, Westmoreland can train you to be a successful culinary chef.

They have one of the region's best culinary programs and have graduated some of the state's (and country's) top chefs. One of their alumni, Rich Rosendale, holds the prestigious title of Certified Master Chef.
Westmoreland County Community College
145 Pavilion Ln,
Youngwood, PA 15697
724-925-4000
infocenter@westmoreland.edu
Forbes Road Career and Technology Center
Culinary Arts is designed to offer instruction in the commercial restaurant industry including areas such as gourmet and fine dining skills, fast food operations, customer service, menu planning, cost-control along with other important aspects of food service.
Forbes Road Career and Technology Center
607 Beatty Road
Monroeville, PA 15146
412-373-8100

Non-accredited Cooking Schools in Pittsburgh
The ultimate dining experience. They select a different menu every month, for you to cook and enjoy with your fellow classmates. It's a fun night out and a great way to meet new friends. The classes are not instructional, but for everyone to have a fun evening preparing a delicious meal under the guidance of a professional chef.
Gaynor School of Cooking
309 East Carson Street
Pittsburgh, PA 15219
412-325-2703
Chop, WOK, & Talk! started 17 years ago as the only Southeast Asian Cooking School in the Pittsburgh area. Since then, due to its success and popular demand, the class offerings have mushroomed into a variety of ethnic cooking classes. Owner and instructor, Dorothy Tague, has taught and taken cooking lessons for years here in the USA (NYC, San Antonio, & Louisiana), as well as Thailand, Portugal, Spain, Italy (3 times), and France. Her classes are easy to follow, hands-on and fast-paced. Dorothy and her co-workers give individual attention to all students according to his or her cooking skills. In the same lesson, a well-seasoned cooking student will feel challenged, and a novice cook will feel well looked after.
Chop Wok Talk
5404 Penn Avenue
Pittsburgh, PA 15206
412-362-0679
Find A Local Culinary School Today!
Popular School Locations
---
Culinary Training
Top Schools
Majors
Degree Types
Career Information