Los Angeles Culinary Schools Turn Out Top Chefs
Los Angeles is home to some of the most diverse cooking schools in the country. Hollywood, celebrity, tourism, and a rich cultural fabric are all factors that drive the food industry in L.A.
Hollywood is a Mecca for budding movie stars, but it is the same for new and experienced chefs. This huge metro area has needs for master chefs, apprentices, specialty cooks and a corps of private chefs in a market that boasts an elite population of celebrities and wealthy business owners and entertainment moguls.
With busy Hollywood as a backdrop explore the various cuisines and cooking schools available in the area. You'll have the opportunity to train as a chef or cook among some of the most celebrated chefs in America and in famous L.A. kitchens.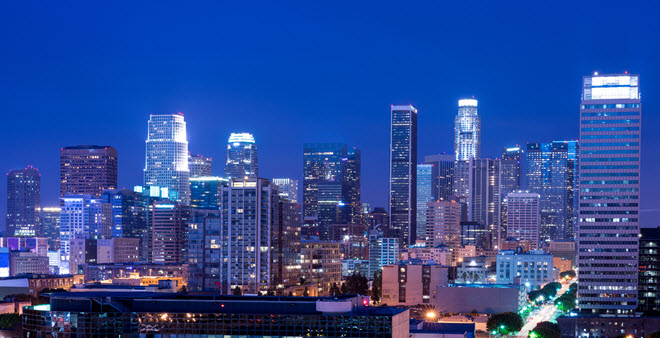 Local Community Schools

Los Angeles Trade Technical College
The Culinary Arts Pathway at Los Angeles Trade Technical College delivers programs that teach students the skills needed for a successful lifelong career in the food service industry. This pathway offers degrees and certificates in baking, culinary arts, and restaurant management. It is one of the oldest continually operating culinary arts programs in the country.
Los Angeles Trade Technical College
400 West Washington Blvd,
Los Angeles, CA 90015
213-763-7000
Los Angeles Harbor College offers an Associate Science Degree in Culinary Arts that aims to prepare and qualify students for a career in the food industry, incorporating both concept theory and practical applications in its curriculum. The program utilizes a full-production model that provides students the chance to hone their proficiencies in a real time environment.
Los Angeles Harbor College
1111 Figueroa Place,
Wilmington, CA 90744
310-233-4000
The award-winning professional Culinary Arts program at New School of Cooking delivers students hands-on instruction from experienced chefs. Its courses include both standard cooking techniques and intricate culinary techniques, along business classes and career development assistance to support students as they enter the food industry. Besides its degree programs, it also provides 20- and 4-week cooking series classes and one-day workshops for casual learners; its cooking series programs also come in Spanish.
New School of Cooking

Pasadena Campus
525 E. Colorado Blvd.
Pasadena, CA 91101

Culver City Campus
8690 Washington Blvd.
Culver City, CA 90232

844-895-4224
A fast-growing institution, Glendale Community College provides a culinary arts degree that covers many aspects of the professional food service and baking industries. The program is supported by many partner organizations, including Hilton Hotel and Oakmont Country Club.
Glendale Community College
1500 North Verdugo Road
Glendale, CA 91208
818-240-1000
Mt. San Antonio College's culinary arts program prepares students for the real-world challenges of running a restaurant. Besides providing practical training while running a real business through a fully-functioning student-run bakery and restaurant, the program also hones their students' communication and critical thinking skills, which are vital to the operations of a food service operation.
Mt. San Antonio College
1100 N. Grand Ave.,
Walnut, CA 91789
909-274-7500
The Institute for Culinary Education (iCUE) at College of the Canyons provides three certificate programs in baking and pastries, culinary arts,and wine studies, with an associate degree in culinary arts coming soon.
College of the Canyons
26455 Rockwell Canyon Rd
Santa Clarita, CA
661-259-7800
Cerritos College's Culinary Arts, Baking and Pastry, and Culinary Management programs ncorporates 800-hour kitchen laboratory training and real-time training at the institutions' three on-campus food outlets: the Falcon Room restaurant, the Cerritos College Culinary Arts Cafe, and the on-campus banquet and catering service. Students rotate through several stations that give them a comprehensive view of the operations of a professional kitchen and gain experience in all aspects of running and managing a restaurant.
Cerritos College
11110 Alondra Blvd.
Norwalk, CA 90650
562-860-2451
The Culinary Arts Department of Long Beach City College offers professional and practical experience to students in the day-to-day operations of a professional kitchen, which is paired with a comprehensive curriculum of courses that cover all aspects of the food service industry. The program offers both certificate and associate degrees, which help students prepare for advanced courses and pave the way for a lasting career in the food service profession.
Long Beach City College

LAC Campus
4901 East Carson St.
Long Beach, CA 90808
562-938-4111

PCC Campus
1305 E. Pacific Coast Highway
Long Beach, CA 90806
562-938-4111
Cypress College's culinary arts program engages students through a state-of-the-art learning environment. Learners are instructed by dedicated professionals in the culinary and hospitality industry and receive hands-on experience on the fundamentals of the food service industry. The program offers both associate of science degrees and certificates in hotel management, restaurant management, culinary arts, and baking.
Cypress College
1830 W. Romneya,
Anaheim, NOCCCD
714-484-7000
Los Angeles Mission College's culinary arts program trains students on all aspects of the culinary arts and hospitality industries. The program aims to meet the needs of both hands-on cooking and food preparation skills and management proficiencies necessary for career advancement in professional culinary operations. Graduates of this program can work in a variety of positions in the food service industry.
Los Angeles Mission College
13356 Eldridge Avenue
Sylmar, CA 91342
818-364-7600
Orange Coast College provides advanced certificate programs in both culinary arts and baking/pastry, which can be paired with the general education credits for the associate of science degree. Hands-on training is the key learning component of the programs, which are paired with supplemental lectures. These certificartes are accredited by the American Culinary Federation Foundation Accrediting Commission.
Orange Coast College
10880 Wilshire Blvd Suite 1101
Los Angeles, CA, 90024
714-432-5072

Non-accredited Cooking Schools in Los Angeles
Cozymeal pairs consumers and companies with coooking classes, food tours, and team-building events from some of the country's top chefs.

Cozymeal
999 18th St #3000,
Denver, CO 80202
720-464-6911
Chef Eric's Culinary Classroom
A European-trained professional chef, Chef Eric Crowley provides learners (both aspiring and professional chefs) with hands-on cooking classes and technical education to improve their culinary proficiency in a professionally designed kitchen setting.Chef Eric's culinary classroom has been featured in TruTV, E! Entertainment, and the Los Angeles Times.
Chef Eric's Culinary Classroom
2366 Pelham Avenue
Los Angeles, CA 90064
310-470-2640
Find A Culinary School near Fairfield With Open Eligibility Today!
Popular School Locations
---
Culinary Training
Top Schools
Majors
Degree Types
Career Information